Lorier Is Lauren and Lorenzo Ortega's Ode to Vintage Watches
Mid-century aesthetics at an accessible price point.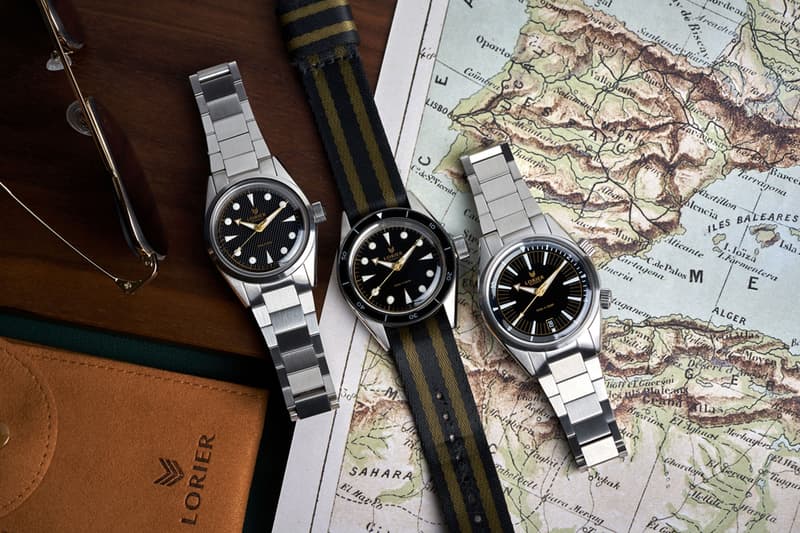 In recent years, many watchmakers have returned to some of their vintage models, digging deep into the archives with pieces such as Montblanc's 1858 Monopusher Chronograph, Tudor's Black Bay 58 or Zenith's Chronomaster Revival. But while this golden era of watchmaking informs only part of these manufacturers' offerings, the idea of vintage is the heart and soul of Lorier, an American microbrand founded by Lauren and Lorenzo Ortega.
Hand-built from the ground up by the two horological enthusiasts who turned a passion they first discovered back in college into one of the most popular microbrands currently out there, Lorier is an ode to mid-century watchmaking, and a love letter to the days of humility and modest elegance.
Joining us at HYPEBEAST, the Ortegas run us through how the brand first came to fruition, the challenges they've faced over the years, their love of everything vintage and where Lorier is going next.
How did you guys first get into the hobby of watches, and what were some of the first pieces you owned?
Lorenzo Ortega: So, I got Lauren into it. For me, it started on my 15th birthday, when my dad got me a Seiko 5. He showed me the back of the watch, which had a display caseback, and I was hooked from there.
Seiko 5 was my entryway drug. Then I really went down the rabbit hole when I was about to graduate college. Doing that research for that graduation watch was sort of what got me fully into the hobby.
Lauren Ortega: Well even before then, he had very strong opinions about watches and style. We met in college, and when I got into it, I got myself this beautiful watch thinking, "This is going to make me an adult now. At least I'm going to look like one." So I got myself this beautiful Skagen with mother of pearl subdials, and he just said, "Oh, it's a quartz." I was feeling good! But that's when I realized there's a difference, and it all went from there. We've pretty much had matching watches since that point.
Lorenzo: Yeah, so when it came to choosing wedding rings, we got matching vintage Omegas.
Lauren: Well, they're not matching, but they're complementary. We have very similar tastes. They overlap around 80 percent of the time, so that's really nice. Of course, at that time we had no idea our lives would revolve around watches.
When did the moment come when you realized you wanted to start your own business and create a watch brand?
Lorenzo: Four years ago, Lauren's cousin was getting married. We're going to the wedding, and the Omega I just mentioned fogged up when I was taking a shower. So I had to go without a watch. When we got back home, Lauren said, "Why don't you design something? You've always been wanting to do this."
Lauren: Lorenzo is the kind of person who doesn't settle for things aesthetically speaking. So when he was trying to look for a replacement, he couldn't find anything that intersected with his style, his needs, and his budget — we were teachers at the time.
So he started putting together an ideal design. When he got more and more serious about it and spent more time on it, I suggested the idea of creating a watch brand. I told Lorenzo, "I'm serious, let's do this. What do we have to lose?"
Lorenzo: Lauren's always been the more adventurous one. When she asked me what we've got to lose, I said, "Pretty much everything we've saved up!"
Lauren: We knew we could still teach if we had to, but creating Lorier was a really great way for us to work together, for us to do what we wanted, be our own bosses, and not compromise or settle.
Lorenzo: The first watch we designed was the Neptune, and once we had it up on the screen, I knew we could make it. We had to make it because we love it, and we knew there must be other people who would like it too.
What were some of the hurdles you've had to overcome when you first started Lorier? And what are some hurdles you're still facing today?
Lauren: It took us a year to get things running. We'd come home from teaching and then start our business day. We were finally able to launch the website, and we resigned from our teaching jobs two months later. It was a big revelation, because we hadn't told anyone about what we were doing, not even our parents. It was my dad's birthday, and we gave him one of the prototypes, and I asked him if he'd heard of the brand Lorier. He said, "Oh yeah I think so." We caught him out on that! We told him it's actually our watch and he was very surprised, and he's been wearing that Neptune everyday since.
Lorenzo: Starting out, the biggest [hurdle] was finding a manufacturer. It turns out not many manufacturers could still make divers with plexiglass crystals. It didn't have 200m water resistance, which was what we needed, so that cut down the list a lot. It came down to two manufacturers, and one of them offered a better price so we made prototypes with them. In the end, they told us they couldn't actually give us the water resistance we wanted.
Lauren: They asked if we'd use sapphire instead, but the plexi crystal is the hill we sort of chose to live and die on.
Lorenzo: We really wanted the vintage look, so we insisted on plexi. We went with the other manufacturer, which was substantially more expensive, but it worked out really well and they're still our manufacturer now.
Lauren: Obviously setting up the business was a big hurdle in the beginning, but the second hurdle from that success is: how do we increase production and meet this demand before it goes away?
Lorenzo: Yeah, people have been getting really mad at us because we don't have enough watches. But these things take time to make.
Lauren: And we're self-funded. It's growing and growing, but each production run can take three to eight months depending on a whole range of factors, so unfortunately it takes some time to build up.
Lorenzo: But now, despite COVID-19, we've been able to expand production so that's good. We're still very niche, and from a business standpoint we'd obviously want to be bigger, but it's also because part of the reason we created Lorier: we wanted this hobby to be more inclusive. We never liked the idea of exclusivity.
When people were getting mad at us, they were saying we were just like Rolex and we're trying to pump up the price and play the value on the secondhand market. We're like, "We don't earn the money on the secondhand market. We would rather sell you a watch right now!"
Lauren: Also, it's not like we're like Rolex. It's not a good strategy for a business like ours. We're trying to find this magical way to not compromise our specific taste and choice in watches but at the same time reach a larger audience.
Lorenzo: Sometimes we'd get comments from people telling us they'd like to see what we can do at the $1,500 or the $2,000 USD range.
Lauren: But that defeats the purpose of why we exist. It wouldn't help us accomplish what we're trying to accomplish as a brand and what we're trying to bring to the market. There are other options out there at that price range.
The brand is now stepping into its fourth year. How have things changed at Lorier since you began the company?
Lauren: In terms of function, everything is still pretty much the same. There's just more of it. It's still just the two of us. Most emails that come in, we answer. All the photography, Lorenzo does, and all the packaging, we both do.
Lorenzo: We basically do everything except for the physical making of the watch.
Lauren: Back when we were producing fewer watches, we'd have some rest, but now we always have stuff in stock. We've moved to a bigger place, and we have more room to work. Every year, we've doubled in size at least, and even with COVID-19 we're growing.
Lorenzo: We love to be hands on; we're very particular about everything.
Lauren: It's a double-edged sword. Every watch we ship out is like our baby, and it's very personal to us, and that's such a good, fulfilling feeling. But because everything is so personal, it's also very stressful.
The watches your brand offers draw a lot of inspiration from vintage design aesthetics. Were you guys always into vintage watches?
Lauren: This is a really interesting question, because it's something we haven't thought about ourselves. The act of wearing a watch is already an appreciation for something vintage, because you have another device on you that always tells you the exact time. I think that's why I like vintage; it always pulls you back to appreciate what has come before and what's at the root of it.
Lorenzo: Stylistically too, when we were getting into watches, it was a time of our lives where we wanted to have something we could wear for the rest of our lives. So that aesthetic — well proportioned, clean, and what's going to look good on my wrist 50 years from now — were things we were attracted to. Things that stand the test of time.
We're seeing a trend over the past few years of many major watchmakers reissuing archival pieces, like Montblanc's 1858 Monopusher Chronograph series, Zenith's Chronomaster Revival and Tudor's BB58. Why do you think we're seeing this renaissance?
Lauren: I think some of it has to do with a much more educated watch market. The rise of watch media has really helped grow this appreciation of vintage design and watch history. I've always been a watch enthusiast, but I think this knowledge is so much more accessible now, and with greater awareness, there's naturally a greater market for it. It's a positive feedback loop.
Lorenzo: For us, it's just a different vibe. I remember when we were getting into it, we thought "Oh, this is what a Rolex Submariner looks like, but wait till you see what it used to look like 50 years ago." That's so much cooler! Nowadays you have the beefy lugs, the massive case and the ceramic bezel, and it's so flashy. Back then, it was a much more humble timepiece. So for us, part of what we're trying to do is to bring back that humility.
Lauren: I was thinking about the Neptune. It's been so popular, and we haven't seen any kind of fade in interest for it. I was thinking about what draws people to the Neptune, and what I really like about it is that it's a very masculine watch but not aggressive. There's some confidence in that, and it just wears really well. I think that's what's missing in many modern watches.
You've released your brand's first GMT late last year — the Hyperion. Can you tell us more about that piece?
Lorenzo: With all of our models, the goal is to basically re-create an archetype of a watch from the golden age of watches and have it feel like it just came out of a time machine. The Neptune was the diver archetype, so after we designed that we went for a GMT archetype.
Lauren: The GMT is such an awesome complication with a really cool history. There's just so much swagger behind the GMT, especially the Pepsi bezel, so we just couldn't resist. We actually debated whether to use it, but we thought "this is our GMT and we love the Pepsi bezel, so we are doing it!" I feel like that was the right call, and we accomplished what we set out to do. People really enjoy it, and we'll probably have them back in early May.
Lorier now carries divers, a chronograph, and a GMT. What's next for the brand?
Lauren: I think in terms of complications, we're good. We met our goals in terms of a chronograph, a GMT, those kinds of things. We'll be moving around more aesthetically now.
Lorenzo: So far we've been in the '50s and '60s era, but up next, I think we're going to go back in time and do more '30s and '40s, and then maybe move forward again to the '70s and '80s. I think that's all we can say at the moment.
To learn more about Lorier's watches, you can head over to the brand's website.