LeBron James Out Indefinitely Due to High Ankle Sprain Injury
A tough blow for the Lakers considering they've already been without Anthony Davis for 18 games this season.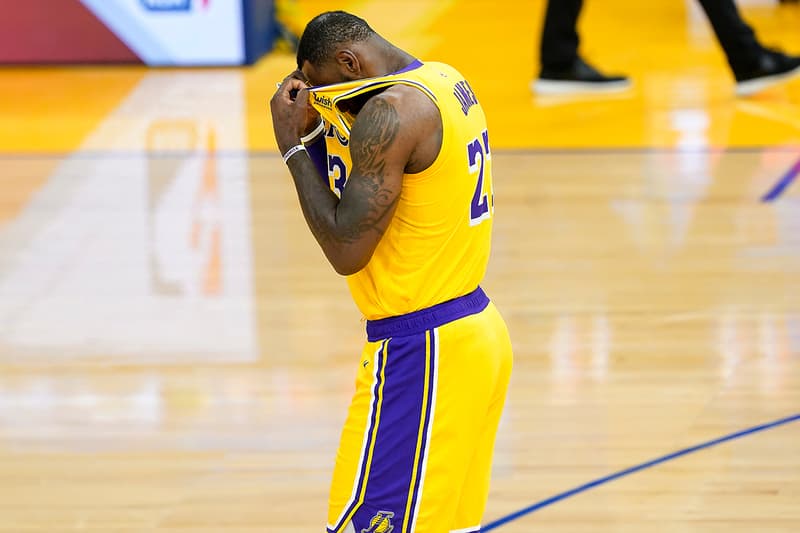 NBA Superstar LeBron James suffered a high ankle sprain injury mid-way through the 2nd quarter of the Los Angeles Lakers home matchup against the Atlanta Hawks on March 20, 2021. Amid going for a loose ball, James' right ankle was tripped up by Hawks' small forward Solomon Hill and was turned outwardly. The 18-year vet remained on the floor for one more possession where he just so happened to knock down a corner three before he signaled to Coach Frank Vogel that he wanted to be substituted out and head to the locker room.
While MRI X-Rays didn't reveal any serious damage, James has been ruled out indefinitely. This is a huge blow for the Lakers squad who have already been without their most talented front court presence in Anthony Davis for 18 games this season. Prior to the injury, "The King" had been putting up some serious numbers by averaging over 25 points and nearly seven rebounds and assists per game which certainly puts him in the running for MVP this year.
Currently, the Lakers are ranked third in the Western Conference, and while it still remains to be see how competitive they'll be without their dynamic duo for the foreseeable future, this could drastically affect where they end up on the list heading into the postseason.
Nothing angers and saddens me more than not being available to and for my teammates! I'm hurt inside and out right now. ??‍♂️. The road back from recovery begins now. Back soon like I never left. #ThekidfromAKRON??

— LeBron James (@KingJames) March 21, 2021
Elsewhere in the sports realm, Dana White recently confirmed Khabib Nurmagomedov's retirement from the octagon.