Dana White Officially Confirms Khabib Nurmagomedov's Retirement
Conor McGregor took one last jab at the undefeated champ.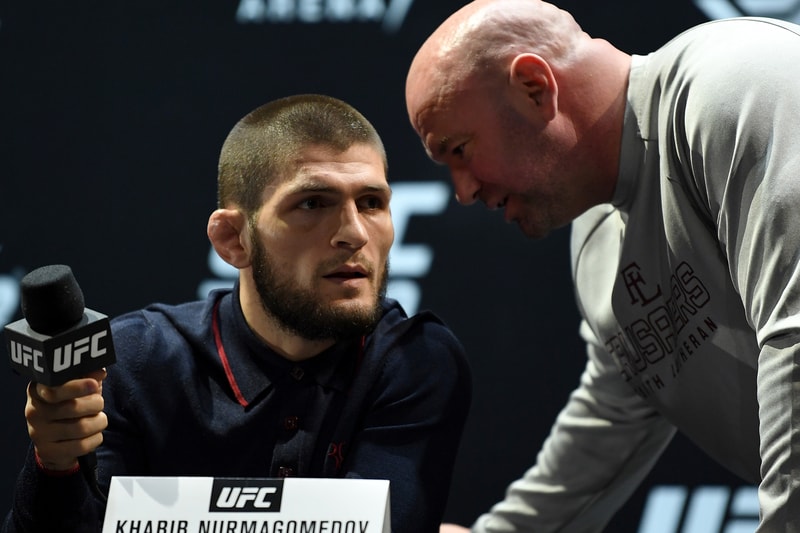 The number one pound-for-pound UFC athlete and arguably the best lightweight MMA fighter of all time, Khabib Nurmagomedov, has officially retired. While many had hopes that the Dagestani grappler would return to make his record 30-0, UFC's Dana White has taken to Instagram to officially lay the rumors to rest.
With the passing of his father, mentor, and coach, Abdulmanap Nurmagomedov, Khabib promised his mother that he would not fight without his father by his side. Fans thought that his hanging up of gloves after the successful defense of his title against Justin Gaethje at UFC 254 was due to the build-up of emotions leading up to the fight, and that he would be back after taking some time off from the sport — even going as far as to speculate that a super-fight with Georges St-Pierre was in the works.
The post from Dana White read, "29-0 it is. He is 100% officially retired. It was incredible to watch you work @khabib_nurmagomedov thank you for EVERYTHING and enjoy whatever is next my friend." So there you have it, after numerous dinners and meetings with Uncle Dana, Khabib's decision from last October was ultimately unshakeable, and thus he will retire with what he's been fighting for all along — legacy.
The announcement also didn't go unnoticed by Conor McGregor as he took to IG to congratulate Khabib in a very 'Notorious" fashion, taking one last jab with, "Happy retirement kid, smell ya later. Never forget who came in the game and made ye. Straight from my big Irish balls. Remember folks, if you hate cutting weight so much, all you have to do is move up a division. God bless."
In other sports news, LeBron James officially becomes part-owner of the Boston Red Sox.