UPDATE: Khabib Nurmagomedov Not Walking Away From MMA Just Yet
"These guys do something spectacular, show me something spectacular and make me want to come back and fight."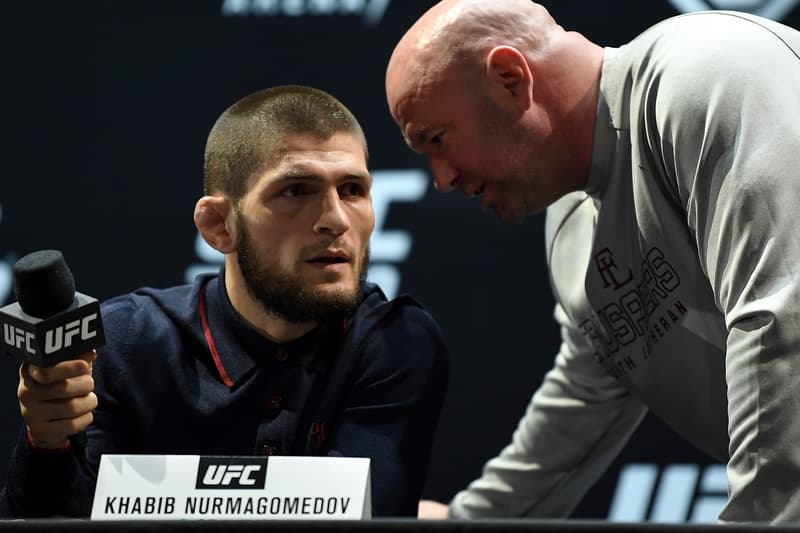 UPDATE (1/16/21, 8:36 p.m. EST): Ahead of the UFC Fight Island 7 main card on ABC, UFC President Dana White revealed that Khabib Nurmagomedov has not walked away from mixed martial arts just yet.
Holding a closed-door meeting after giving the Dagestani champion time to figure out what he wants, Khabib is reportedly open to trying to bring his professional record to 30-0 with a 30th fight inside the Octagon.
"Basically, the way that he feels right now is that he's accomplished everything he set out to accomplish," said White.
"So next Saturday (UFC 257), we've got the [Conor] McGregor-[Dustin] Poirier fight, and [Michael] Chandler-[Dan] Hooker on there. His words to me were, 'I'm going to watch this fight', he said, 'I would never tie up the division' … 'these guys do something spectacular, show me something spectacular and make me want to come back and fight."
It seems as though the current UFC Lightweight Champion isn't with being competitive, as White also revealed that he was impressed with Charles Oliveira's recent win over Tony Ferguson.
With the official decision to see if anything catches his interest at UFC 257 next week, we could see Khabib Nurmagomedov step into the Octagon against any of the Lightweight victors in the near future.
---
ORIGINAL STORY (1/16/21, 9:02 a.m. EST): Shortly after meeting with Khabib Nurmagomedov, UFC President Dana White has revealed that the current UFC Lightweight Champion will be announcing his official retirement decision live later today. White noted that the announcement will be revealed live on ABC at 3 p.m. EST from Abu Dhabi.
In an Instagram post talking about the decision, White tells fans that the decision will be affecting the Conor McGregor vs. Dustin Poirier II and Dan Hooker vs. Michael Chandler fights at UFC 257 next week.
Despite successfully defending his Lightweight title against Justin Gaethje, Khabib Nurmagomedov announced his "retirement" from mixed martial arts following his UFC 254 bout. He explained that he had promised his mother that he would not continue to fight without his late father, "No way I'm going to come here without my father. It was first time after what happened with my father, when UFC called me about Justin, I talk with my mother three days. She doesn't want me to go fight without my father but I promised her it was going to be my last fight. If I give my word, I have to follow this. It was my last fight here."
Nurmagomedov's father, Abdulmanap Magomedovich Nurmagomedov, died just four months prior to the UFC Lightweight Champion's last appearance in the Octagon.
Stay tuned for Khabib Nurmagomedov's official retirement decision announcement to come ahead of the UFC Fight Island 7 main card on ABC.
View this post on Instagram
View this post on Instagram
View this post on Instagram
In case you missed it, Conor Mcgregor recently showed off his $1 million USD Jacob and Co. watch.