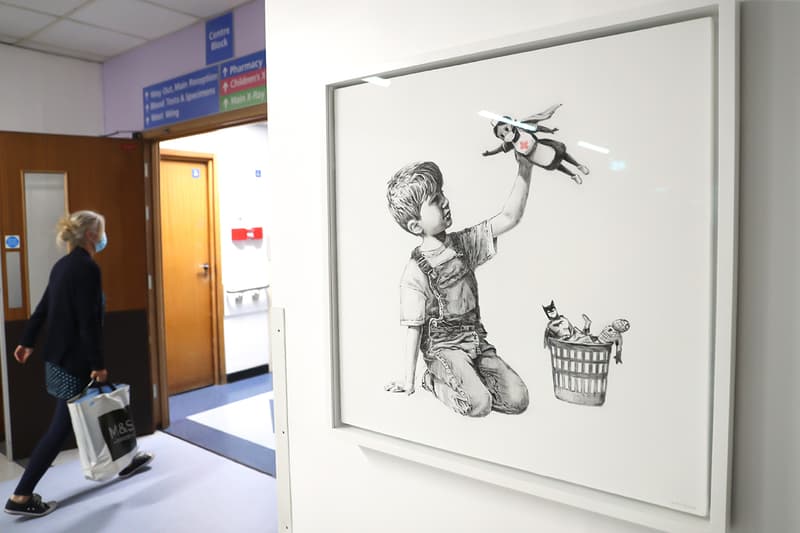 Banksy's 'Game Changer' Sets New Auction World Record at $23 Million USD
Proceeds from the painting will be donated to University Hospital Southampton and health organizations and charities across the U.K.
---
Earlier this week, Banksy's Game Changer painting set a new auction world record. The piece, which honors U.K. healthcare workers, also set a new personal record for the artist, selling for $23.1 million USD at Christie's in London.
Sold to benefit the University Hospital Southampton staff and patients, the artwork sold over four times its high estimate of $4.8 million USD. The auction price nearly doubled Banksy's previous record, held by the artist's 2009 oil-on-canvas Devolved Parliament painting. In 2019, Devolved Parliament previously sold for $13.6 million USD at Sotheby's. The auction house confirmed that all proceeds from the sale will be donated to the hospital, health organizations and charities across the country.
Prior to the auction, Game Changer was on display at the hospital where Banksy donated the piece and included a note stating, "Thanks for all you're doing. I hope this brightens the place up a bit, even if its only black and white."
Oftentimes, Banksy is best known for his sardonic approach to his art, but with Game Changer, the artist reveals a heartfelt moment in his piece. Christie's calls this piece, "the simple, universal values that have come to the fore during the pandemic – family, home and time spent with loved ones."
Game Changer is not Banksy's first pandemic-related piece. Three months after donating Game Changer, he left face-masked stenciled rats across the London Underground before it was removed for violating London's strict graffiti laws. In December 2020, he also left a mural of a woman violently sneezing in Totterdown.
In other Christie's auction news, Basquiat's Warrior becomes most expensive western artwork auctioned in Asia.