Anderson .Paak and Bruno Mars to Perform as Silk Sonic at 2021 GRAMMY Awards
Shortly after the release of their debut single "Leave the Door Open."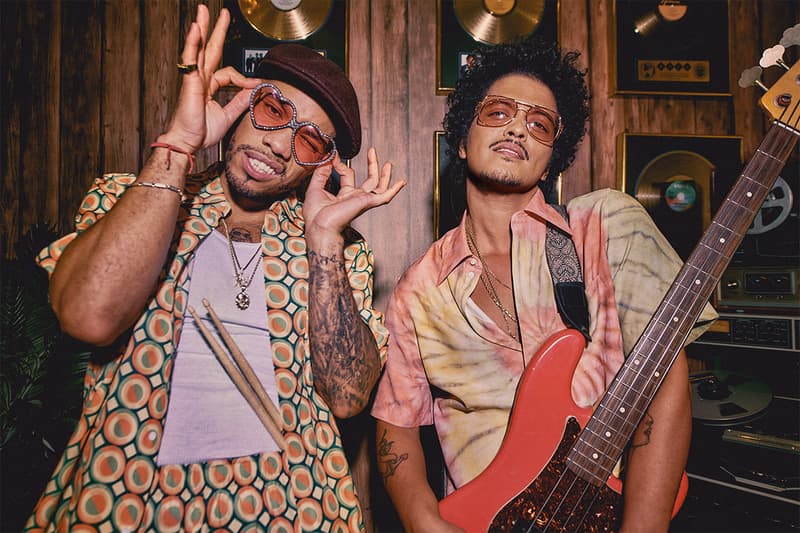 Anderson .Paak and Bruno Mars' newly launched side project Silk Sonic has been added to the performance lineup of the upcoming 2021 GRAMMY Awards.
The pair took to social media to get the attention of the Recording Academy with Mars tweeting, "Dear Grammys, if you can see it in your hearts to allow two out-of-work musicians to perform at your show, we would really appreciate it. We just released a song and could really use the promotion right now. We have a lot riding on this record (and the Pelicans game next week, but that's another story). We'll send in an audition tape and take as many covid tests as we need to. I promise we won't be extra. We just really want a gig again." This message prompted the hashtag #LetSilkSonicThrive to trend on Twitter as fans joined in to request a performance from the duo.
Although the hashtag trended, it took the Academy a few days and some "feuding" between .Paak and Mars to respond. The duo pretended to get into a heated argument and even "broke up" for a bit, but eventually reunited and got the formal invitation from the Academy to perform at the upcoming ceremony.
Silk Sonic is now one of the many acts slated to perform at the GRAMMYs, joining the likes of Lil Baby, Post Malone, Megan Thee Stallion, Billie Eilish, Roddy Ricch, DaBaby, Taylor Swift, BTS, Doja Cat, Bad Bunny, HAIM and Dua Lipa.
The 63rd Annual GRAMMY Awards takes place March 14 and will be aired live on CBS and streamed both live and on-demand on Paramount+.
aaaannnddd scene ? pic.twitter.com/jDgzVr4lId

— Bruno Mars (@BrunoMars) March 10, 2021
.@BrunoMars & @AndersonPaak
We have been trying to call you all week. Have you changed your numbers? We would love for #silksonic to make their TV debut at the #GRAMMYs. Are you free this Sunday night? Follow back and we will DM for details.

— Recording Academy / GRAMMYs (@RecordingAcad) March 9, 2021
#LetSilkSonicThrive @RecordingAcad pic.twitter.com/Ze5nuZQnvi

— Bruno Mars (@BrunoMars) March 7, 2021
luv y'all for helping us get #LetSilkSonicThrive trending. Still no word from The Grammys but I promise @AndersonPaak and I aren't givin up.

— Bruno Mars (@BrunoMars) March 9, 2021
Brothers for life? But you're really gonna break up the band on twitter?BET! keep that same energy when i see you. You big toof bastard! https://t.co/QdrLoex6Cl

— Bruno Mars (@BrunoMars) March 9, 2021
Wait who tf you calling little? https://t.co/O4ByUELcnb

— Bruno Mars (@BrunoMars) March 9, 2021
Dear @RecordingAcad we humbly accept your invitation to reunite on your grand stage. Thank you! We swear we won't do the most. ♥️#SilkSonic https://t.co/tVEk2s9FS4

— Bruno Mars (@BrunoMars) March 10, 2021

Elsewhere in music, Cardi B is officially the first woman rapper to earn a diamond single with "Bodak Yellow."