Amazon is Asking Delivery Drivers to Consent to Having Their Biometric Data Collected
Amazon delivery vehicles have been outfitted with surveillance cameras.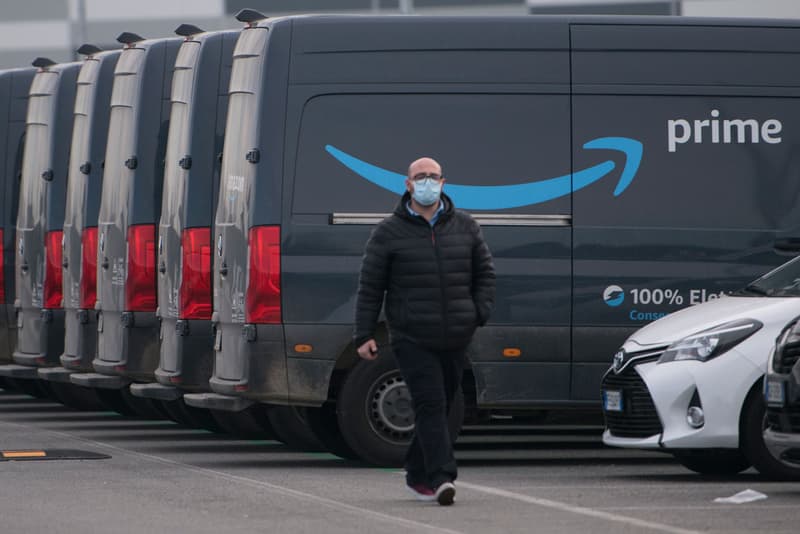 Amazon delivery drivers are being asked to consent to having their biometric data collected by cameras installed in their vehicles.
CNBC first reported on the roll-out of the AI-equipped camera systems inside a fleet of Amazon-branded delivery vehicles from a company called Netradyne in February. The e-commerce giant said that the camera's would "provide drivers with real-time alerts to help them stay safe when they are on the road."
In a 2019 presentation, Netradyne said its camera analytics system detects hard breaking and acceleration, driving speeds and following distance. It added that the same technology could be used to detect when a driver yawned or was distracted by a phone.
The installation of the camera systems prompted several senators to write a letter to Amazon CEO Jeff Bezos asking for more information about the scope of its usage.
On Wednesday, VICE reported that Amazon delivery drivers across the country were being asked to sign a waiver that would allow Amazon to collect biometric information from these surveillance cameras.
"Amazon may also use certain technology that processes biometric information, including on-board safety camera technology, which collects your photograph for the purpose of confirming your identity and connecting you to your driver account," the consent form obtained and published by VICE reads. "Using your photograph, this technology may create biometric information, and collect, store and use biometric information from such photographs."
The agreement says that Amazon "generally" only keeps the biometric data while verifying a driver's identity, though it says it may retain biometric data for "up to 30 days after it is generated."
Amazon spokesperson Deborah Bass said in a statement that the cameras were used to enhance the safety of its drivers and keep communities safe.
"We piloted the technology from April to October 2020 on over two million miles of delivery routes and the results produced remarkable driver and community safety improvements—accidents decreased 48 percent, stop sign violations decreased 20 percent, driving without a seatbelt decreased 60 percent, and distracted driving decreased 45 percent."
Bass also shot down the notion that the cameras were "intended for anything other than safety."
Still, Thomson Reuters reported earlier this month that several drivers were angered by the intensified surveillance measures. One driver told the outlet that the cameras were an "invasion of privacy."
Amazon has previously been criticized for its proposed employee monitoring systems, including the use of patented wristbands that track an employee's hand movements while they sort inventory and packing timers that monitor an employee's speed.
In December, the U.S. Federal Trade Commission ordered nine major tech companies, including Amazon, to explain how they collect and store user data.