The Craft Irish Whiskey Co. "Emerald Isle Collection" Will Cost You $2 Million USD
It comes with a Fabergé egg.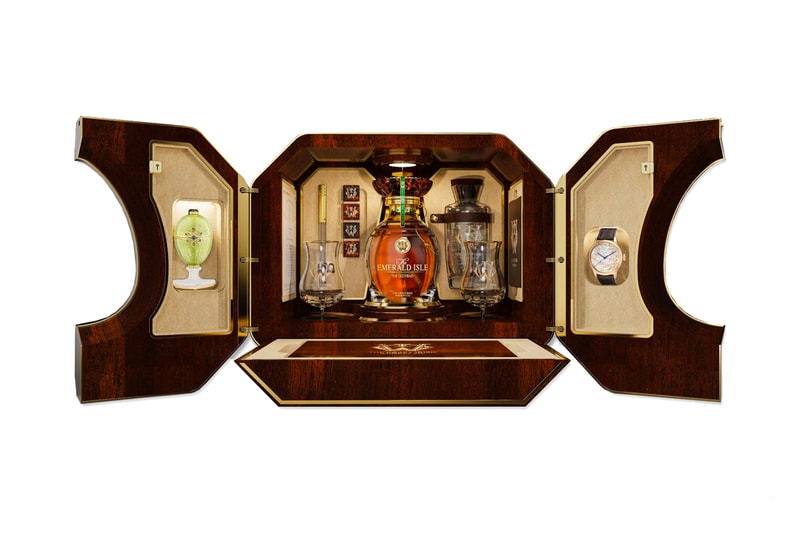 1 of 3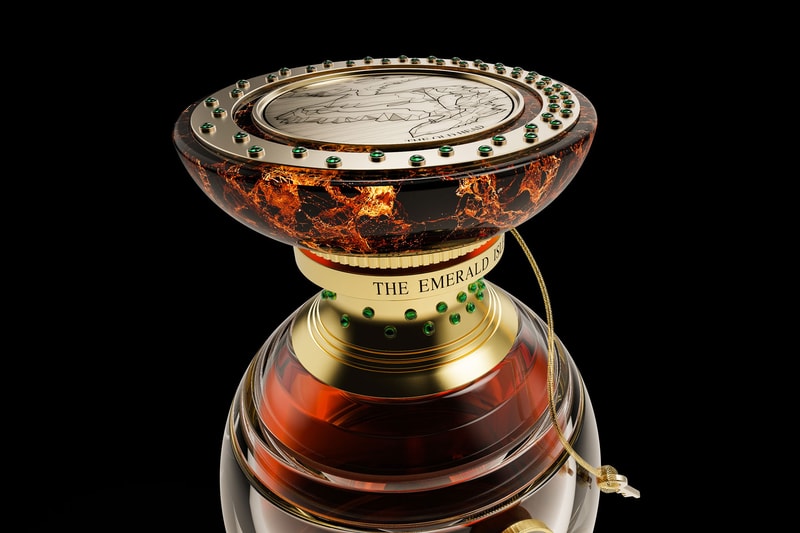 2 of 3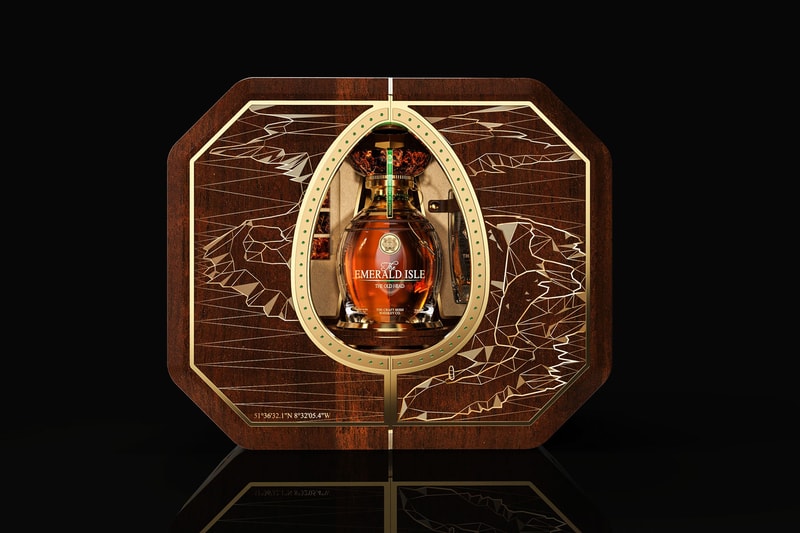 3 of 3
The Craft Irish Whiskey Co., an extremely low-volume whiskey producer, has just teamed up with the fine jewelers of Fabergé for an extravagant "Emerald Isle Collection" whiskey set.
The entire walnut case contains two bottles of ultra-rare, 30-year-old, triple distilled Irish whiskey, accompanied by a Fabergé Celtic Egg Objet and bespoke Altruist timepiece. In addition to the main whiskey and precious metal art pieces, there is also be a humidor with two ultra-rare Cohiba Siglo VI Grand Reserva cigars, a gold-plated cigar cutter, gold plated water pipette, pure obsidian whiskey stones, a hip flask with a sample of the Emerald Isle whiskey, and a carafe filled with Irish spring water from the same region where the whiskey was made.
Starting from the hand-crafted bottle, responsibly sourced emeralds from the Gemfields Kagem mine in Zambia appear on the neck and lowermost part of the bottle. This bottle itself holds the rare whiskey which has been aged in a 200-liter "first fill" American oak bourbon cask, then finished in a single 40-liter Pedro Ximénez sherry barrel.
Each of the Fabergé Celtic Eggs are made by fourth-generation Fabergé enamel Workmaster Dr. Marcus Mohr and sees 18k gold with a pavé diamond Celtic knot. The ornate Fabergé Celtic Eggs also see different gemstone on its exterior: Gemfields Zambian emerald, Gemfields Mozambican ruby, blue sapphire, amethyst, rhodolite, spessartite, and tourmaline — each representing the "Seven Wonders of Ireland." The exterior also features Fabergé's legendary guilloché enamel in pastel green with white and gold accents to symbolize the Irish flag.
Limited to just seven 1-of-1 sets, each Emerald Isle Collection is priced close to $2 million USD with 100 percent of the proceeds going to charity (50 percent to the Correa Family Foundation, and the other half to the buyer's charity of choice. The inaugural launch of these highly-limited sets will take place via a private auction in Houston, Texas this month.
DISCLAIMER: We discourage irresponsible and/or underage drinking. Drink responsibly and legally.
In other food news, Popeyes jumps on the stock market frenzy with free "Tendies" for all.