Will Dance Music Save 2021? SG Lewis Thinks So
The British producer on enlisting a megawatt lineup of collaborators for his debut album, 'times'.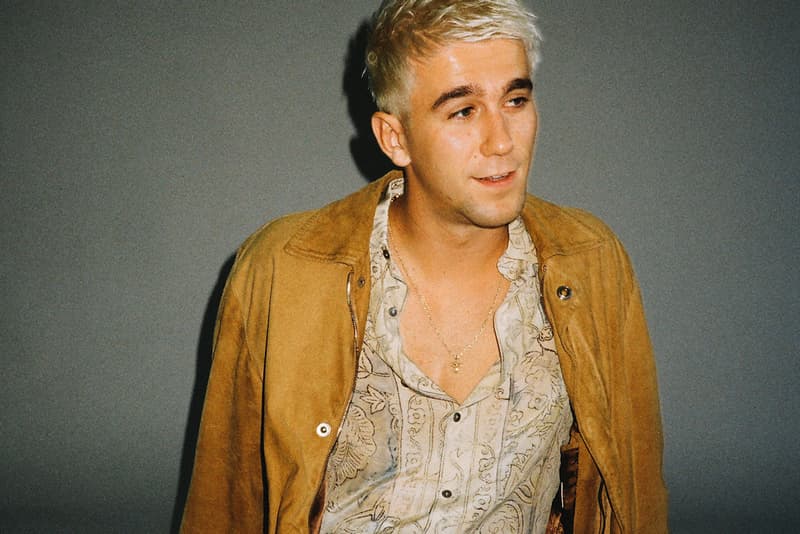 Six weeks into the U.K.'s third COVID-19 lockdown, SG Lewis might be the only person left in the country in a good mood. And for good reason: the 26 year-old producer, who has previously worked with Chad Hugo, Dua Lipa, and Aluna, is set to release his first album, times, on February 19. "I'm absolutely buzzing", he says. Yet the dissonance of being locked down (at his family home just outside London), during such a major professional milestone, doesn't escape him. "I mean, it's weird…there's all these exciting things happening, but my life stays exactly the same. I'm just walking around the same rooms. But it's good."
Though Lewis — real name Sam — has been steadily drip-feeding singles and EPs for several years, times marks his first full-length project. And it's a powerhouse. The ten tracks of insistently spirit-lifting dance music feel like a throwback to a life before COVID, when clubs, festivals, and staying out late were part of our normal lives. Perhaps unsurprisingly for such a prolific collaborator, it's also loaded with guest appearances: from the Californian rapper Channel Tres to household names including Robyn and Chic's Nile Rodgers.
Lewis is celebrating the album's release with an online listening party tomorrow night, including a host of yet-to-be-announced special guests. Ahead of the launch, HYPEBEAST sat down with the artist to learn how the album came together.
So when did you begin working on times?
The first song would have been in the summer of 2018, I think. And then the rest of it, I worked on for about a year and half. So I finished it last June. It's been a fairly long process.
I guess the lockdowns must have changed your relationship with the album, then.
Yeah, completely. The whole message of the album shifted before my eyes. I'd made this album that was like an ode to dance floors, and the moments and celebrations that we spend on them. But then as the pandemic hit, it became this emphasis on the fact that time is finite. And if we're given the opportunity to celebrate we have to make the most of it, because it might never happen again.
You know, it's the things I always assumed were gonna be there tomorrow. Another festival, another gig, another opportunity to be with friends.
It was just one of the most surreal moments of my life. Like holy sh*t, Nile Rodgers is ripping guitar on my song in front of me.
What role do you think dance music has in our lives now? I know I've been listening to a lot more of it during lockdown…
You know, when the pandemic kicked off, I thought I was just not going to listen to dance music. But it's been the opposite. I've listened to so many mixes, way more than before. It's that escapism and nostalgia for me.
The number one message I've over the last year is from people saying 'I'm stuck at home, and I put your music on, and for a brief moment me and my flatmate danced around the living room, and we forgot about the pandemic.' And that was enough of a purpose for the album. It's that small rush: it reminds me of why I started going out in the first place.
Are you hopeful that there will be any nights this year? Are you even thinking about festivals?
Based on stats, and a bit of insider information, I think that it's unlikely that we're gonna get anything big this summer, but I'm starting to get hopeful again for the smaller capacity events and festivals for late summer. I'm really hoping that by late summer, outdoors, we can start with 500-cap events. And then there's rumors of 5,000 people outdoor events by late summer. But you know, rumors are rumors. And getting optimistic feels a bit dangerous.
Are you reliant on touring?
I don't know. I kind of I'm lucky, in that I write music for other people as well and I produce for other people and that's definitely provided an element of security outside of touring. I know that there's a lot of my friends and DJs who have really been on their knees with this, which is awful.
Let's talk a bit about collaboration — it's pretty rare for somebody's debut album to feature guest spots from Nile Rodgers and Robyn. So how did you get Nile onto the record?
He's always been such a huge champion of new music and new musicians. So maybe four years ago, he was hosting a series of sessions at Abbey Road, where he was working with some new artists, and I was lucky enough to be at one of them. And nothing really camer of the song that we worked on in the session, but he asked to keep in touch. And of course, I'm thinking that nothing is ever going to come of that.
And then I was writing this song called One More in LA with Julian Bunetta, and I'd been playing it about a hundred times, and I felt like I was losing my mind. I was just looking for any way of elevating it. So we thought, why not send it to Nile Rodgers…though we obviously assumed he'd be way too busy. But right away he said "yeah, let's do it".
It was just one of the most surreal moments of my life. Like holy sh*t, Nile Rodgers is ripping guitar on my song in front of me.
Did you listen to his music growing up?
Oh yeah. I mean, I'm a huge fan of disco music. I collect disco vinyls, so of course I have some Chic records. I think that there's not many people who haven't come across Chic in some form, whether directly or indirectly. I mean, he produced David Bowie records, he produced Sister Sledge records. His impact on popular music is so vast.
Was disco a big inspiration for this album?
Yeah, it started with a book I read, called Love Saves the Day by Tim Lawrence, which is basically about the birth of disco in 70's New York, and the spaces they had the first disco parties in. It really educated me about those marginalized communities that came together, and the safe spaces these disco clubs became, for this music of gay Black origin. I really became inspired by how music became a soundtrack for this kind of..inclusive celebration, and this place where people could be themselves.
"When people think you're sh*t in 2021, they're very quick to tell you"
So Robyn. How did that come about?
I mean, I've been the biggest Robyn fan for so long. You know, for me, she is just the absolute best at combining electronic music, and songwriting, and pop, in just the most devastating way.
So my friend Channel Tres, we started writing together, and he got in a booth and was doing his part on the track, which ended up being Impact. And we got so excited — we were just like f*ck, this is so awesome, hearing him rap over this beat. We had to get cabs and go out to a club right there in LA.
And then a week later, we're listening to it again, and it sounds amazing, but it's not a full song. So we thought about making it a duet. And, as it turned out, he had just come off touring with Robyn and they had formed this friendship, this connection, and this appreciation, musically. So he sent it to her and luckily she was super into the record.
It must have been a year of back and forth after that. Her attention to detail…you know, everything she does artistically is done with intention and purpose. So we worked through every detail of the record until we felt like it was perfect.
It sounds like collaboration is quite important to you, as an artist.
It definitely is. A lot of the fun about music is that shared moment about something you've made. I feel like when you're making music alone, it's a lot easier for the voices in your head to overpower you and say, "that's not very good, is it." I need to create with someone, so you've got that energy to drive you forward.
But my criteria for who I collaborate with is just people that I'm a fan of. And I'm lucky enough that I'm now in a position where I get to work with a lot of people that I'm a really big fan of.
How does it feel putting out a whole record in your own name? There's nowhere to hide with this one…
Being at the front of it is definitely a double-edged sword. You know, you get the praise, and the glory, but then you also get the criticism. And you know, when people think you're sh*t in 2021, they're very quick to tell you online. I definitely take things to heart. You can get a thousand messages from people saying they love something but when one person tells you that you're sh*t and you should quit, it's hard not to focus on that.
So what's next to accomplish in 2021?
I've started on the next album. I want to see how quickly it'll come together. I don't want to make any promises, but this definitely won't be the last music people hear from me in 2021. I just want to see how far I can get. The energy feels right. And hopefully a holiday, or a f*cking festival. Ibiza, with the sun setting, with a load of friends, playing some nice music. That'd be great too.
times releases February 19 on all major streaming platforms – pre order it here. Tickets for the listening party can be found via Dice.fm.