Genesis Owusu Makes Strange Music For Stranger Times
The artist on learning lessons from Prince, responding to BLM, and his upcoming debut album, 'Smiling With No Teeth'.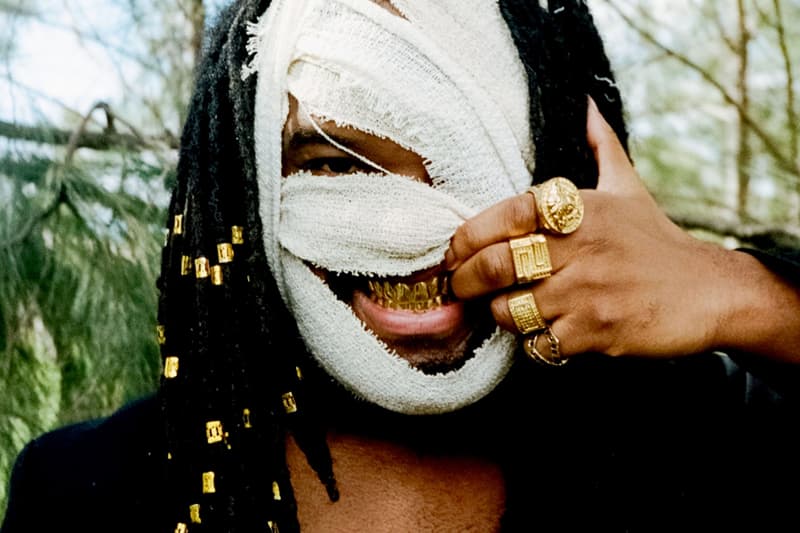 You'd be forgiven for assuming that Genesis Owusu's debut album, Smiling With No Teeth, was written in direct response to the chaos of 2020. The album (which releases March 5) veers between apocalyptic humor and exasperation, while frequently returning to the theme of racial injustice, in a way that feels intrinsically connected to the Black Lives Matter protests of last summer.
Yet the album was completed just before the global lockdowns — or the global protests — erupted. Did Owusu know something we didn't? "Some people I showed the album to thought it was somewhat prophetic," he shrugs, "but in reality it's just like Groundhog Day. This has been happening. It's happened before, and I'm just expressing what I've already seen."
Nevertheless, the album  feels perfectly attuned to current times. It's mercurial, and challenging, and resists being categorized — much like Owusu himself. The Ghanian-born artist, who lives in Canberra, Australia, shares the oddball, maverick quality of Childish Gambino, but with a spikiness and penchant for provocation that's closer to the output of Odd Future. And his aesthetic — in his music videos, artwork, and personal style — sits somewhere between Paris Fashion Week and a Jordan Peele movie. It's a lot to take in. And it's hard to think of anyone quite like him.
Ahead of the album release, and to mark the release of his latest video, Gold Chains, HYPEBEAST caught up with the artist at home in Canberra.
HYPEBEAST: So, the album was finished just in time for lockdown. Was that frustrating for you?
Owusu: Well, 2020 was gonna be our international year. We had so many international shows planned, which obviously got shut down. But on the bright side, it actually sped up the album process because I had absolutely nothing else to do…so that was the silver lining. Like, the album was created in its fullest and true form because of the circumstances.
Quite a few artists I've spoken with have said it was kind of good to slow down and get off the cycle of touring.
Yeah, definitely. I'm not an amazing multitasker so just being able to sit with one thing for that amount of time was actually really helpful.
This album does feel particularly considered – I don't want to say it's a 'concept album', but it feels like it's more than just twelve singles thrown together.
It definitely was a very considered package — obviously, this is my first album, and just as a fan, I've always been an album guy. My favorite songs were never the singles, I always loved albums as packages.
All of my favourite artists created albums that felt like one solidified, cohesive piece. I wanted to come at it the same way, so the process was like, each song was a puzzle piece that fits into the greater picture, rather than twelve singles that might bang on the radio. I wanted it to be a fully realized piece of work.
"It's important to challenge listeners, and make them feel uncomfortable"
Which artists are you talking about?
The first one that pops into my head is [Kendrick Lamar's] To Kill a Butterfly. Just, you know, if you were to pick out some of the songs individually, you might not see where all the critical acclaim is coming from — but when you consume the whole piece as it's intended, you can see that it really is like a magnum opus.
But in general, my biggest influence on the album was Prince — not necessarily literally, but I was trying to channel him in ethos. Like, if Prince was a rapper in 2020, in Australia, what would he do right now?
Why was he such an influence on you?
He was just a weirdo! He did not care what other people thought. He was just a force, an unstoppable force, and he didn't care about what was cool. What he did became cool. I just love people like that. Eccentric weirdos who don't follow the trend.
Like, there's a track on the album, Whip Cracker, that has a two minute instrumental break…I was thinking, what would Prince do in this situation, and that's why we put it in. This two minute, f*ck-you instrumental break.
There's definitely a deliberate strangeness to the album. It's quite an uncomfortable listen, at times. Do you want it to be provoking?
I think it's important to challenge listeners, and make them feel uncomfortable, and, you know, expand their palates. I think art should be provocative. I would much rather someone really loved my work or really hated my work than be indifferent to it.
The tone switches a lot – it goes from humorous and playful to serious and confronting. Was that something you wanted to be apparent?
You know, I'm a multifaceted human being, so there's no reason why when I'm expressing myself, it shouldn't include all the facets of who I am. People often see artists as kind of 2-D characters: they dress like this, they think like this. But I'm not commodifying myself to get ahead.
We live in the world of playlists now, and instant gratification. But growing up I was listening to 20-song albums. I want that kind of challenging music, even if it's a challenge for listeners. I'd much rather put myself in that position than be untrue to myself.
The other really consistent theme in the album is race, and racism. You'd already finished the album when the BLM protests exploded last summer. How did it feel to see all of that unfold?
Those protests really took on a life of their own in Australia. Because our indigenous population has been mistreated in a similar fashion for centuries. So it was sad, and shocking, but not surprising. There's actually a song that didn't make the album that quite explicitly predicted those events, and used the phrase "I can't breathe" even before George Floyd, because that phrase has been used before. Many times. Like Eric Garner. So it was almost a shock for me to see it have such an effect globally, just because it's been happening for so long.
Did the protests make you feel differently about the content of the album?
No, it didn't really. I feel like this album as a whole, isn't me trying to be some sort of grand authority over anything, it's just a man expressing his feelings. And feelings aren't always logical.
But with that being said, I don't really feel like too much has diverged from what I was talking about when I wrote it. Some parts of these past events have left me hopeful, and others have left me kind of like cynical, because it also left me questioning, like, why has it taken so long for these things to be seen?
And it also made me question how authentic is a lot of people's commitment to the cause. I'm hoping for greater change.
Genesis Owusu's latest single, Gold Chains, is out now. His debut album, Smiling With No Teeth releases March 5, and will be available on all major streaming platforms.