'Magic: the Gathering' Drops a New Limited Series, 'Black is Magic'
The seven-card set, entirely illustrated by Black artists, is available now through March 31.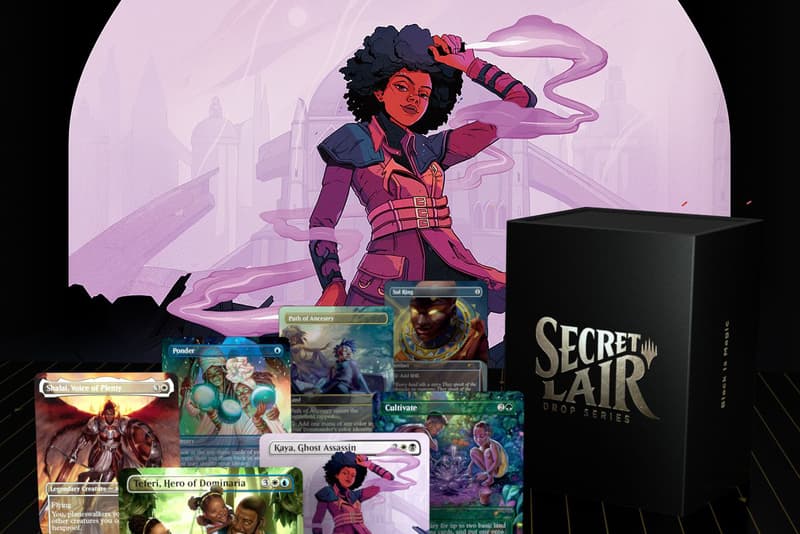 On Monday, Magic: the Gathering announced Secret Lair: Black Is Magic, a new series of seven cards celebrating Black identity, expression and history. Proceeds from the sales will go to Black Girls CODE and will benefit its game design, digital art and game development programs.
The Secret Lair Drop Series features specially curated cards which are only available for a limited time, including the recent Valentine's Day Smitten collection and the Happy Little Gathering collection in November which featured paid homage to Bob Ross.
For this latest Secret Lair series, Black illustrators were brought on to illustrate each of the cards, and the series reflects the diversity of their artistic sensibilities. The stories the cards tell are equally wide-ranging, and include Dani Pendergast's "Kaya, Ghost Assassin," featuring the first Black female planeswalker, and KNIIO's "Teferi, Hero of Dominaria," which celebrates Black fatherhood.
Black is Magic is available for $39.99 USD for regular and $49.99 USD for foil finishes. Sale on the limited-edition set will end on March 31.
Magic's publisher Wizards of the Coast has of late made strides to deepen its commitment to inclusion and make amends for prior mistakes. In June 2020, Wizards announced the removal of seven cards containing depictions of racist and culturally insensitive imagery. The company also cut ties with Terese Nielsen, a former illustrator with alt-right sympathies, and hired a senior manager for diversity, equity and inclusion.