'Magic: The Gathering' Announces Valentine's Day Secret Lair "Smitten" Superdrop
Celebrate the festival of love with a collection of new cards.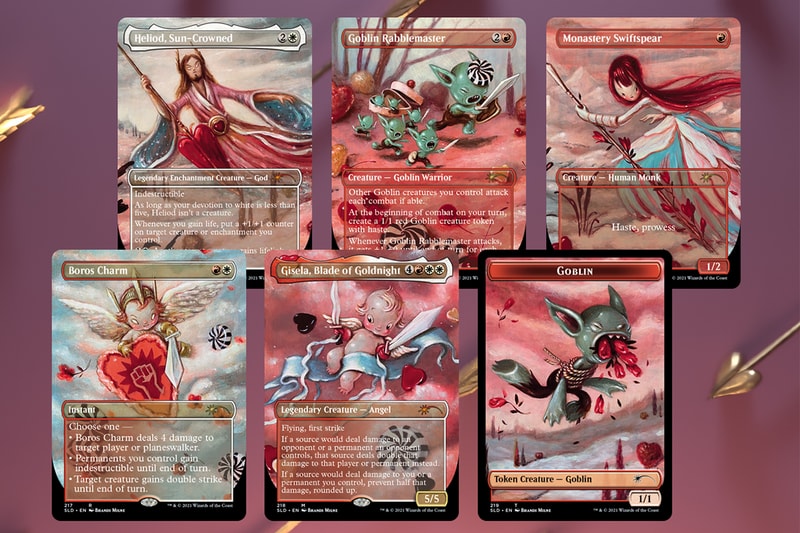 Wizards of the Coast is now joining your Valentine's Day celebrations for a series of exclusive Magic: The Gathering Secret Lair cards arriving in the form of a festive "Smitten" superdrop.
The entire seasonal release will consist of five main packs. Faerie, Faerie, Faerie Rad includes forr borderless foil alternative art cards spanning across Glen Elendra Archmage, Mistblind Clique, Spellstutter Sprite and Vendilion Clique, while the Valentine's Day 2021 pack carries themed, bordlerless renditions of Boros Charm, Gisela, Blade of Goldnight, Goblin Rabblemaster, Heliod, Sun-Crwoned, Monastery Swiftspear, and one Goblin Token, all of which are available in either foil or standard prints.
The superdrop is rounded out by The Unfathomable Crushing Brutality of Basic Lands and Parts 1 and 2 of Showcase: Kaldheim. The former includes full-art pieces for the five different land types, while the latter two packs bring three titans each. If you're not one to settle for less and wish to collect every card from the Smitten superdrop, there's also the All-Our-Love Bundle, which includes all five of the new capsules combined into one package.
For Magic: The Gathering fans out there, you can learn more about the game's Smitten superdrop over on Wizards of the Coast's website.
Elsewhere in gaming, the Pokémon Company has addressed its McDonald's TCG shortage.