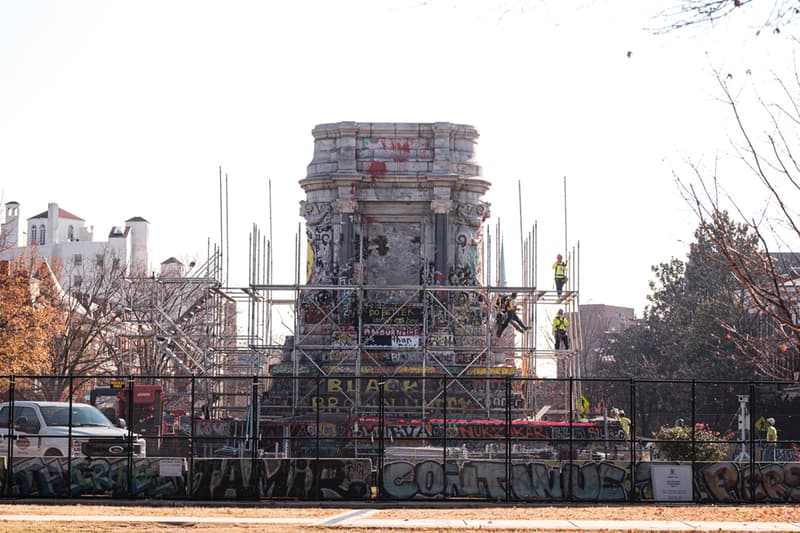 Two Time Capsules Were Found Under the Robert E. Lee Statue
Containing a random assortment of Confederate artifacts.
---
The divisive Robert E. Lee statue that stood in Richmond, Virginia for over a century was recently voted to be melted into metal ingots for new public art. During the removal process this past Monday, December 27, the crew undertaking the process found a second time capsule that some researchers believed would contain a rare photograph of a deceased Abraham Lincoln laying in his coffin.
The copper box was opened on Tuesday to an eager group of conservators, city officials and a digitally tuned audience of 5,000 people. Although the capsule did not contain the photograph, it did include a host of Confederate memorabilia and artifacts dating as far back as 1887. Silver coins, a water-logged bible, bullets, various newspapers and an odd assortment of items were found.
The closest object to the desired photo was an issue of Harper's Weekly dated to April 29, 1865, which depicts a man standing next to Lincoln's body. According to Sue Donovan, a conservator at the University of Virginia, the photograph is "not an original." The discovery comes off the heels of a similar box found under the statue just six days earlier. Just like the first, experts were perplexed to find an array of random items that were placed in by the workers who built the pedestal.
The legend of the Lincoln photograph dates back to newspaper accounts from 1887 stating that boxes were buried under a number of Confederate monuments during the 1890s. Whilst the search continues, researchers such as Julie Langan note that discoveries like these are "what makes history so interesting."
On the topic of artifacts, Israeli divers found two sunken ships filled with Roman coins.