The Third Drop from Popeyes and Megan Thee Stallion Takes Fans from Houston to New Orleans
A new series of merch that celebrates a shared pride for Southern roots.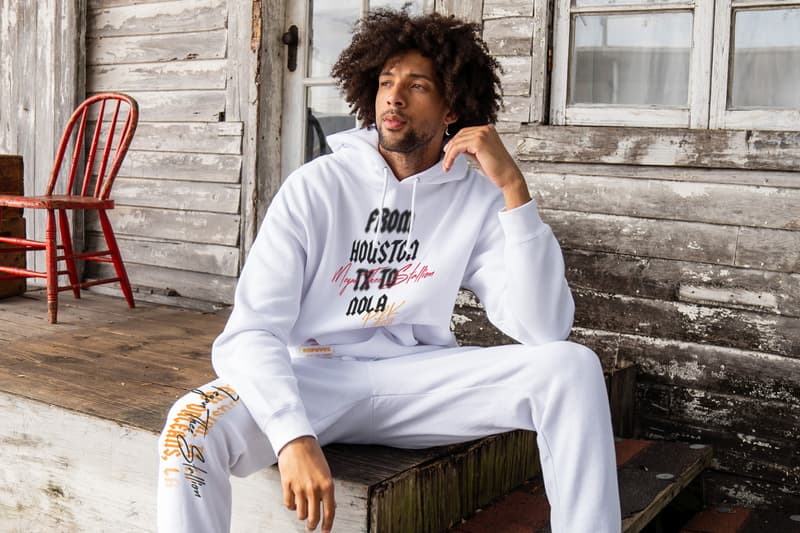 Popeyes and Megan Thee Stallion are continuing to bring the heat with their partnership, dropping the third collaborative merchandise collection to celebrate the star's limited-edition Hottie Sauce. For this release, dubbed "New Nostalgia," the musician and franchise are celebrating their respective hometowns of Houston, Texas, and New Orleans, Louisiana, with the line of apparel and accessories.
The latest assortment from Megan Thee Stallion and Popeyes is anchored by a unisex sweatsuit that reads, "From Houston to NOLA," reinforcing a shared pride for their Southern roots. The phrase appears on a white hoodie and matching jogger sweatpants, with orange and red detailing and co-branding that keep in step with the color palette and aesthetic seen on the collaboration's first two drops. Other standout items include a series of cropped and full length T-shirts featuring an image of the rapper surrounded by illustrated flames — another recurring theme from the apparel line that serves as a visual extension of the spicy condiment Meg created for the restaurant's signature chicken sandwich. A trucker hat and beanie round out the final release of the partnership.
Drop three from Popeyes and Megan the Stallion is available now on Thee Hottie Sauce's dedicated website.