Essentials: James Arizumi
The Nike design director walks us through his favorite lifestyle items.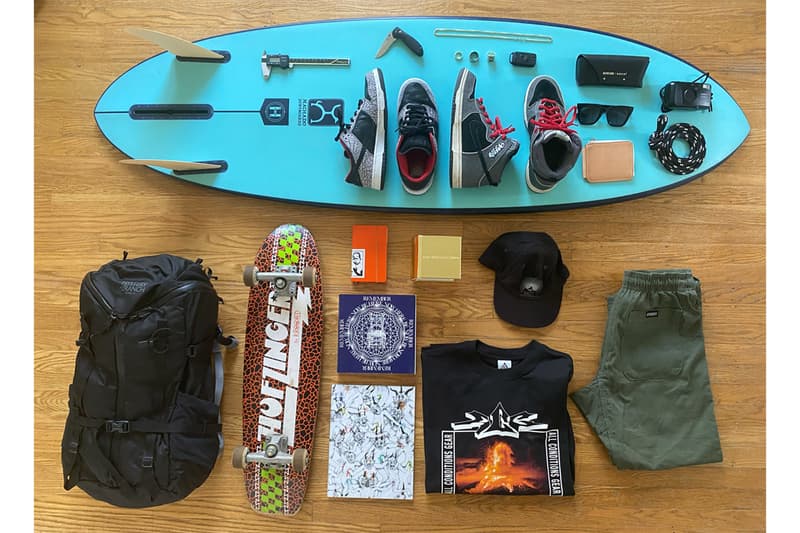 For this week's Essentials installment, we speak to James Arizumi, who's currently the Senior Footwear Design Director of Special Projects at Jordan Brand.
Arizumi studied architecture during his undergrad, holds a degree in Industrial Design from the Pratt Institute, and has almost two decades of experience at Nike. During his storied career at the Swoosh, he's been the creative lead at Nike Golf, Tennis, SB, and ACG and most recently led Nike's Concepts, Athletes, and Purpose studios prior to his current role at Jordan.
For his Essentials picks, the Hawaiian-born innovator showcases his favorite kicks, go-to reads, artwork, and a range of gear that reflects his active outdoor lifestyle. Take a look below as he dives into the story behind each item.
MF Doom x Nike Dunk High Pro SB Samples
If you know you know. White sidewall and Ostrich on all the overlays. Different from the in-line release. We were still dialing in the overall look of the shoe for this one. Personally, I like this version the best. It's one of my favorite projects from this Box Era of SB and even more so now.
Supreme x Nike Dunk Low SB "White Cement"
Need I say more. Everyday driver, goes good with anything and Iconic. I guess I am realizing I am a white sidewall kind of person.
Leuchtturm Grid Sketchbook
Love everything about these, the paper, the leather-bound covers, inside pocket for notes, double bookmark webbing, and its size.
Linchpin by Seth Godin. A must-read for every Creative and Iconoclast.
"Art is a personal gift that changes the recipient. The medium doesn't matter. The intent does." "Art is a personal act of courage, something one human does that creates change in another."
Be Here Now by Ram Dass
A book about being present and personally engaged. A beautiful book with incredible thoughts and illustrations. Something so needed during this time of Social Media and the internet of distractions. I've been into a lot of this the past six years, through float deprivation tanks, daily meditation, and shamanic experiences and it has forever changed my life. I continue to grow and evolve from the inside out.
Gold Nike Book
If you know you know. A limited classic. Great reference material and hand-numbered.
Rope Belt
Handmade and given to me 8 years ago from a great friend in Maui on a boat trip. What I love about this belt is its simplicity but also its steez. It rolls up nicely and also gets through airport security without having to take it off and have your pants fall down while walking through screening. The best thing is this belt truly embodies the person who gave it to me, his curiosity, hustle, ingenuity, and style, thank you Jordan.
18 East Hat
Hand made in India and imbedded with soul. Antonio and crew are doing amazing work perpetuating time-honored production methods, that withstand the test of time as well as tell stories about the people that made them. What more can I say.
ACG Long Sleeve Shirt
Honestly, I didn't wear a lot of Nike apparel until ACG. The fit on this shirt is amazing as well as the weight and wash. More important to me is the season of this shirt and the storytelling on it, representing Hawaii my home and my family's home for generations. Everything I have done is always to represent my heritage and culture and you can see that throughout my career in SB and now ACG. Big Mahalo to everyone on the ACG crew for making this happen and a special shout out to Kuaho and Ohana.
Albino & Preto Padmore Barnes Pants
These pants are the TRUTH. Not only good for training Jiu-Jitsu with my daughter every week but seriously my daily drivers. It has stealthy pockets for all your everyday carry but is also super comfortable. The waistband closure system was designed just like the ones you find on the Kimonos A&P creates which makes for a unique but also easy on easy off and comfortable fit.
Native Sons x Sacai Sunglasses
Love these Cornell Frames beautifully crafted and made by the legendary Tommy Ogara out of Japan. I love the proportions and details which make these frames stand out from the rest. I also love how they are crafted from plant-based original cellulose and the highest standards and craftsmanship in the industry.
Hender Scheme Zip Wallet
A transition from my Commes Des Garcon zip wallet for the first time in 13 years this wallet does it all but with a twist as only Hender Scheme can do. Can't wait till it gets the patina and wears on the vegi-tan leather.
Gold Chain Necklace
By the legendary NYC Spencer Fujimoto and his company El Señor. Rep yo set.
Tiffany 14K Gold Wedding Ring
One ring to rule them all.
Oura Ring
Amazing sleep, heart, health monitor all on your finger. Stealthy and low-key and helps you focus on the only thing that matters, your health. Incredible accuracy and has been helping me fine-tune my life to get better sleep and movement going.
Great Frog "D.F.F.L Dice" Ring
Old school aesthetics with a vibe that can't be messed with. D.F.F.L Dope forever, forever loaded, and FTW.
Benchmade Griptillian Folding Knife
Goes everywhere with me. Fits nicely, great blade for everyday use.
Sprinter 2500 Van Key
I've had this van for eight years now and it has been the best/dumbest thing I have ever bought. It has been a life adventure vehicle for myself and my family of 5. We camp, drive, sleep, and everything in between in this van. It gets incredible gas mileage and everyone that has ever ridden with me says I drive it like a suped-up Honda Civic. I go fast and go hard, watch out fools this ain't no FedEx van.
Mitutoyo Caliper
The tool that every footwear designer needs/uses. GOD is in the Details or MM in this case.
Yashica T4 35mm Camera
Carl Zeiss lens, what more can I say. I carry this camera everywhere and the shots that come back from this are brilliant. Easy to use and consistent as hell. I love having old rolls of film developed and how much photos mean when you have them printed and can hold in your hand. In this day and age of fake filters, camera photos, and unlimited shots there is something to slow time down, taking care and thought in your photographs and capturing the moment.
Huf Zinger by Krooked
I have had this setup forever and it still GOES. This board means a lot to me as it was given to me from Keith many moons ago. I keep it in my Van as I always have to park far because the van does not fit in garages and tight street spots, so I use it to ZIP ZING from spot to spot.
Mike Gigliotti Hand-Drawn Illustration
Another special one for me is because Mike is an amazing artist, skater, and human but also because it was from his solo art show that I helped get together at One Grand in Portland Oregon. Lotties Skateshop 4 ever.
Machado Sunday Helium Surfboard
Honestly, this board is in here because the board I ride every time I surf the coast here in Oregon is too big to fit for Hypebeast's format. But seriously this board is amazing. I don't know what the Helium does other than make it paddle like a speedboat but it's so fun to ride. The longer that I surf the more I am drawn to surfing that flows with the waves, draws beautiful lines, and style. This modern twin fin takes the principles of surfing from back in the day and applies them to modern-day surfing. Longer drawn-out bottom turns and cutbacks, as well as speed and surfing the face of the wave rather than just the pocket. Skateboarding saved my life but surfing is helping me reclaim mine after the past few years.
Take a look at James Arizumi's product spread above and stay tuned for more Essentials features in the coming weeks.
In the meantime, we recently spoke with Sabukaru founder and Editor-in-Chief Adrian Bianco.