Best New Tracks: Roddy Ricch, Aaliyah x The Weeknd and More
10 music projects to dive into this weekend.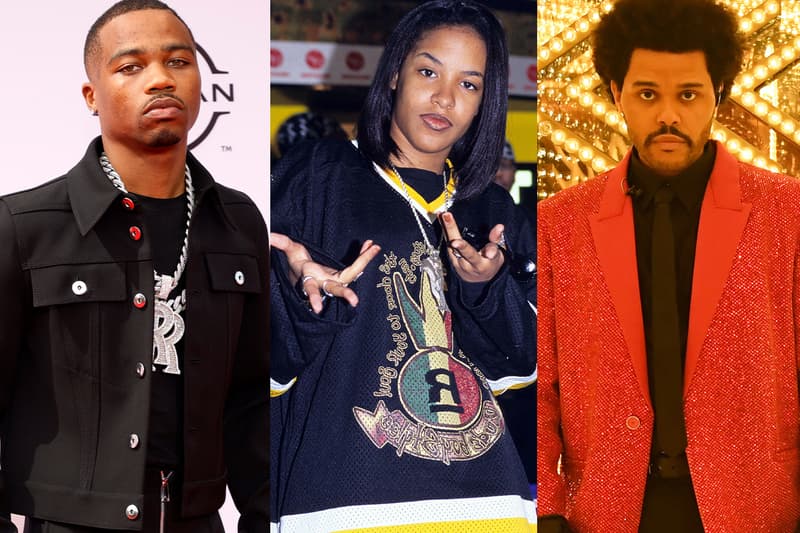 As the week in music comes to a close, HYPEBEAST has rounded up the 10 best projects for the latest installment of Best New Tracks.
This week's list is led by Roddy Ricch's second studio album LIVE LIFE FAST, a collaborative effort between the late Aaliyah and The Weeknd and two new singles from 6LACK. Also joining this selection are Burna Boy and Wizkid, Earl Sweatshirt and Armand Hammer, Benny The Butcher, Boldy James and The Alchemist, FKA twigs with The Weeknd, Lance Skiiiwalker and Bobby Shmurda with Quavo and Rowdy Rebel.
Roddy Ricch - LIVE LIFE FAST
Roddy Ricch finally delivered his Please Excuse Me For Being Antisocial followup LIVE LIFE FAST, enlisting the help of Future, 21 Savage, Kodak Black, Takeoff, Jamie Foxx, Alex Isley, Ty Dolla $ign, Fivio Foreign, Lil Baby, Gunna, Mustard, Southside, Boi-1da, Cardo, Wheezy, TM88, Ronny J, Kenny Beats, Tarentino and more for his 18-track record.
Listen: Spotify | Apple Music
Aaliyah x The Weeknd – "Poison"
The late Aaliyah and The Weeknd got together for her newest single "Poison" — her first release in over 15 years. The track is billed a first listen to her upcoming posthumous album Unstoppable and was co-written by The Weeknd and her longtime collaborator and friend Static Major. Barry Hankerson, Founder of Blackground Records, said in a statement, "I wanted her adoring fans to get a special gift before the holidays and felt it was the perfect time to release a never-before-heard offering. Make sure to add "Poison" to all your favorite Aaliyah playlists and subscribe to Music360 to stay connected."
Listen: Spotify | Apple Music
6LACK – "Rent Free / By Any Means"
6LACK closed out his 2021 with the release of his back-to-back single, "Rent Free" and "By Any Means." This marks his first solo release of the year and follows 2020's 6pc Hot EP, and fans can expect his East Atlanta Love Letter followup to drop in 2022.
Listen: Spotify | Apple Music
Burna Boy x Wizkid – "B. D'OR"
Burna Boy and Wizkid joined forces their latest collaboration, "B. D'OR." Produced by Nigerian-British producer P2j, the track is inspired by the Ballon d'Or, one of the most prestigious trophies given to professional soccer players. The single follows Burna Boy's announcement of his One Night In Space show in Madison Square Garden in April 2022, which will make him the first Nigerian artist to headline a concert at the venue.
Listen: Spotify | Apple Music
Earl Sweatshirt x Armand Hammer – "Tabula Rasa"
Earl Sweatshirt and duo Armand Hammer offered bars on the slow-burning cut "Tabula Rasa," which is set to appear on the former's upcoming project, SICK! "SICK! is my humble offering of 10 songs recorded in the wake of the worldwide coronavirus pandemic and its subsequent lockdowns. Before the virus I had been working on an album I named after a book I used to read with my mother ('The People Could Fly'). Once the lockdowns hit, people couldn't fly anymore. A wise man said art imitates life," Sweatshirt shared in a statement. "People were sick. The People were angry and isolated and restless. I leaned into the chaos cause it was apparent that it wasn't going anywhere. these songs are what happened when I would come up for air. Peace and love to Zelooperz the enigma, The Armand Hammer, and my good friends Alchemist and Black Noi$e. Peace and love to u."
Listen: Spotify | Apple Music
Bobby Shmurda x Quavo x Rowdy Rebel – "Shmoney"
Quavo and Rowdy Rebel hopped on Bobby Shmurda's latest single "Shmoney," continuing the latter's non-stop run of new releases post-prison. Shmurda's return has seen him perform a set at Rolling Loud New York and drop a series of new cuts such as "Splash" and "Cartier Lens."
Listen: Spotify | Apple Music
Benny The Butcher – "Mr. Pyrex Man"
Benny The Butcher and his Black Soprano Family are gearing up to release their complication, Long Live DJ Shay, with its lead single "Mr. Pyrex Man." Fans can expect appearances from the BSF crew including Rick Hyde and Heem, plus guests like Boldy James, Stove God Cooks, Krayzie Bone and Armani Caesar. Long Live DJ Shay drops Q1 2022.
Listen: Spotify | Apple Music
Boldy James x The Alchemist – Super Tecmo Bo
Boldy James and The Alchemist are ending 2021 strong with their latest project, Super Tecmo Bo. The nine-track record follows this year's Bo Jackson and last year's The Price of Tea in China, with James previously revealing to HYPEBEAST, "My [rhymes] are all premeditated. I just got to put them on the paper to organize them. It's not always paper. Sometimes I might rip the top off a shoe box or a pizza box or something. I write with pencil, pen — it don't matter bro. I done wrote raps in crayon before."
Listen: Spotify | Apple Music
Lance Skiiiwalker - Tales From The Telescope Chapter 2: Internal Shine
TDE staple Lance Skiiiwalker followed up his Tales From The Telescope EP project with Chapter 2: Internal Shine. The five-track record features appearances from labelmate SiR on "Peso" and Mia Gladstone on "Save My Number," the latter of which also arrives with an accompanying music video helmed by ourros. "I've always made music to inspire people to live life with curiosity, joy, and imagination," Skiiiwalker said in a statement. "During the pandemic everyone has been forced to be alone more often, so it's the perfect time to learn self growth and love. Stay introverted!"
Listen: Spotify | Apple Music
FKA twigs x The Weeknd – "Tears In The Club"
FKA twigs and The Weeknd teamed up for the heartbreaking anthem, "Tears In The Club." The Arca co-produced collab marks twigs' first release under Warner and her followup to her The King's Man soundtrack contribution, "Measure of a Man," while The Weeknd recently celebrated five years of STARBOY with a visual for "Die For You."
Listen: Spotify | Apple Music