Silk Sonic Delivers Tracklist for Highly-Anticipated Debut Album
The first album from the R&B superduo is out November 12.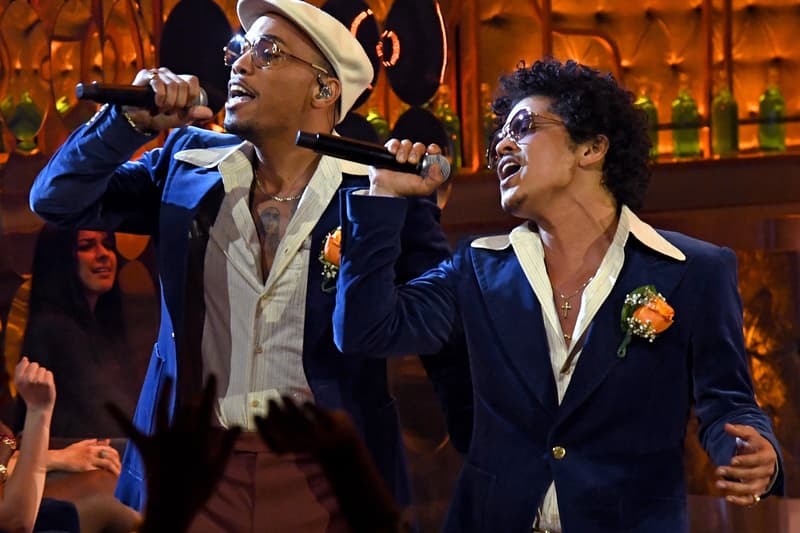 The tracklist is out for the debut album of Bruno Mars and Anderson .Paak's R&B superduo Silk Sonic. Out a week from today, An Evening with Silk Sonic will encompass nine singles, three of which have already been released.
The LP will open with an eponymous intro track, followed by its lead single, "Leave the Door Open." The duo made its debut with the song in March and cited a contemporary R&B genre called quiet storm as its inspiration.
July's "Skate" is listed second-to-last on the album, while "Smokin' Out the Window," which was dropped today, is fifth.
New music from Mars and Paak on the tracklist includes "Fly As Me," "777," "Put On a Smile" and "After Last Night" featuring Thundercat and Bootsy Collins, the latter of whom was named the "special guest host" of the album. The single "Blast Off" will serve as the closer of the LP.
The tracklist contradicts speculation that Childish Gambino and Ariana Grande will appear on the album. Rumors of their potential involvement circulated after Collins posted, and later deleted, a photo promoting its release on Instagram and tagged the two artists. Now it seems that fans will simply have to wait until the album drops to see if the two appear as guest artists or if Mars and Paak have any other surprises in store.
An Evening With Silk Sonic is slated to release on November 12.
View this post on Instagram
In other music news, Snoop Dogg tapped Jadakiss, Busta Rhymes and Benny the Butcher to make "Murder Music."