Best New Tracks: Silk Sonic, Juice WRLD and More
Enjoy the weekend with these 10 music projects.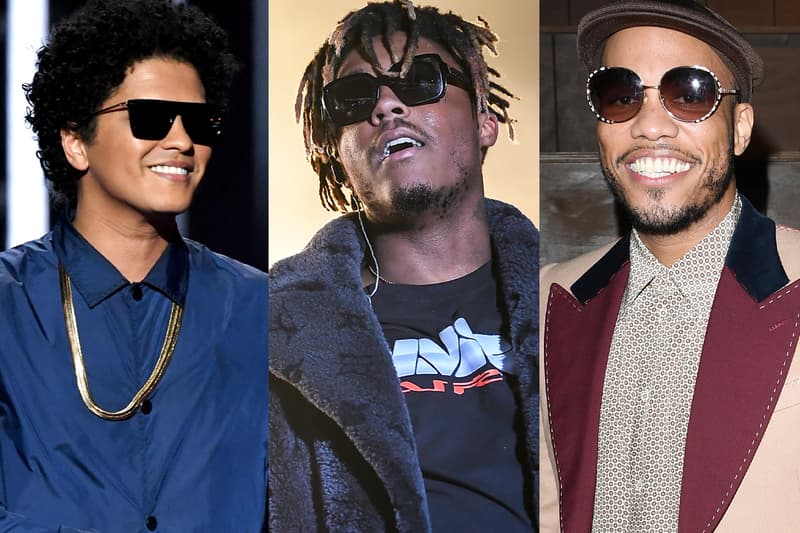 As the week in music comes to a close, HYPEBEAST has rounded up the 10 best projects for the latest installment of Best New Tracks.
This week's list is led by Silk Sonic's highly-anticipated debut album An Evening With Silk Sonic and the lead single from Juice WRLD's upcoming posthumous album. Also joining this selection are projects from BROCKHAMPTON's Merlyn Wood and CONNIE, NNAMDÏ, Fana Hues, BERWYN, Kojey Radical, Smino and NOS, Clams Casino and Erica Banks.
Silk Sonic - An Evening With Silk Sonic
Anderson .Paak and Bruno Mars' superduo Silk Sonic has finally dropped off their sought-after debut record, An Evening With Silk Sonic. The nine-track record, heavily influenced by the tone and lyricism of '70s soul and funk, is hosted by Parliament Funkadelic member Bootsy Collins and features a sole guest appearances from Thundercat.
Listen: Spotify | Apple Music
Juice WRLD – "Already Dead"
The estate of Juice WRLD delivered "Already Dead," the lead single off his upcoming posthumous album, Fighting Demons. "Jarad was always searingly honest about his struggles and through his musical genius he articulated what was on his heart and mind vividly through his art. He never gave up and his friends and family never gave up on offering their support to him," Ms. Wallace, Juice's mother, and Grade A Productions shared in a statement. Fighting Demons drops December 10.
Listen: Spotify | Apple Music
Merlyn Wood x CONNIE – "S.Y.K."
BROCKHAMPTON staple Merlyn Wood enlisted the help of LA-based artist CONNIE for his brand new single, "S.Y.K." The cut, which arrives with an accompanying music video helmed by CONNIE and WELL KNOWN STUDIOS, marks the first solo release outside of Kevin Abstract from a BROCKHAMPTON member since 2017. A full-length has not been announced as of writing, however fans can catch the Merlyn and the rest of the group on the road next year.
Listen: Spotify | Apple Music
Clams Casino – "Water Theme 2"
Clams Casino is set to release his upcoming instrumental record Winter Flower on November 17, and the producer has unveiled its lead single "Water Theme 2." His last full-length solo effort dates back to 2019's Moon Trip Radio, but recently dropped "Sandman" with A$AP Rocky and Kelvin Krash as part of Rocky's LIVE.LOVE.A$AP 10th anniversary digital release.
Listen: Spotify | Apple Music
NNAMDÏ - Are You Happy
NNAMDÏ has delivered his latest EP Are You Happy — a five-track project produced by electronic artist Lynyn and the first not self-produced by the Chicago artist. The new EP also features a remix of "Glass Casket," which appeared on NNAMDÏ's BRAT. The artist is also set to open for Black Midi next year, appearing in areas like Detroit, Toronto, Washington, Atlanta and more.
Listen: Spotify | Apple Music
Smino x NOS – "I Deserve"
Smino and NOS linked up for the collab "I Deserve," produced by Kal Banx and Wu10. This marks the St. Louis' rappers third release of 2021 following "MLK Dr" and the Monte Booker-assisted cut "Rice & Gravy." His last studio album dates back to 2018's NØIR, however he did release the extensive 16-track mixtape She Already Decided in 2020.
Listen: Spotify | Apple Music
BERWYN – "MIA"
New Gen: Fall 2021 contender BERWYN dropped off his latest single, "MIA," which follows his second mixtape TAPE2/FOMALHAUT. "This song means the absolute universe to me. It's a dedication to all the missing pieces that aren't here anymore," he said of the song. "I titled it "MIA" because it does what it says on the tin, it's a time to think and to honor the people that aren't with us now…and to acknowledge the fact that there is still a lot of violence outside. Performing this song comes like walking through a gate to the other side… feels mad spiritual, not sure why."
Listen: Spotify | Apple Music
Erica Banks – "Designer"
Erica Banks, who blew up thanks to her viral hit "Buss It," is continuing her hot streak with the new single "Designer." The up-and-comer sampled the Crime Boss classic "Stilettos (Pumps)" for the two-minute cut, also namedropping the biggest names in fashion while touching on her aspirations.
Listen: Spotify | Apple Music
Fana Hues – "Pieces"
Shortly after teaming up with Tyler, the Creator for the CALL ME IF YOU GET LOST cut "SWEET / I THOUGHT YOU WANTED TO DANCE," Fana Hues shared her brand new single "Pieces." This marks her first solo release of the year and follows her 2020 prject, Hues. "I thought it was super important for me as a Black woman to be open about that because so many times I feel like I'm not allowed to express my emotions," she said. "I'm kind of all over the place, but there's always a method to the madness; it's all centered; it all has a purpose."
Listen: Spotify | Apple Music
Kojey Radical – "Gangsta"
As Kojey Radical prepares to release his debut album in 2022, the British-Ghanaian delivered the project's second single, "Gangsta." The four-minute cut features an original live score and is his most personal offering yet. "Any time I come to a sense of reasoning or a sense of self, it's normally because of the advice or presence of women around me, whether that's my mum, my sisters or the mother or my son," Radical shared in a statement. "This song is a celebration of the of those women and an appreciation of everything they've been through. For me, their ability to persevere through everything is the definition of what a gangster actually is."
Listen: Spotify | Apple Music