Sole Mates: Al Martinello and the Reebok Question Mid
The founder of Brooklyn's Select Vintage shop speaks on his affinity for Allen Iverson and his favorite Question colorways.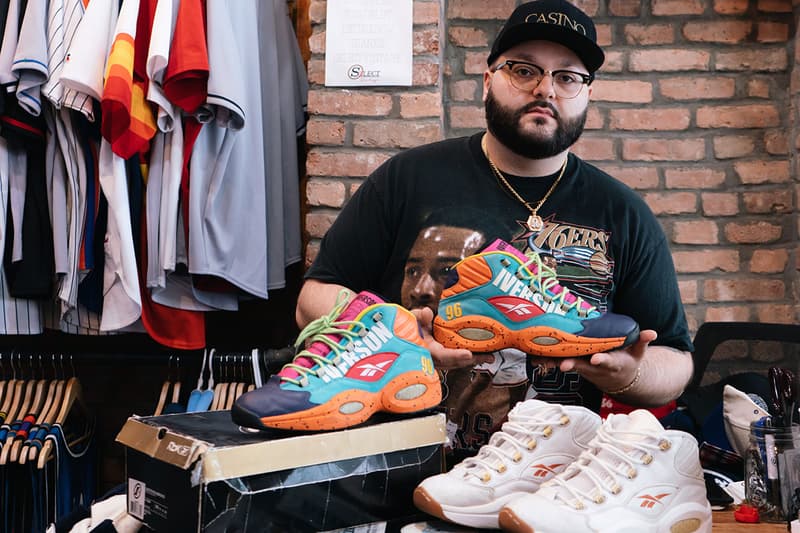 There are several gateways in which one can be introduced to the space of sneakers, whether it be through indulging in sports, receiving one of your parents' retro Jordans from the early 90s, or seeing your favorite celebrity rocking a fresh collab. For Al Martinello — the owner and founder of the vintage Brooklyn-based sportswear apparel shop Select Vintage — his affinity for kicks developed by marveling at the career of his all-time favorite hooper: Allen Iverson.
Martinello views Iverson as his muse, developing a fandom for the Sixers All-Star ever since Iverson's early days as a professional baller in '96. It was everything about the Hall of Fame point guard that influenced him from his ankle-breaking crossovers on the hardwood to his effortless street style to his signature sneakers. Iverson simply had an undeniable swagger about him that he could not ignore, and his signature Question Mids certainly sparked his love for Reebok sneakers, allowing him to open up a successful vintage store and eventually meet his hoops hero in the flesh.
Despite the fact that Martinello grew up in Queens, New York — an area that is most commonly associated with the Nike Air Force 1 — Martinello never found that particular footwear movement appealing. Instead, it was the Reebok Question Mid. Hot off the heels of Allen Iverson being named to the NBA's top 75 list, HYPEBEAST had the chance to catch up with Martinello to discuss his favorite moments from the iconic point guard's career as well as the most prized Question Mid iterations in his 80-plus pair collection.
HYPEBEAST: Let's set the scene for our readers first. How did Select Vintage come to life?
Al Martinello: My Allen Iverson fandom sparked this whole thing. Back in the early 2010s, I was reselling Iverson sneakers pretty exclusively because it was sort of only a market that I knew, and I was selling a lot on eBay. From there, my collection of Allen Iverson kind of grew and transitioned. In the early stages it was trading cards, but then I transitioned into more wearable items like jerseys and game worn memorabilia. But the whole reason why I had an affinity for vintage sports and pop culture pieces was because I was a fan of AI and mainly because I was a fan of his early years in the league from 1996-2000.
Buying old jerseys always kept me in the loop of what the market was for old Champion jerseys and when I first started selling vintage, it was very sports-oriented, but then it blossomed into everything else from music to Tommy Hilfiger to Polo.
"I was tired of going to the mall or a function and seeing everyone wearing the same Jordans. I loved that Iversons didn't have any real "hype" around them."
I understand that Allen Iverson sparked your love for vintage items and jerseys, but would you say it also kick started your love for sneakers too?
Definitely. The thing about sneakers is that I didn't want to be like everyone else. I was tired of going to the mall or a function and seeing everyone wearing the same Jordans. I loved that Iversons didn't have any real "hype" around them. You could go to Foot Locker or your local sneaker store and just buy them, and you would rarely see the same pair on someone else. And I feel like that's what attracted me to them because nobody else was wearing them except for the people that I knew that were Iverson fans. It's funny because I even used to buy what I would consider the Iverson version of the Air Force 1s. Reebok used to do a lot of offline models such as the Reebok Pressure where they were more geared towards lifestyle and they were dirt cheap at around $30 USD and they essentially had the same silhouette as the Air Force 1. I used to even buy those just to be different. I'm very brand loyal when it comes to Reebok, you'll always catch me in either an Iverson or a Pump.
Being that you're a native New Yorker, and the Big Apple is heavily associated with the Air Force 1, how did people around you react to you taking a different lane with your footwear?
I'm 31 years old now and to this day I'm known as the Allen Iverson guy. It was that way throughout middle school, high school and beyond so it wasn't that outlandish for me. I could've been roasted because they might've looked like bootleg Air Force 1s, but they just had an "I3" where the check would be, but also I didn't really give a sh*t. You know how Nelly says "Give me two pairs," that's what I was doing with Iversons, especially on eBay because you could find them for $20-30 USD because no one really wanted them.
What was it about AI that you admired exactly?
When I would watch him play, I could clearly see the height difference as he was going up against dominant and iconic centers like Shaquille O'Neal and Dikembe Mutombo, and he still found a way to cut through the lane and find his pockets. The visual optics of it was astounding to me and the fact that many times he was the best player on the court. It was the way he broke down defenses for a guy being that size and his fearlessness was something to marvel at.
So at what point did you start to actually become a fan of his footwear?
I'd say during the 1999-2000 season because that was his MVP season and it included the Finals run. And on top of that, that's when I really wanted to play like him. The first silhouette I fell in love with was the Question Lows because they came out with so many different colorways. I used to subscribe to Eastbay magazines, and they had tons of Eastbay exclusives — colorways you couldn't just walk into your local Foot Locker to buy. And since I grew up in Queens, they just weren't popular around my friend group, and that was even more appealing to me.
"As I've gotten older, I've started to like the Mids more. It's kind of like liking dark beer, it's an acquired taste."
Would you say you're more of a Question Low or Mid guy?
As I've gotten older, I've started to like the Mids more. It's kind of like liking dark beer, it's an acquired taste. There's nothing that compares to a brand new pair of Reebok Questions because the padding is new and it just hugs your foot right like a pillow. Right. So comfort-wise I love them too because they're actually comfortable to me and I'm not sacrificing my comfort just because I want to be brand loyal. I just really love the silhouette, the cut of the shoe, the amount of padding, everything is just the perfect storm for me.
Is there a pair of Questions that you had to try really hard to hunt down?
Crown Royal, the liquor brand, did a collaboration on the Questions and it came in a purple velour colorway with gold stitching and special packaging. I know another huge AI fan that lives in Detroit and we worked out a multi-shoe trade and he tossed those in the deal and I was super happy to get those. These are also special to me because those came out during a time when food and beverage companies weren't really doing footwear collaborations like they do today.
Talk to me about meeting Iverson in person.
It was at an autograph signing in a mall in Philly and you had to pay per item to get something signed. I brought my three foot AI bobblehead statue with me because there was no way in hell that someone else was going to bring something like that, along with a vintage Iverson Jewels-40 bars vinyl record from his rap career with me to get signed. I was definitely star struck in the moment and I was able to get a few words in with him so it was special.
What are some of your favorite memories of AI from his hoops career?
It's kind of standard but the step over Tyronne Lue for sure, and that's mostly because I remember watching it and going nuts, but also the double crossover on Antonio Daniels because it was one of the craziest moves that I've ever seen. Also his performance in Game 1 of the Finals was also just a quintessential moment because he carried the team into overtime.
So today you brought out the Reebok Question Mid "Tobacco" and the UNDEFEATED collab? What is it about these colorways that resonate with you most?
Both have monetary and sentimental value to me. I'll never sell the UNDEFEATED colorway. That in and of itself is almost like a "What The" Dunk to me as the colors aren't something that you can rock everyday or with everything, and the asking price for those is over a rack now. The last time I wore those was when AI showed his film at the 2014 Tribeca Film Festival and I was actually sitting three rows behind him. I believe I copped the "Tobacco" colorway through Eastbay, and it's just one of the cleanest colorways to me so I'll never part ways with those.
"They just take me back to a good time, especially when they weren't pumping out colorways like they do now because I believe every brand now is just aimlessly doing collabs. So for me, sneakers are super nostalgic."
Why are sneakers and the stories they hold important to you?
Sneakers tend to take me back to a different time. They remind me of when I acquired them, how old I was, and when my life was completely different 10 plus years ago when I had no bills I was living at home. It's like smelling your grandma's cookies. Sneakers have that same effect on me because when I hold them, I can remember the last time I wore them. They represent transitions in life. I can look at a certain pair of kicks and think to myself, "Ah, to be 15 again!" They just take me back to a good time, especially when they weren't pumping out colorways like they do now because I believe every brand now is just aimlessly doing collabs. So for me, sneakers are super nostalgic.