Tinker Hatfield's Latest Venture: Motorcycle Designer
The iconic footwear designer has teamed with See See Motorcycles to craft his first bike — and he shared his thoughts on the process with HYPEBEAST.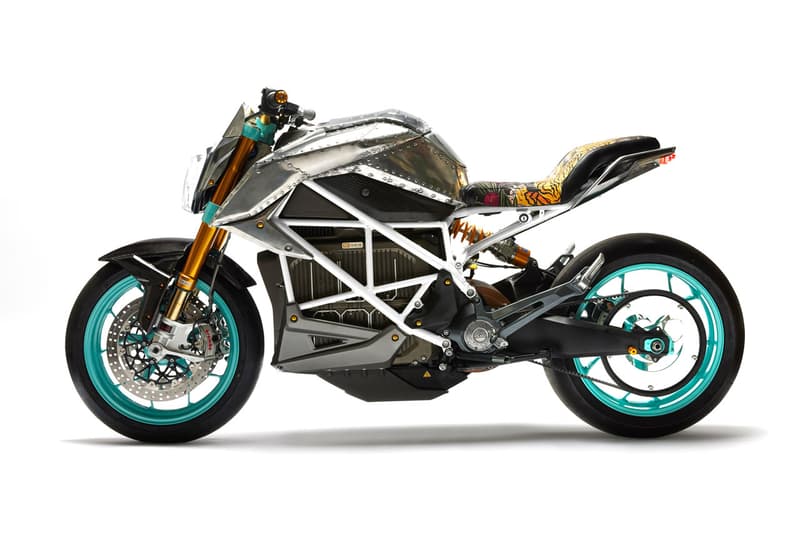 Nike's Vice President of Design and Special Projects, Tinker Hatfield, is responsible for decades of iconic shoes ranging from the Air Jordan 3 (the shoe that saved Michael Jordan's relationship with Nike) to the Air Max 1 (the first sneaker with visible Air cushioning) and the MAG (the Back to the Future sneaker). He's shaped sneaker culture and has, in the eyes of many, become a legend in the process.
Over the course of the past two decades, Hatfield has become an avid motorcycle rider. His love for motorcycles started with some light-hearted teasing from Michael Jordan, and has grown to become, in his own words, an "escape from the complexities of everyday life."
Now, Hatfield is leaning even further into his passion for motorcycles. He's teamed up with creative agency Kamp Grizzly and Thor Drake — founder of custom motorcycle garage See See Motorcycles — to work on his first-ever bike. Featuring an electric engine from Zero Motorcycles, the design harkens to beautiful racing bikes but, in Hatfieldr's own words has been "Portlandized."
The 1-of-1 bike will officially be up for auction at Bonhams on October 21 at 11 a.m. PT.
Tinker Hatfield sat with HYPEBEAST to discuss everything from the start of his motorcycle journey to the parallels he sees between footwear and automotive design.
HYPEBEAST: Is it true that you were a scooter rider first, then Michael Jordan shamed you into becoming a motorcyclist?
Tinker Hatfield: That is actually quite accurate. After Michael retired for good in 2003, he started riding motorcycles and had his Suzuki motorcycle racing team. At the time, I was riding motor scooters. It was an economical way to get around Portland, and I enjoyed it. He'd ask me what I was riding, and when I told him I rode a Vespa he was like "I don't even want to be seen with you. Put on your big boy pants and we'll go for a real ride" [laughs].
A few years later I'd graduated into riding all kinds of motorcycles. By then Michael got remarried, had two beautiful baby daughters and decided to give up riding motorcycles for a while. The tables were turned a bit, so I let him hear it every once in a while [laughs]. We've always kind of had that "friendly jousting" dynamic.
What drew you to motorcycles besides Michael's needling?
I've always loved being on two wheels, no matter if it's a road bike, a mountain bike or a scooter, so a motorcycle was kind of an evolution of that. It just feels like freedom to me. I've had everything from a Ducati to a Zero electric bike and a BMW motorcycle, different bikes for different purposes. It's a recreational thing for me and I enjoy it tremendously.
"[Riding motorcycles is] a break from my daily design responsibilities, and honestly from all the complexities of life — I think a lot of people ride for that reason."
Is riding a motorcycle a chance to clear your mind, something that sparks your creativity or a little bit of both?
I'd say that both of those are good reasons, and your question is a good description of how I look at riding. It is very much an escape. I can take a break from work and ride around town, or even do a 500-600 mile trip if I'm feeling really adventurous. I view it as a break from my daily designing responsibilities, and honestly from all the complexities of life — I think a lot of people ride for that reason.
You've been riding motorcycles for quite a while. Why was now the right time to explore that passion a little further and work on creating a motorcycle of your own?
Well, I'm good friends with PJ Jasienski, who's connected with Kamp Grizzly [creative agency] and See See Motors. He introduced me to Thor Drake, [See See founder], and when they asked if I'd like to help design a bike I jumped at the opportunity. It sounded like a lot of fun, and I subscribe to the notion that if you're a designer and you know your craft well you can design anything. Thor has an awesome design sense, See See builds great bikes and I love hanging out at the See See coffee shop so it was a no-brainer.
Can you talk me through the bike's design process?
No matter if I'm doing sneakers, architecture — what I was originally trained in — or a motorcycle, there's a certain rhythm and a pattern to how it all works. You've got to deal with criteria, understand your client and go through a process. Because of that, I wasn't afraid to jump in and mess around with a motorcycle. It also helped that I had some personal insight: if you're going to design a motorcycle, you should probably have ridden one a bit [laughs].
The Zero motorcycle that we were working with is very beautiful and reminded me of an Italian superbike. Thor and I decided our goal was to "Portlandize" it, which to a New Yorker like you would be saying that we were going to "Williamsburg" it [laughs]. I drew up some sketches with tattoo-style art on the saddle, and part of the bike's build was inspired by the latticework of the overhead towers that hold up electrical lines. I sent that work over to the Kamp Grizzly guys and Thor, then the whole thing went into Thor's garage so he could start building the bike.
We combined my drawings with his sense of motorcycle design, and we were on the same page with the whole notion of it representing Northwest edginess. We wanted to take this really beautiful bike and kind of make it less beautiful from a traditional perspective but much more Portland, with a little bit of an edge.
Did you notice any parallels to your footwear design process when you were conceptualizing the bike?
It was actually very similar. I sometimes look at motorcycles and cars for inspiration in my footwear design because there are certain common threads in their silhouettes. A car's balance of width and height is roughly similar to that of a shoe, and a motorcycle's balance of height versus length is not too different from the shape of a shoe either. I felt really comfortable drawing the bike from different angles — the same way I would a shoe — so I put the design together and built the storyboard around it.
"I love [the] combination of functional design and functional art. You mix it together and you get beautiful, usable stuff."
So there's a connecting thread between all these practices.
Yeah, baby! It's called speed! Everyone wants to be fast, no matter if you're a basketball player running down the court or if you're riding a motorcycle. Speed is a big thrill factor. My job is to help athletes be faster and perform better on their field of play. The products I make for them are purely performance-driven, but they have to look good too. That's true of motorcycles, cars and boats as well. I just love the combination of functional design and functional art. You mix it together and you get beautiful, usable stuff.
Switching gears a bit — no pun intended — we're at a pivotal moment in the history of transportation. New cars and bikes alike are slowly but surely moving from gas to electric, automotive companies are pledging to cut emissions and more. Tell me what you think about that shift, and why it's so important.
Well, first and foremost it's important for the environment. It's also important for people to simplify their lives, and electric vehicles tend to be more simple to operate and maintain. We talk about things like this a lot in my role at Nike, and we try to design products that are sustainable and environmentally appropriate. I think the electric vehicle phenomenon is kind of in that same vein, and frankly, it appeals to the performance heads too — the Zero SRF we customized may not be faster on the high end than a Ducati, but it's a lot quicker 0-60 than any Ducati in the dealership.
On that note, how have you seen the greater motorcycle community adapt to electric bikes? Are they pretty receptive, or is there some pushback?
Personally, I think there's room for both electric bikes and gas bikes now — it takes time for these things to shift completely. I mean, I own both electric and gas motorcycles, and even a gas motorcycle consumes a lot less energy than a car. The reality is though, I'm on the waiting list to get a Cybertruck from Tesla. As these electric vehicles' range capabilities keep creeping up, I think it's just a matter of time before people make the switch permanently.
Speaking on Zero's electric bikes specifically, they're fantastic around town. Powerful, very smooth ride, and can be handled with precision. It's not the lightest bike in the world, but that's a good thing because it's super stable too.
There seems to be an accessibility factor that's appealing to new riders too. Despite my earlier pun, you don't have to learn how to switch gears on an electric bike, right?
That's precisely it. The price of entry may be expensive for some, but the price of learning is not. Anyone can get on a lower-speed electric bike and ride it. You don't need to learn how to work the clutch, the shifter, the brakes, the throttle. That takes time and experience to be safe, and to enjoy without feeling overwhelmed.
"I've always said that if people don't either love or hate your work you haven't done much."
Final question: what about this project excites you the most?
I'm simply excited to see what people think of the bike. Any time a designer puts something out there, they always hope that people like it — or at least that if they don't like it they're impacted by it. I've always said that if people don't either love or hate your work you haven't done much. There's always risk involved with designing advanced concepts: people aren't always going to like what you've done when you're pushing the boundaries. This may not be one of those projects that's everyone's cup of tea, but on the other hand, that's OK because that's what I do anyhow.