Snapchat Introduces New Creator Monetization Program
Spotlight Challenges will yield total cash prizes up to $25,000 USD.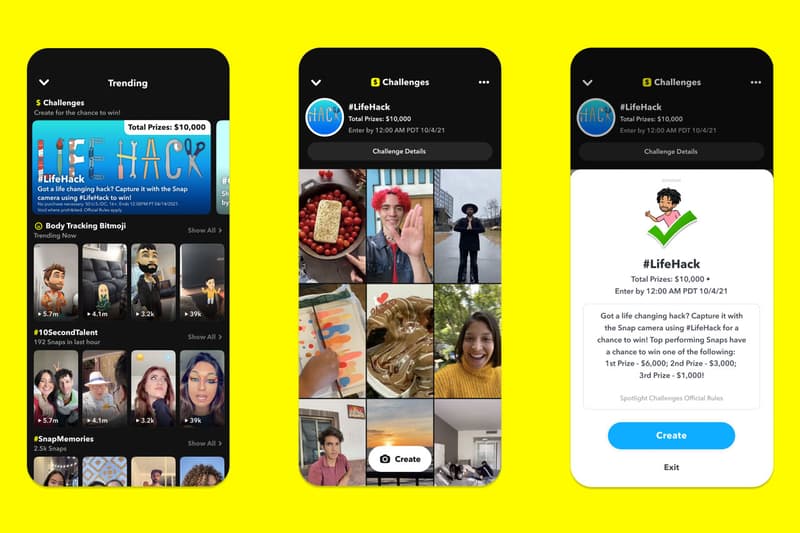 Snapchat on Wednesday announced a new method for its creators to make money on the platform, as part of the company's push to compete with leading social media apps including TikTok, Instagram and YouTube.
Dubbed "Spotlight Challenges," the new initiative will allow Snapchat users to win cash prizes for producing top-performing Spotlight Snaps with specific Lenses, Sounds or Topics. Winning creators will take home a share of the total prize amount for each Spotlight Challenge, which will typically range from $1,000 USD to $25,000 USD, though the company notes there will be larger amounts for particular challenges. The minimum cash prize a Snapchatter will win is $250 USD.
In order to participate, users must visit the Trending Page and select the challenge they would like to enter. The specific challenge's page will include a description alongside submitted entries. Additionally, a "challenge details" tab will reveal information regarding available prizes and the deadline to submit an entry. Creators can simply tap the camera icon to create and submit their challenge entry.
Within each challenge, the top 50 eligible and highest-viewed submissions will be considered based on their "Creativity & Originality, Innovative use of Snap Creative Tools, Unique POV, and Entertainment Value," according to the company. The judges will typically select three to five winners for each challenge.
Spotlight Challenges will become available next month to users 16 years or older in the U.S., before opening to more markets in the following months.
In another tech update, Apple's gaming revenue reportedly exceeded Sony, Microsoft and Nintendo combined.