Sole Mates: Simon "Woody" Wood and the Nike Air Force 1
Ahead of the launch of 'Sneaker Freaker: Soled Out,' Woody speaks on his love for the AF1, and how to tell stories with originality.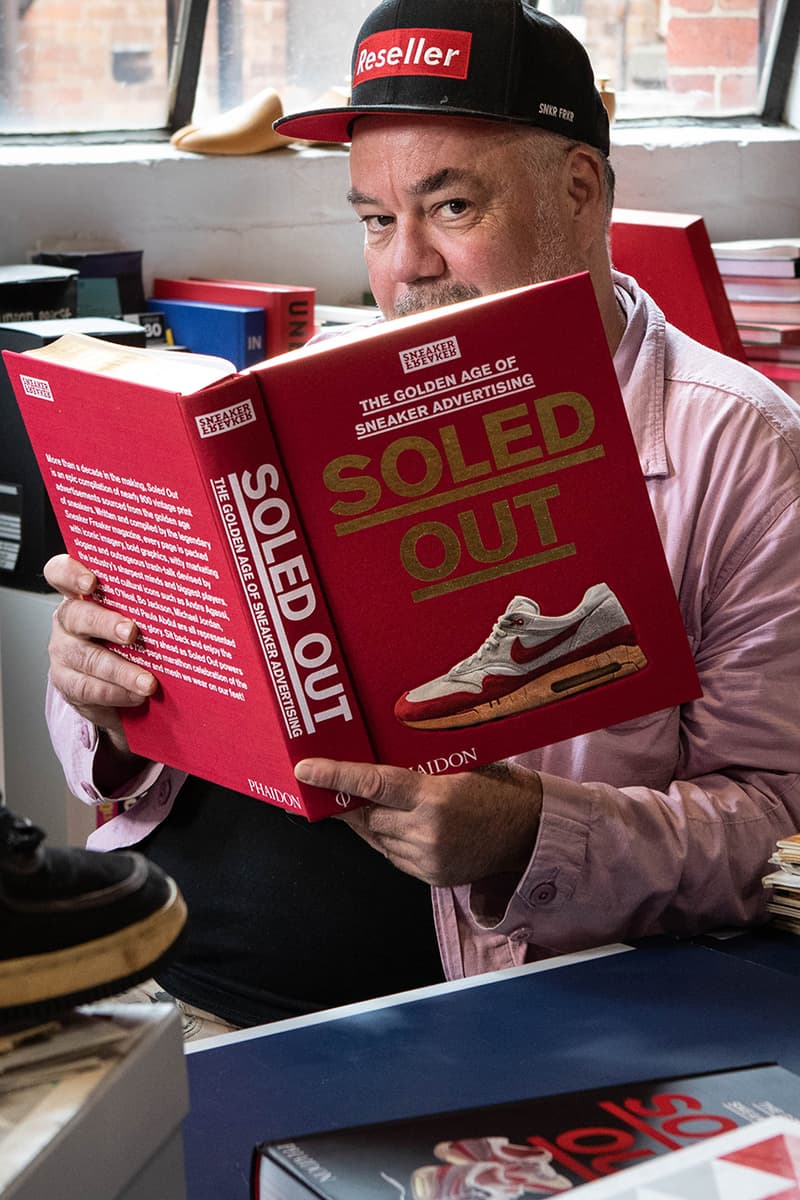 Sole Mates: Simon "Woody" Wood and the Nike Air Force 1
Ahead of the launch of 'Sneaker Freaker: Soled Out,' Woody speaks on his love for the AF1, and how to tell stories with originality.
Known in the sneaker industry simply as "Woody," Simon Wood is an OG who loves to tell stories. That's why his imprint, Sneaker Freaker, has become known for its anthological books that dive deep into the realms of footwear history — further than anyone has ever gone before.
2018's The Ultimate Sneaker Book is a 672-page catalog that's best described as the bible of sneakers. The project incorporated 15 years of dedication and a lifetime's worth of knowledge that, as Woody tells, "nearly broke me physically, mentally, and emotionally."
Why would he want to do it all over again? Because Woody isn't done telling stories. Ahead of the release of his latest monolithic book Sneaker Freaker: Soled Out, HYPEBEAST spent an afternoon chatting to Woody about the book, and more importantly, his love for shoes. In this installment of Sole Mates, Woody discusses his love for the Nike Air Force 1 — don't worry, we quizzed him on that choice — and gets to contemplating the fate of the sneaker industry.
HYPEBEAST: What got you into sneakers?
Simon "Woody" Wood: My story goes way back. I wasn't even 10 years old, but I remember looking at my reflection in a shop window and seeing my feet and thinking about: are my feet too big? Being conscious of my shoes and how they… You know, someone called them the exclamation point on your outfit.
This was decades before sneakers became a thing. Sometimes it's an athlete, being focused on a basketball player or a tennis player; I was really into tennis and I was focused on what they were wearing from a shoe point of view.
You couldn't walk down to the sports store and buy Nike stuff, it wasn't freely available, and you certainly couldn't buy it on the internet. I used to think athletes had magical shoes that real people could never own.
Was there a pivotal moment for you?
I lived in London for just over four years, working in advertising in Soho, so my lunchtimes were spent either having a cheeky pint in one of the pubs or [going to stores], some were buying shoes from Japan and the U.S., and I could tell that they had things others didn't.
I remember buying original [Nike] Terra Humaras, Bulgarias on Oxford Street the first time around, and I have really good memories of that time. I think it changed my perspective on shoes a bit, but I was also traveling to Japan. One particular trip to New York in the early '90s, I had no idea where I was, but there was a spot near Canal Street — it was perhaps a very early resell store — I walked through the front door and my head nearly fell off. They had 30 pairs of AF1s on the wall.
I was on my way to the West Indies to watch the cricket — which was one of my lifetime dreams — I couldn't take 20 pairs of shoes with me. I reckon I spent two hours in there being a nervous wreck deciding on which pair to buy. That was a proper epiphany, the moment I said "Holy sh*t, this one's my shoe."
If you lived in the U.K. or other places, it's not like today where you walk down the street and see 10 pairs of something, or going online and buying 10 pairs in a day. It was someone who had curated this thing, it was such a New York thing, that store catered to the local demand of that shoe. The love of that shoe has never left me.
This leads neatly onto your latest project — you have a new book coming out, Soled Out. 
Yeah, it's a beast. 720 pages. The publisher had to stop me because the first draft was 1,200 pages. We had so much content to whittle down, but I think a lot more could be done.
"I wanted to make a statement, this is the f*cking ultimate sneaker book, think you can do a better book? I'd love to see it."
Well, the other book — The Ultimate Sneaker Book — was
another big project and labor of love. What made you want to do it again?
I think the title, there's nothing like the simplicity of just saying what it is. For me, it was a statement. I've seen a lot of people do books, "Ah I've done 250 pages." Man, I'm just getting warmed up.
I wanted to make a statement, this is the f*cking ultimate sneaker book, think you can do a better book? I'd love to see it. There are decades of work in there. But I have to say, it nearly broke me physically, mentally, and emotionally, just editing it was monumental. I agonized over everything.
The first book is a huge best-seller and an incredible resource for anyone into shoes. I've had feedback from moms, saying "I can't get my six-year-old son to read a book, but he won't put this down." No one loves history at high school, but if you talk about streetwear or something like that, I think anyone can get gassed on it, why the things are the way they are.
I didn't want to repeat myself, I could have done a second book, the Ultimate Sneaker Book 2.0, but I wanted to do something different. I found this original folder of CDs and BluRay discs, you can imagine how old that was, and it was called 1,000 Sneaker Ads, from 2009.
At that point I had 300 or 400 ads, and I could have put the book out at that point. But I kept evolving, buying more ads, buying and trading, building the stockpile. Making this book was like a puzzle. I had to reassemble everything because the book is told chronologically, by brand and category, so all the basketball ads would be together. It was a mental challenge.
Right at the end when we had to cut it down to 720 pages, that was another brutal moment. "I love this one, but that has to go."
Zoning in on the Air Force 1, why is this your shoe in the Sole Mates
spotlight?
The simplicity of it. I have always loved chunky and bulky Air shoes, so to me the AF1 is no contest. Compare it to a Dunk, they're essentially the same shoe from a paneling point of view, there are so many similarities. I think the shape of the AF1 — and you know I'm not exactly Robinson Crusoe when it comes to the AF1 — there is a reason why counterfeiters and so on rip off the AF1, it's a classic perennial shoe.
It's sort of a basketball shoe, but it could be worn super casual. It doesn't look like you're wearing an '80s basketball shoe. I've never been a high-top person, and there are people with monumental collections; I've got several hundreds of pairs, enough to see me through most part of the year, and I would buy any color that comes out.
I do find that stuff that Nike has done to it over the past year is, as a traditionalist, a little bit hard to watch it turn into the thing it is, but I know they want to connect it to a younger audience. For a long time that was shoe that was never touched, it was never advertised, just keep releasing nice colors and it kept on [selling].
I'm a traditionalist, I just paid my own money to do Nike ByYou, and the leather is beautiful. The shoe is just nice — ivory-colored midsole, the best pair of shoes I've had for ages. It's a shoe that doesn't require outlandish color schemes, the simplicity of it is great. If you get it right it'll stay fresh.
I read somewhere before that if you had to part with some shoes, you wouldn't be able to part with the Air Force 1 "Linen."
It's so far from masculine, beige with pink. It's not an aggressive asphalt, basketball, colorway, which is all black or something. This is delicate.
I have the originals and they're starting to show some wear and tear. It's possible that they came from Japan that they're crumbling on the inside [as do many Nike's from that era of Japanese production], and we cut a pair open and it was basically just dust.
I was really pleased when Ronnie [Fieg] remade them. It's a kind of a shoe that you can wear on a summer's day or somewhere fancy, but it's far from white-on-white, it has a lot more flavor than that. It's the perfect mix of trying to stand out but not looking like you're the oldest dude in the nightclub, which at my age you don't want to be.
We have had a lot of people feature the Air Force 1 in Sole Mates, and their stories are always different. Why do you think this shoe resonates with so many people?
It's absolutely the versatility of it. I do have a lot of weird and obscure stuff, original ACG and Mowabbs, they're so hard to wear. Unless you wear a white T-shirt, good luck — we call them a white T-shirt shoe, it's difficult. It's a shoe for certain times and situations.
I do get obsessed with certain colors — the Stardusts, Realtree camo and orange, I love the garishness of them and I do like the wild ones — but things with sh*t stuck onto them and upside-down logos, that's maybe not so much me.
What were the ones that look like someone shat in a bag? Brown with USPS stuff? Such an incredible thing… I bought them because they're just shocking, how anyone let that go through I have no idea. Sometimes it's nice for something that has no right to exist to sneak through the corporate cracks. That is a truly horrific thing and I love that.
But is original best?
Sometimes. I don't mind a shoe being made more comfortable. I'm not such a purist that's tied onto things so that things can't be made better, I think the Air Max 1 isn't soft anymore, it's rock hard and that could be improved. They'll never be able to make that shoe like they did originally because the foamy polyurethane or whatever it is can never be replicated, probably because it's so toxic and harmful. I don't think it's durable, there are lots of reasons to get rid of it.
Lots of people get hung up on shapes. I'm really allergic to the puffy toe — New Balance 1500s were famous for it for a year or two. Getting that 1500 toe to sit down, for whatever f*cking reason, was really difficult to do. New Balance spent a long amount of time fixing that.
[Reflecting on quality, price, and the industry] shoe prices haven't gone up in such a long time, people are going to be shocked by Nike shoes going up by about 20%.
You and the Air Force 1 seem to share a similar approach: adapt to the surroundings, but stay true to yourself. 
I like that theory!
I was watching this Belgian guy on YouTube [explaining] music theory and how to make techno, and thinking about the Italian word, ostinato. In music, if you make music repeat enough, ostinato refers to the period of listening to something that then becomes familar. I think that there's a lot of shoes that fall into this category, a lot of shoes are quite shocking when they first come out, the Air Max 1 for example — it was super futuristic, now you know it as one of the most recognizable shapes and anyone can recognize it from two blocks away, that's what makes a classic shoe. I think the AF1 is a little bit like that.
The simplicity and the heft defines it.
Would you say that staying true and honest is important to you, and your position within the industry?
We try to do the right thing. There's been a lot of run-ins with brands… when you've been along this long, when someone says "this has never been done before," I'm like, "well you did it five years ago." Someone has to be the conscience of the industry, and I think we're the closest thing to that.
Kids are coming into the industry and are shaping it. Even after 20 years, I still wish brands did this better… I care deeply about aspects of the industry.
What do you think needs to change in the footwear industry?
I was at adidas' Portland office in February last year, and it was just as COVID-19 started to build momentum. I was thinking, maybe if this virus actually gets going, it might create a situation where the industry reflects on how much crap is made.
"It's pretty amazing to me that there are university courses in flipping shoes, to me it's a legalized version of what crack was like in the U.S. in the '80s."
I feel like all the brands have been adding ranges or splintering off, there's so much product now, and my carbon footprint is far from perfect, but I hate hearing that hundreds of millions of pairs of shoes are burnt and buried every few years. This goes for fashion as well. Doing more with less.
It's pretty amazing to me that there are university courses in flipping shoes, to me it's a legalized version of what crack was like in the U.S. in the '80s. Where there's easy money to be made and energy of that nature, it attracts sharky people and the wrong attention. Some are making a living, but there are people getting ripped off.
I hate to think of some kid spending $1000 on a shoe they saved up for and it turns out to be a crummy fake, that stuff really drives me nuts. These are challenges that, well, it's not like anyone's in charge. I'm reluctant to use the phrase "sneaker culture," but no one is pulling the strings anymore.
I think for the most part, the creativity and dedication for making dope sh*t is still there. I love it. That's why I got so excited about the Nike ByYou shoes when they turned up, they exceeded my expectations. If that happens every so often, that's a win. But sometimes, when you keep taking an L, that demoralizes you. I don't want the scene to get bigger and bigger, but at the same time, I don't want it to go back to how it was in 2002 when just a few people in a city [ran it].