What the Tech? Published By's Bags Make use of Automotive Technologies
The brand's founders on looking to the car industry for the future of design.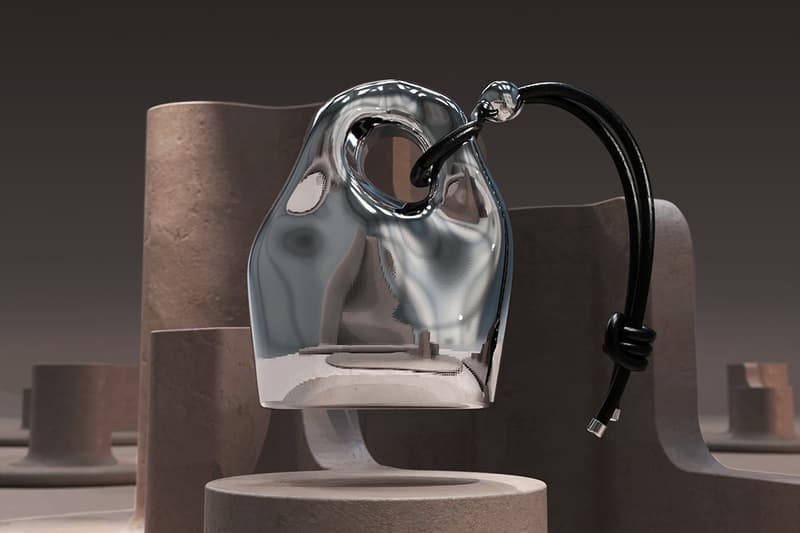 There's a chemistry between the fashion and automotive industries. They can make for compelling collaborative partners, and both have to marry elements of function with convincing innovation in design. But a new brand, Christoph Tsetinis and Ruby Wallen's Austrian label Published By, is drawing its inspiration and production methods from cars. In doing so, they are subverting tradition on every level imaginable?
Almost devoid of branding and 'ordinary' materials, Published By's bags are as sculptural as they are stylish, drawing heavily from the automotive industry that inspires everything from the way they're made to how they look. Nature also plays a big inspiration in shape — and is backed up by a commitment from the brand towards sustainable production practices. Acknowledging that the world doesn't need 'another' small bag brand is another caveat that inspires Wallen and Tsetinis to continue to push the boundaries of product design. 
From learning more about how automotive industry production practices, materials, and methods are implemented into its bags, to understanding what Published By's ethos and game plan is, this issue of What the Tech? sees HYPEBEAST speak with Tsetinis and Wallen to get to grips with the future of the bag industry.
HYPEBEAST: How much of your work is informed by traditional styles?
Christoph Tsetinis: I'm always inspired by traditional bags, I always say that you need to allow the customer to instill an idea of bags — there's about 30% to 40% of a normal bag inside our product [design]. In terms of how we create it, we're inspired by Italian and French craftsmanship, so we always think about how to give people luxury, based on the same framework, only we're moving on to do our own thing. 
Ruby Wallen: Before Published By started, Christoph has a bag brand that was classical with a few twists. We went to Paris and showed that, but we knew the world didn't need another little bag brand. We took the next step, and as Christoph's family is in the automotive industry, we went through those processes and applied them to [Published By]. Ruby's Lost Stone was our first bag, our very first version was just one layer. We knew we had to develop it further while using technology native to [automotive], but keeping it familiar to the customer, like a nice sound when it closes or a frame on the inside. To compare, today's Ruby's Lost Stone bag has a nice closing sound.
While the automotive industry plays a big role in your production process, are there any traditional techniques that you adhere to as well?
Ruby Wallen: During the design process, Chris starts with sketching, and then he will make the model. But we make the model on the computer, and by the time he's made it it's completely ready for production. That's the point when we show it to buyers, before we produce our physical sample, so we can make sure they like the shape, color, this and that, and if we get feedback then we can change it at that point.
How exactly does the automotive industry influence Published By?
Christoph Tsetinis: We design more of an airplane than we do a bag. All our tools are basically the tools that the car industry or boat industry uses, or the same that Boeing uses for their planes. These tools allow us to be super precise right from the beginning, while processes like injection molding is routed in the car industry. 
When we went to producers in Italy and Spain and showed them what we do, they said they had no clue how to do it. What we do is that we take and look at industries from different directions and push them into our products. Everything we do has been used by the car industry. 
Ruby Wallen: On one hand we have the approach; the way the automotive industry designs products, every time a car part is designed it's born in the digital department, but more literally for us, our bags feature a plastic on the inside that's made from scrapped plastic from the automotive industry that's been melted down, and reformed into the shape of our bag. 
More specifically, how do you make a Published By bag from start to finish?
Ruby Wallen: After sketches, Chris starts to render the shapes in 3D modeling programs. We then work with a few select suppliers who we trust to show them early on the shapes and process, and with their feedback, we then implement it [into the design]. From that point, we 3D print a prototype which gives us a chance to tune the size, play with how it feels, and then we can make new changes based on that. 
Then we have to move to another technology that we don't use for production, just prototyping, where we create our first prototypes. We have a mold which means it's more expensive to produce one sample at this stage, but we then take this sample to get photographed and show it to buyers. 
At this point, we have different directions on how to evolve, based on how popular the sample was on the market. If we know it's going to be popular, we can use the mold to produce them at a faster pace. 
Christoph Tsetinis: The problem is that we can never reach a price that the customer would like us to reach, we don't have the biggest budget — normally a young brand will come along and its bags are €2,500 euros. There are some competitors that do actual bags, but they're often really heavy, and second, people cannot afford that. We want to please the people behind us, and with this technology we use, it gives us the opportunity to do it — rather than being just another super expensive handbag. 
And how does a bag come together?
Ruby Wallen: Well there's the inside, the plastic that I mentioned that we use, that is poured into the mold. Then we use a very thin layer of metal as a coating with a partner in Germany that used to do [the same] for automotives, then they dip that into a metallic bath. 
Is that the same process for things such as Published By's brooches and lighter cases?
Ruby Wallen: Not for the lighter cases — they're much heavier. We didn't want it to melt when people light a cigarette, so for this, we're using a different technology. But the jewelry collections [are made with] a partner who uses recycled silver, as sustainability is a big part of Published By. We use lots of recycled metal and silver, as with smaller things, if we used plastic they'd be much lighter and cheap. 
Christoph Tsetinis: We once spoke to someone who designed doors for cars, and he said something really interesting — always think about big things should be light, small things need to be heavy. Listen to a car and how it sounds. 
It's so important to give the people the feeling of quality. We played around for ages to find the right weight for everything, it's important for this to be properly done. 
"There's a lot of greenwashing in the industry, we're not claiming we're perfect, but we don't overproduce… A lot of brands use 'sustainable vegan leather,' but it's made using oils — we want to shift it."

Why do you think weight and quality matter with products like yours?

Christoph Tsetinis: With jewelry or chains, people like to feel it around their body, and it needs a certain amount of weight. They're solid, and it means it's proper metal. 

But it's purely psychological. It's strong and rigid, but people want the idea of something. Certain things need to sound a certain way, and people design sounds for everything.

We had a chain that was light, but had the same strength [as a heavier chain], and people said they didn't like it because it was too light. We gave them a big, heavy chain, and they said the big chain needs to be lighter. We always give buyers chains and our products to know how they feel.

More to the point of our interview, why do you think the automotive industry is the right source of inspiration? 

Christoph Tsetinis: It's the only [industry] that's truly driven by technology. We tried to find the right partner in the fashion industry, we went to everybody, but it was really difficult. But we figured out who had access to all this high-end technology, and it was an industry with the most money but also with all the engineers. We found out really quickly, that whatever we do we'll get nowhere with another industry. 

I wouldn't call it product design, but every piece we do is a product done in a much more unusual way. It's done in an industry that also does phones, [cars, planes.]

Ruby Wallen: The industries also find new ways [to do things,] they're always competing against each other to make the most high-tech cars and planes, there's so much competition in creating technology that they innovate faster. Fashion is not really the same, there might be a few additional machines released, but most of the stuff is done the same as it was a hundred years ago. 

Christoph Tsetinis: You know, I'm not Harry Potter, I'm not a magician! I just do something that you've never tried. But it's funny that you [the fashion industry] never did. What we try to do with our product is to educate people, a bag can be different. If you like it or you don't, it doesn't matter, but we go further. We make statement pieces, this is what we do, it's completely new and [uses] a new process, and that makes a difference. 

Ruby Wallen: It was super important to us to make something new, unique, and innovative. Chris' father has always worked in the automotive industry and built software for production in the early 2000s, and he had a production facility too, and he used to have conversations with his father about all of this. 

Christoph Tsetinis: What is really interesting to me is the area between fashion and production, especially within high-tech industries. The shapes we want to do are so unusual, but this was the only industry that gave us the go. It's extremely unusual, but theoretically, it works. I was tortured by engineers to find out how this would work — they were like, "Good luck with your sketch."

For a year, we sat around and thought about how we would produce it. It was exciting to do something completely new. 

I read a statement on your site, it says that your process "eliminates the need for bulk production, [resulting in] the ability to craft unique parts within a minimal time frame." Subsequently, this reduces waste. Can you explain this more?

Ruby Wallen: Sustainability is really important to us. I think there's a lot of greenwashing in the industry, we're not claiming we're perfect but it's a huge focus for us. It's how we try to do design, we don't overproduce, and we constantly look for new materials. A lot of brands use "sustainable vegan leather," but it's made using oils — we want to shift it. 

Christoph Tsetinis: Brand says, "we don't kill cows," but you might save one cow despite all the oil you use. A lot of people still go down the easy way, it's easier, it's cheaper, or it's just trendy right now. With the right partners and the right attitude, you can recycle a lot. 

We use recycled silver. Why not? It costs us five cents more, but it doesn't matter because it's good to do it. 

What do you think the industry can learn from Published By?

Christoph Tsetinis: They can learn to be much more digital, especially at an earlier stage. At schools, you learn 2D drawing, which is of course very important, but [people should] understand how visuals work earlier. It's much more accurate, it helps you produce, it helps you sell, it helps your customers as you can show them things straight away. You can save money, time, and resources. 

Do you think that the future of fashion and production lies in 3D technology? 

Christoph Tsetinis: It'll be much more of a combination of knowledge from all industries. If you start with people in the movie industry, you have people in gaming, or producing phones, and then you go to the fashion industry and old school producers, then you combine it. This is super exciting because it gets you to open doors, it's more inspiring and you collect knowledge. 

Ruby Wallen: I think there will be a lot more interdisciplinary touchpoints in the fashion industry. Recently, we gave a lecture in Sydney to fashion and design students, and we had a conversation about why these two [industries] should be collaborating, to learn more about product design and for them to work in fashion — it was eye-opening for them as well. There hasn't been that much innovation in how fashion is produced, and the only way to do something new is to use new technologies and think out of the box, to collaborate with different industries, and that allows us to do something unique. 

We always say that technology for us is an enabler. Chris is inspired by nature for some of his pieces, technology is an enabler for us to create something new that hasn't been done before.

Christoph Tsetinis: I like technology and nature to cross over in the middle somewhere, both worlds can be combined.