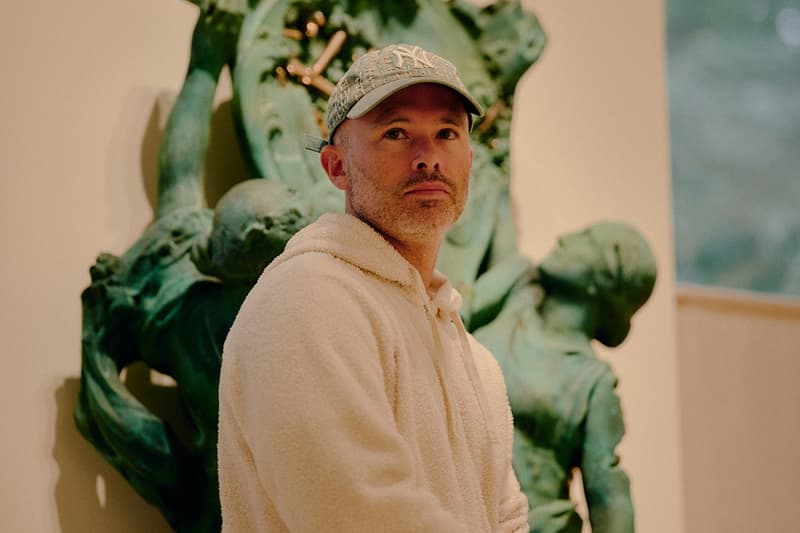 Daniel Arsham Is Flipping the Script
The artist reflects on art fairs, ignoring skeptics, and why not to expect another Dior-style collaboration.
---
London's Regent's Park has a new addition. Sitting in the midst of one of the park's expansive green spaces — where it appeared overnight on Thursday, as if dropped from the sky — is the colossal, partly-eroded head of a Greek statue, flecked with patinated bronze, and easily reaching some 8ft in height.
It's a new work from Daniel Arsham, who was invited by the Frieze London art fair to contribute a work to its temporary sculpture garden as part of its revamped, post-COVID programming. It's the first time Arsham has been involved in an art fair since Miami Basel in 2019, due to the endless closures and restrictions of global lockdowns. Yet he's ambivalent, at best, about being back.
"As a viewer, yes, I'm a fan of art fairs. But not as an artist," he says. "I just never really felt like a part of the art world. And I still don't, really. I just don't feel comfortable in that environment. It can be too closed, in a certain respect."
"[Dior] was a lot of work. I don't really know how I could go beyond that."
To that end, Arsham is complementing the Frieze work with another unveiling: a piece of public art for the Whiteley, a new retail and residential space in a former West London shopping centre. The work, titled Eroded Summer, is based on an original 1911 sculpture from the building's facade, first made by the French artist Paul Gasq. Arsham's version is a 3D-scanned facsimile of the original, but fragmented, eroded, and crystallized, in keeping with his aesthetic.
Unlike the Regent's Park piece, the Whiteley work will eventually become a part of the building's architecture upon the site's completion in 2023, where it will remain in place permanently for anyone to visit. It will remain on view in the Whiteley's entrance until then. "I think people will just stumble upon it," says Arsham. "Which is kind of a nice way to view art."
It's a matter of some importance to Arsham, who increasingly believes in finding ways to present his work to a wider sphere than the insular bubble of the traditional art market. Over the course of his career, he has looked for ways to give his work the widest-possible visibility, from presenting his work in department stores to his role as creative director for the Cleveland Cavaliers. "I've always done things that cross disciplines, and engage with people in places that are not necessarily art venues," he says. "Not only does it engage some ideas that you may otherwise not have found, it also engages new audiences." Besides, he adds, "it's so boring to be talking to the same group over and over again. It's boring for them, and it's boring for me, too."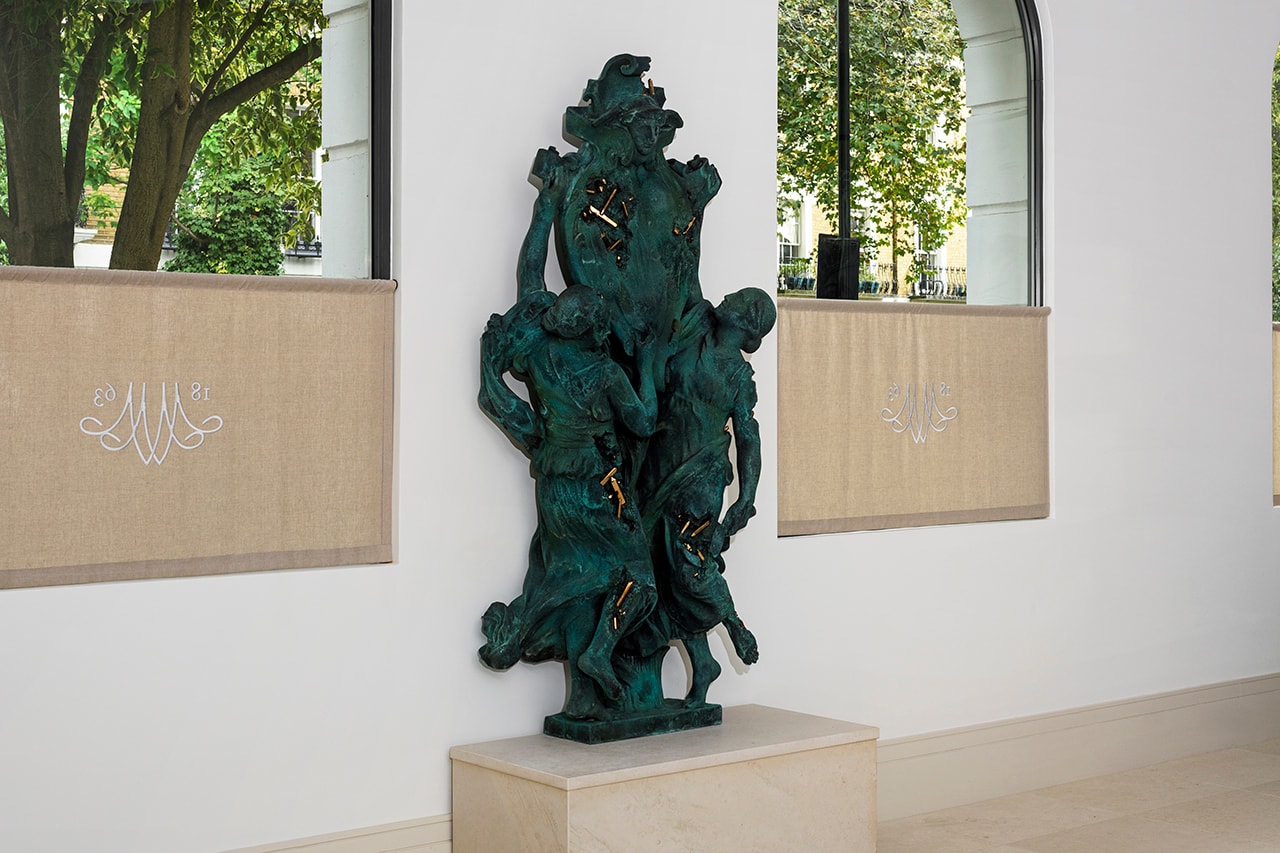 Daniel Arsham, 'Eroded Summer', 2021, at the Whiteley Building.
But doesn't this egalitarian, democratic approach sit at odds with the content work itself? Arsham has collaborated, after all, with the likes of Porsche, KITH, and Dior Men — symbols, surely, of unbridled aspiration and luxury?
He baulks at the idea. "Yes, there's those," he says, "but I've also worked with radios, and old telephones, and payphones." Besides, he says, the objects aren't chosen by him for their value, but for their role as signifiers. "It's really about a link with a moment in time," he says. "So with a basketball, for instance. You could say that it's from the last 100 years. It's not from 300 years ago. So by using it, it locates the work in time."
Yet Arsham's embrace of commercial brands — and his willingness to create saleable products with them — is, he feels, one reason why he has so often been dismissed by the traditional art world. "I think the idea around commerce in relation to an artist's practice is completely frowned upon," he says.
"Like, when I did the first project with adidas, there was a couple of people – advisors, or collectors of mine – who said, 'why would you allow this company to use your work in order to market and sell footwear?' And I was like, 'do you guys not see that I'm using them? Not only for the resources that they gave me to produce work, but also the reach that they have?'"
"It's so boring to be talking to the same group over and over again. It's boring for them, and it's boring for me, too"
Only in the last few years, Arsham believes, has his practice been taken seriously. Certainly, it's become impossible to dismiss: alongside his enormously popular Dior collaboration, his fine art works are fetching ever-higher prices at sales and auctions. And as increasing numbers of artists look to cross-collaborate with other strands of culture, his approach seems increasingly forward-thinking.
Don't expect another release on the scale of Dior, though — at least, not any time soon. While Arsham acknowledges that he has more fashion projects coming, he's in no rush to take on something of that scope again. "That was a year-and-a-half endeavour," he says. "It was a lot of fun, but a lot of work. I don't really know how I could go beyond that."
Besides, he adds, just as the rest of the art market catches up, he's ready to move on. "The whole idea of collaborative practice is a little oversaturated now. I'm more interested in engaging with creatives in ways that are more about experimentation, and not just about output. It doesn't always have to end in a product."
To that end, he's exploring new territories. His first NFT project was released in May of this year, and is likely to be followed by several more. "I thought that if I could create something in the digital space which was impossible in the physical space, then there's an opportunity there," he says.
Alongside that, during lockdown and unable to access his sculpture materials, Arsham found himself drawn to painting. "I hadn't shown any paintings since 2012," he says. "But now I'm fully in it." He's also considering a move into film. "Theatrical narrative is something I've explored, in a compressed way," he says. "There's a couple of things I've been thinking about in relation to that."
The challenge that comes with it — of, once again, defying skepticism in a new field, is far from a deterrent. "The art audience is there now. It's an easy audience," he says. "The other audience is the more difficult one. And that's the fun."