First Reactions to Marvel's 'Eternals' Surface on Twitter
Check out the early critical responses of Chloé Zhao's film.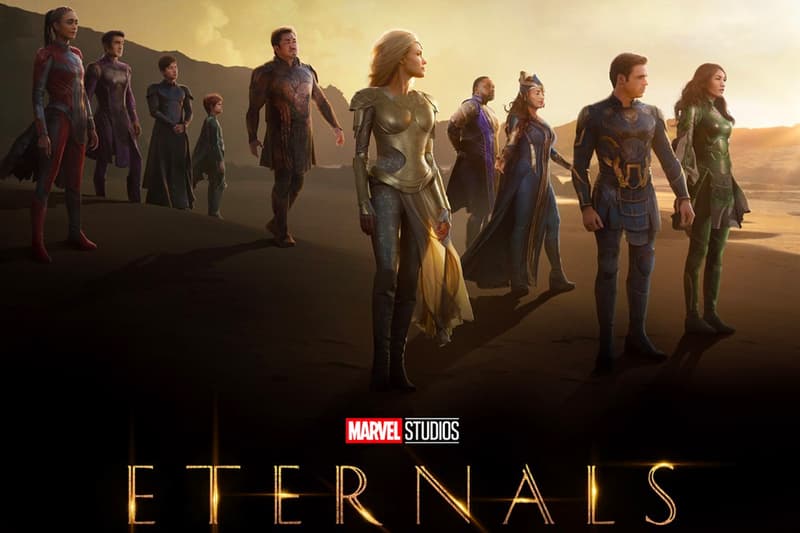 Marvel Studios has officially held its premiere for the much anticipated Eternals and early critic reactions have begun to pour in.
Since Marvel announced that Chloé Zhao would direct Eternals critics and fans alike have voiced their opinions on the interesting choice. The studio, which has been known to stick to a formula when it comes to its box-office films, has proved that they were willing to take a chance Zhao to go a non-conventional route for a superhero film.
In a previous Variety interview, Marvel president Kevin Feige spoke about Zhao's vision for the film, sharing that she "was really fighting for practical locations." When speaking about the Eternals sample reel, Feige said "This is right out of a camera; there's no VFX work to this at all!" He added, "It was a beautiful sunset, with perfect waves and mist coming up from the shore on this giant cliffside—really impressive stuff." Feige noticed the similarities between the sample reel and Zhao's Oscar-winning film Nomadland. Upon making the realization, he knew she had to add her "signature style" into Eternals.
The film stars an eclectic cast including, Angelina Jolie, Salma Hayek, Gemma Chan, Kumail Nanjiani, Brian Tyree Henry, Richard Madden and Kit Harington. Check out the initial reactions from critics on Chloé Zhao's Marvel film Eternals, below.
Some Tweets may contain spoilers.
Marvel's #Eternals is spectacularly weird & rich w/ a new MCU mythology that makes it feel separate from everything else. It's honestly refreshing. There's a bittersweetness to the film that you feel in its sunset shots – a definite Chloé Zhao touch. It is soulful & thoughtful pic.twitter.com/pIAFAyhJ4D

— Erik Davis (@ErikDavis) October 19, 2021
Holy crap – Eternals is a freaking MASTERPIECE!!! Packed with adrenaline right from the start, but also filled with lots of heart & humor! So many MCU firsts!! Your mind will be BLOWN! Nods to comics but a totally unique story. Those end credits are GAME CHANGERS!! #Eternals pic.twitter.com/jKiMJukn4S

— Tessa Smith – Mama's Geeky (@MamasGeeky) October 19, 2021
#Eternals flirts with being "just a superhero movie" but (barely) gets by on scale, a few affable actors and some eventual intrugue. At its best, it almost plays like Marvel playing in the DCEU sandbox but coasting on comparatively generic superhero archetypes. pic.twitter.com/Im83hV6sm0

— Scott Mendelson (@ScottMendelson) October 19, 2021
#Eternals is surprising, epic, beautiful yet dense. It takes some big swings, sometimes feels like a DC film (not a criticism), other times feels like no other superhero movie ever. I wish I had a glowing quick reaction to offer you but I'm left with more complex thoughts.

— Peter Sciretta (@PeterSciretta) October 19, 2021
My favorite part of Marvel movies is how they consistently manage to find new ways to tell their stories. #eternals is beautifully shot & looks very different than previous MCU films. Story surprised me with some of the twists & turns. The 2 after the credits scenes are ??? pic.twitter.com/XUgxkBngeX

— Steven Weintraub (@colliderfrosty) October 19, 2021
Just got out of #Eternals. I've never been so invested in a story. It was cinematically beautiful. I was engaged the entire time. There's a lot to ingest but they do such a great job to process it all. This feels so different from the MCU, like it's own universe. I loved it.

— Lauraaaahhh!!! A Ghost! ลอร'า 劳拉 (@lsirikul) October 19, 2021
#Eternals is probably the most shocking and surprising Marvel movie you'll see. Many twists and turns. Kumail Nanjiani Is hilarious in every scene. As always, stay to the VERY end. pic.twitter.com/Z3Hm6Vxznx

— Kirsten (@KirstenAcuna) October 19, 2021
#Eternals is a whole lot of movie.

It's shot with a massive scope, looking visually different (and more intimate) than anything else Marvel. It has laughs, great surprises, and heart to go with the gigantic, crowded story it unpacks.

Chloé Zhao has a really unique visual stamp. pic.twitter.com/hSMtwRlabv

— BD (@BrandonDavisBD) October 19, 2021
#Eternals is DENSE & I felt the weight of the exposition often. Movie's at its best when the focus is on the Eternals recreating their family – the humor of it & the passion when they fight for each other and the things they love. Also, Angelina Jolie in the MCU is EVERYTHING. pic.twitter.com/rMJz0U2It2

— Perrinormal Activity (@PNemiroff) October 19, 2021
#Eternals is epic in every sense of the word. It's a story that is more massive but simultaneously more down-to-earth than the MCU has ever been. The passion everyone involved had for this movie is present in every scene and it needs to be seen on the biggest screen you can find pic.twitter.com/CyyqPt9dfn

— Jack McBryan (@McBDirect) October 19, 2021
#Eternals is perhaps the most ambitious Marvel movie ever made. But the highest compliment I can pay it is that it's not a Marvel movie; it's a Chloé Zhao movie. pic.twitter.com/AzlXjJQXVc

— Brian Davids (@PickYourBrian) October 19, 2021
#Eternals was not what I expected at all, but in the best way! It went where no MCU film has gone before. The best way I could describe it is an epic fantasy ala Ben-Hur. https://t.co/Qh33IHYd0t

— Felicia (@becomingfelicia) October 19, 2021
Eternals is Marvel's version of Zack Snyder's Justice League. A film that builds upon a cast of unknown characters and does so with great success. Chloé Zhao direction is superb. Easily one of the best looking Marvel films of all time. Insane post credits scenes too. #Eternals pic.twitter.com/TbZlqPJxGQ

— Scott Menzel (@ScottDMenzel) October 19, 2021
After 25 films Chloe Zhao incredibly took the MCU in an entirely new direction w/ #TheEternals. The franchise is matured & this is only the beginning of what is possible.

An absolutely breathtaking & epic film where @kumailn provides the laughs but @gemma_chan is the heart.

— ?Jacqueline? (@THATJacqueline) October 19, 2021
#Eternals is amazing! Chloé Zhao & company turn in an evocative, emotional, extraordinarily epic superhero film. The ensemble have great chemistry & all get big Movie Moments to showcase their prowess. The naturalism of Ben Davis' cinematography spotlights characters' humanity. pic.twitter.com/MjZ2VheJ56

— Courtney Howard (@Lulamaybelle) October 19, 2021
I didn't know much about the #Eternals going in but I'm pleasantly surprised I needed up caring all of the #Eternals. Chloe Zhao did an brilliant job! pic.twitter.com/10woqpsJ3I

— Joseph Deckelmeier #BlackLivesMatter (@Joelluminerdi) October 19, 2021
Elsewhere in entertainment, Daniel Craig recently spoke to HYPEBEAST about lessons learned from Bond and that shocking ending to No Time to Die.