Salehe Bembury Teases Alternate New Balance 2002R Colorway
Posted on Instagram, and accompanied by a one-word caption: "Water."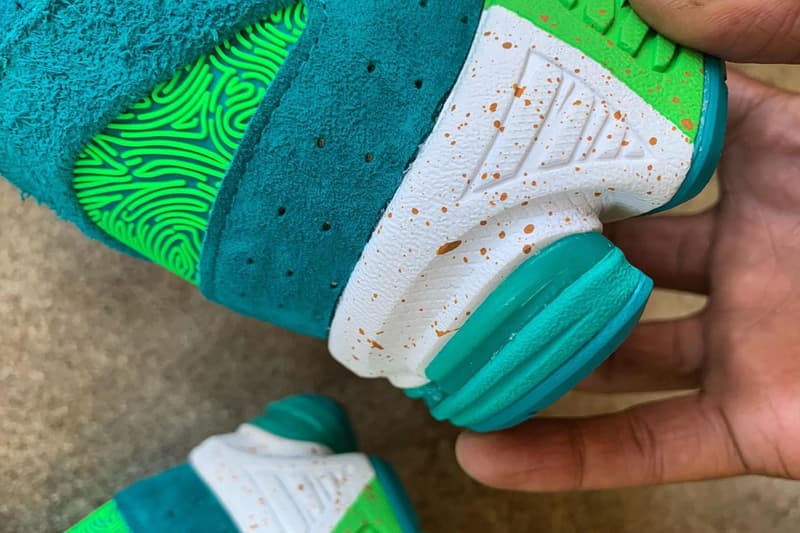 Salehe Bembury and New Balance's Antelope Canyon-inspired 2002R was one of the most desirable shoes of 2020, and now it appears that the two have a second style on the way as the designer recently took to his Instagram to reveal a blue and green-toned pair. Accompanied by a single-word caption — "Water" — the post hints at another nature-inspired release, albeit one that looks to the sea instead of the earth.
Although only the heel is visible in Bembury's teaser image, the new design seems to continue the OG pair's richly detailed ethos. Blue suedes both short and shaggy surround a neon green fingerprint graphic on the upper, while down below the midsole is split between white, blue and green — the first two of which boast bold gold flecks. Bembury's "Water" caption could well be a nod to the shoe's tagline as well: "Peace Be the Journey" was the catchphrase for his first shoe, and he also previewed a friends and family "Water Be the Guide" tee (pictured below) in November.
At the time of writing, no official release information has been revealed. However, more details will likely be announced soon, as apart from showing this teaser Bembury recently launched a new page dubbed Spunge, an outlet for his post-Versace creative endeavors.
For more footwear news, check out New Balance's brand new 57/40 model, a lifestyle-centric design that combines elements of the 574 and the 327.