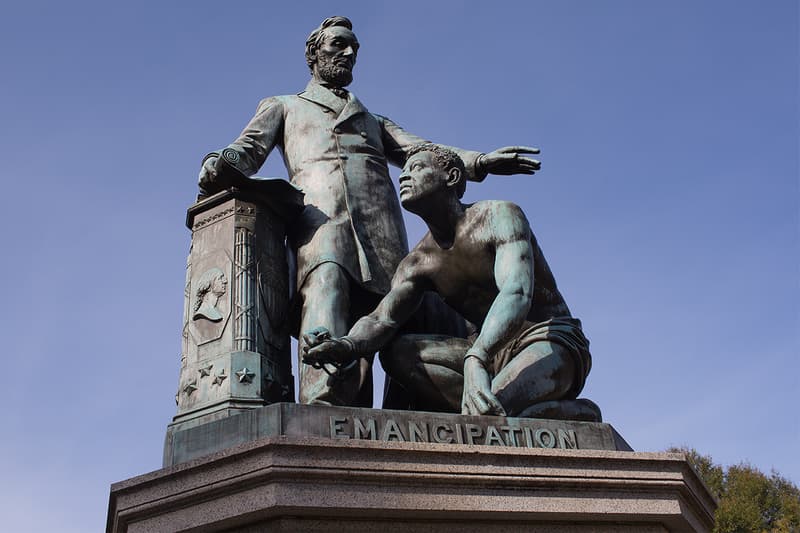 Boston Removes Statue of Slave Kneeling Before Abraham Lincoln
The statue has stood in Boston since 1879.
---
After more than 140 years, Boston has finally removed the Emancipation Memorial statue standing in a park just off Boston Common.
Having stood there since 1879, the statue is based on an identical one erected in Washington, D.C. three years prior, and depicts a freed, shirtless slave rising to his feet in front of Abraham Lincoln. The monument was created to celebrate the end of slavery in the United States, being based on a Black man named Archer Alexander, who escaped slavery and helped the Union Army before being the last man recaptured under the Fugitive Slave Act.
Despite its intentions, many have perceived the statue to depict a slave kneeling before Lincoln instead, and more than 12,000 people petitioned for its removal, spurring Boston's public arts commission to vote on the issue. The vote was unanimously passed, and the statue was finally taken down on Tuesday this week.
"The decision for removal acknowledged the statue's role in perpetuating harmful prejudices and obscuring the role of Black Americans in shaping the nation's freedoms," read a statement from the commission. It  is now deciding whether to move it to a museum.
Elsewhere in the arts, Jim Hodges has unveiled a mirrored glass installation in NYC's Grand Central Terminal.