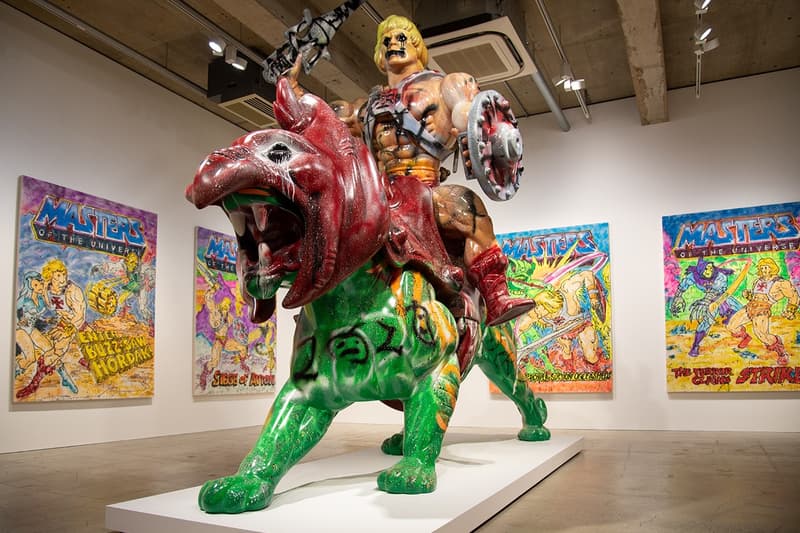 How MADSAKI Overcame Racial Discrimination by Watching 'He-Man'
The Japanese artist reflects on traumatic childhood experiences for a new solo show at Kaikai Kiki Gallery.
---
As part of an upcoming exhibition called "1984" at Kaikai Kiki Gallery, MADSAKI will soon unveil a new selection of paintings and sculptures inspired by Mattel's cult franchise, He-Man and the Masters of the Universe. Commonly abbreviated as MOTU, the animated series made its debut in 1982 and focused on two primary characters He-Man, "the most powerful man in the Universe," and his nemesis, the skull-faced sorcerer Skeletor. The Japanese artist not only references the television show, but also its popular toy line, comic book covers and action figure packaging across his vivid compositions and three-dimensional works. Apart from He-Man, MADSAKI also recounts his experiences as a child growing up in Bergen County, New Jersey without any English-speaking skills.
"The year was 1980—MADSAKI was six years old, and had just relocated from Osaka, Japan to Bergen County, New Jersey with no English skills whatsoever. Strangers mocked him with racist taunts, and while his classmates were friendly, he still couldn't fully blend in, feeling a thick wall between them. So, instead of playing with friends after school, he often ended up watching cartoons at home alone. He was particularly obsessed with He-Man and the Masters of the Universe, an animated series based on Mattel's Masters of the Universe toy line," said the gallery in a statement. "In other words, He-Man built a bridge for the artist between two cultures, fundamentally shaping the core of his personality. 1984 was the year MADSAKI mastered English. 1984 was also the year Masters of the Universe had reached the peak of its boom."
As for the show's title "1984," the artist cites an Apple television ad for the company's Macintosh computers directed by filmmaker Ridley Scott and the similarities of that ad with George Orwell's iconic novel that inspired it. His pieces to go on show explore the correlation between authority, the establishment and personal freedoms. "The story of the 'indie' contender Apple going head to head with the industry giant, IBM, signified the dawn of a new age for computers, but also symbolized a seismic change in the times. The ad was a reference to George Orwell's novel 1984," said the gallery.
The works to go on display will feature large-scale paintings and sculptures of characters from the Masters of the Universe, such as enlarged action figures, alongside pieces that depict an "awkward 10-year-old Madsaki." The exhibition will run through September 11 to October 1 at Kaikai Kiki Gallery in Tokyo, Japan.
Elsewhere in art, David Zwirner is spearheading an online-only sale of artworks by leading artists to raise money for Joe Biden's campaign.
Kaikai Kiki Gallery
Motoazabu Crest Building
B1F 2-3-30 Motoazabu
Minato-ku, Tokyo
Japan