The Oakland Roots Turn a Soccer Game Into a Block Party
How the local club uses soccer to foster community and inclusivity.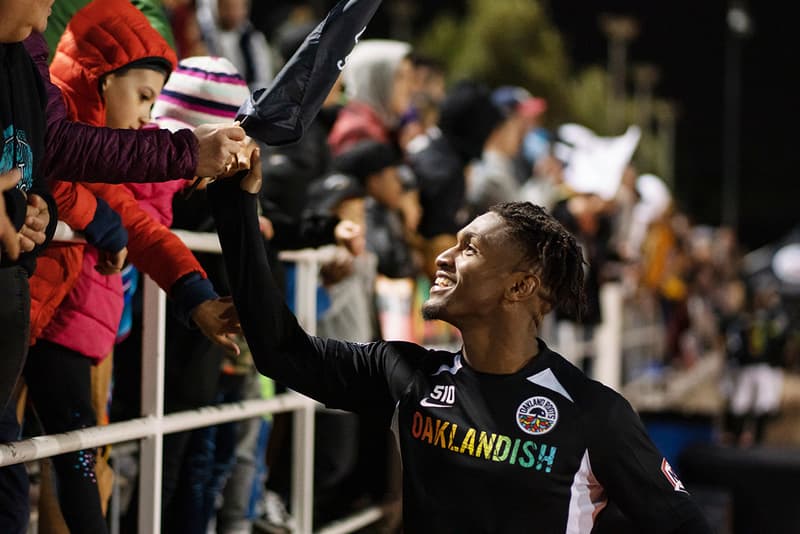 The Oakland Roots aren't an ordinary soccer club. You could argue their main objective may not even be winning on the field — at least not now. The Roots play in what's considered a third division within the professional ranks of United States soccer, yet that designation doesn't stop their community from showing up to games. Playing in front of packed houses at Laney College, notable to most for its presence in the latest season of Netflix's acclaimed docuseries Last Chance U, each Roots contest attracts 5,000-plus visitors. Much like Laney can be considered a geographic anomaly — as it sits in the heart of the city, precisely where east and west Oakland meet — the Roots can equally be considered an anomalous start-up, rare in a region of Northern California where new ideas fizzle out as fast as they're thought of.
The most colorful of the clubs in the National Independent Soccer Association (NISA), the Oakland Roots may also be one of the most beloved. Each game is a sold-out occasion, full of emphatic natives and die-hards alike, affectionately coined The Radicals — ready to cheer for a club whose existence has just surpassed 24 months.
Many who've had the privilege of seeing the team live would agree that a Roots game feels less like soccer and more of a block party where anyone and everyone is invited. A celebration of culture and diversity like arguably no other place in the United States can offer, a Roots gameday is "the highlight that everything else is centered around," according to Roots Director of Media Alfonso Bui.
Accompanied by a who's who of local music performers in a euphoric festival atmosphere on Oakland's famous East 10th Street, fans leave no choice but to shut down the block before every match, which has now become a welcome tradition for a community still adjusting to the fact that both of its NFL and NBA franchises have left them behind for more upscale venues in the past year.
A Roots game feels less like soccer and more of a block party where anyone and everyone is invited.
The speed and size of the support has been surprising for Roots co-founders Benno Nagel and Edreece Arghandiwal. Bringing a professional soccer club to their hometown seemed like a farfetched proposition just a couple of years ago, until an earnest bid to uplift their community in Oakland started to show inklings of life. The Roots were born through the vision of co-founders that understood the importance of establishing a soccer platform built around culture. It makes sense considering Oakland currently ranks as the second most diverse city in the country.
Made up of dreamers, sons and daughters of immigrants, and professionals in the world of soccer and tech start-ups, the Roots are a new collective of fresh ideas and diverse perspectives looking to plant seeds of inspiration for the next generation of Oaklanders. The team's front office is reflective of that, with 40 percent being women and 80 percent of the roster made up of people of color. It's a modern way of thinking in the world's most far-reaching sport — setting new standards of inclusivity for professional soccer teams.
Edreece Arghandiwal's upbringing is likely familiar to most children of immigrant parents in the U.S.: high academic expectancy and no excuses. Growing up with an outlined career path, the Bay Area native changed course while studying biological sciences and economics at UC Davis. "I was on a path to becoming a doctor and after having several experiences in hospital settings, I had this epiphany that you don't necessarily have to prolong people's lives in order to impact them," Arghandiwal explained. "I saw people coming in with terminal illnesses and habitual behaviors that added to their diseases and I just had this gut-wrenching feeling that I needed to impact people when they were still alive, not just when they came into a hospital."
On a mission to make an impact in his own way, Arghandiwal headed east. He landed an internship at Sean John and then BET networks in New York City and eventually solidified his education with a master's degree in business administration from Babson College in Massachusetts. Yearning for warmer pastures, Arghandiwal found a landing spot back home in California. He quickly picked up how to hire and manage people at the retail level, working his way up the corporate ladder at Apple, Inc., while learning valuable lessons about human interaction and the importance of customer service.
After founding a start-up of his own and wanting to extend his reach beyond tech, Arghandiwal pitched an idea to his friend and fellow life-long soccer enthusiast, Benno Nagel, about starting a soccer club in their own backyard. Given all the times they'd crossed paths on the field as youth soccer players and how they wanted the sport to be embedded in their careers, starting a team together made sense to Arghandiwal.
"I asked the question to my co-founder, Benno, 'Why hasn't soccer existed in Oakland?'" Arghandiwal said. "We've always seen Chivas and Club America come and do really well, we've even seen Barcelona and Real Madrid come to the Bay Area and the stadiums sell out to 20,000 people, so I always knew the Bay Area had an inclination towards soccer but it was never actualized, so common folk like Benno and I started this concept."
The Oakland Roots were officially formed in 2018, with their first season as a NISA squad in the fall of 2019. It's been a quick rise for the sports club, which has already formed strong bonds with the city, notable Oakland natives and local groups on a mission to enhance the lives of its community and youth.
Arghandiwal's eyes light up when he discusses anything Roots related. His excitement ramps up even more when it has anything to do with putting a smile on faces, such as by aligning with local organizations he feels are doing good in the community. One such instance includes a project with Chapter 510, an Oakland-based youth writing and publishing center, and the YBCA, where a poetry form was distributed at a Roots game in English, Spanish and Arabic among children and parents in an effort to create a poem the length of a soccer field.
Building on the true spirit of "the beautiful game" is their mission, and a signifier to what the world can expect from the Oakland Roots.
Those collaboration efforts are what inspire the club to work with purpose partners that are making an impact themselves, rather than trying to carry the load on their own. Partners include Street Soccer USA, an organization that builds soccer courts inside urban communities for kids who may not have access, Soccer Without Borders, a collective that takes immigrant refugees into their arms and provides education and soccer mentorship, and My Yute, an organization that provides free clinics to youth in Oakland and holds digital camps for anyone interested, including kids from marginalized communities and even those in privileged neighborhoods.
Having those programs in place has already proved beneficial to the Roots; midfielder Yohannes Harish came through the Soccer without Borders system, and defender Robert Hines III currently serves as a coach for Street Soccer USA. Hines chimed in on the influence of these programs, "Working with Street Soccer we're providing impacted youth in Oakland with our knowledge as professionals, our passion and our support as well. They're impacted youth, so their journey is going to be different. Telling them my story about having to go through D-II to semi-pro to even get to where I'm at now, just sharing that beingness and authenticity is important."
While the goal of Roots is to ultimately produce a soccer contender that competes on the field and rivals any of the big clubs in the United States in both wins and revenue, Arghandiwal points out the tradition in the Roots' seemingly radical approach, "European clubs were founded on the premise of community and weren't monetary-driven at the beginning. They were developed as a platform for locals to come together and support a neighborhood entity and brand."
Traditionally, club revenues come from ticket sales, sponsorships, concessions at games and even soccer camps. The Roots don't have the luxury of making those their only streams of revenue, which means that focusing on community engagement and impact is vital to long-term financial sustainability and creating a loyal fanbase, even if it means losing money in the beginning.
Soccer isn't necessarily first choice as far as North American pro sports are concerned, so the club chose to focus on making noise through merchandise, partnering with Bay Area apparel stalwart Oaklandish to produce T-shirts, hoodies and kits as vessels for brand awareness. One of their colorful trademark styles began making the rounds when it showed up at a 2019 NBA playoffs press conference worn by NBA star Damian Lillard, a proud Oakland native himself. Sports fans didn't even know the Roots were a soccer club, or that Oakland even had a team, but it was the spark they needed to get some eyeballs on their cause.
Arghandiwal enlisted the help of New York-based graphic designer Matthew Wolff, notable for developing Nike's popular 2018 Nigeria national team kit, to create a brand identity for the club. Vibrant and full of color, the branding was representative of The Town, a city teeming in diversity. That colorful mosaic in the club's crest was a badge of honor for Arghanidawl and a strong selling point for the team's merchandise line, which celebrated the unmatched mix of color and culture Oakland had come to represent. "We pull more merchandise than most lower division soccer teams, and I'm not boasting about it, I'm just bringing up a fact. When we started the T-shirt collection, for several months people didn't even know we were a soccer team and that's the exact type of movement I think folks need to build in order to really tap into culture. That this can live outside of the soccer field," said Arghandiwal.
Finding an audience outside of the soccer field rang more true than ever once COVID-19 forced mass quarantines. While the product on the field remained in limbo, the merchandise in their warehouse was still moving and allowed Roots to continue telling stories through product, including a collaboration with Vans, where the team highlighted its signature color palette on a pair of Slip-Ons and SK8-His, centered around a campaign featuring a local skatepark built by the community and Oakland skaters Corey Dennis and Marcellis Ferguson. Producing a collaborative apparel collection can be just as meaningful as developing talent on the field; they go hand-in-hand in terms of cultural significance, and are an important aspect of the Roots' platform.
This approach isn't new to soccer — we've seen collaborations in the past between the likes of Real Madrid and Yohji Yamamoto, Juventus and Palace, and most recently 424's Guillermo Andrade and Arsenal. But setting new traditions to running the ship as an American club is important to Arghandiwal. "Soccer brands don't have to be cheap or have corny merchandise. They don't have to announce players the same way everyone announces players. They just don't have to do the things that everyone else does. We flipped the script and challenged assumptions, when everyone else zigs, we zag."
"European clubs were founded on the premise of community and weren't monetary-driven at the beginning. They were developed as a platform for locals to come together."
That sort of confidence and values as an organization trickles down to the field and creates an identity that permeates the locker room and front office at the same time. Attracting the best talent is a goal for any club, but building a local identity and producing homegrown players are crucial strategies for the Roots.
Arghandiwal compared this approach to that of Spanish soccer club Real Betis, "[Real Betis] don't have to win La Liga and beat Real Madrid and Barcelona to have sold out games. They win because they have a strong identity and they know who they are and they do what they say. That to me is more important, and I think winning is a byproduct of that. Because if you believe in diversity and you do believe in the things that the Roots believe in you actually do end up attracting the best talent in the world."
With clubs now returning to action in leagues across the world, the Roots are shaking the rust after a long layoff, with things on the field now back in full swing as exhibition matches are set, and the team once again optimistic about the future of their squad and season moving forward.
Never ones to sit idly, they recently became the first U.S. professional soccer club to join Common Goal, an organization co-founded by World Cup-winner Juan Mata with the mission of uniting "the global soccer community to tackle the greatest social challenges of our time." In donating 1 percent of all player and staff salaries and 1 percent of all ticket revenue to Common Goal, the Roots will aid in supporting the work of non-profit organizations around the world that use soccer to tackle social issues like health, gender equality, unemployment, and the COVID-19 crisis.
On the merchandising end, the Roots prepare for its most comprehensive collaboration to date in a capsule with Bosnian designer Sko Habibi, himself a Bay Area-raised refugee and life-long soccer player and coach, whose work threads soccer, art, fashion, identity and community. The extensive collection of apparel, together with a short film and magazine, is a nod to the marginalized, oppressed, outcasts and underdogs. Sko's unique reconstruction of the Roots' jerseys and apparel come to life through collage-like textures that depict the journey of humanity (HUMAN.E.T.) worldwide.
As 2020 begins to wind down, the Roots feel their impact in the world of soccer is only just beginning. Building on the true spirit of "the beautiful game" is their mission, and a signifier to what the world can expect from the Oakland Roots as the club continues to define its purpose, on and off the pitch.
---
A product of Berkeley, California, Luis Ruano's passion lies in storytelling. In addition to his tenure as a senior editor of HYPEBEAST, Luis has worked in art direction, photography and editorial for companies such as Levi's® and New Era, as well as writing for the All Gone book series. Find his latest work @ruano.