Art for Your Home: Hajime Sorayama Collectible, Daniel Arsham Sculptures and More
Including 15 artful bandanas that encourage voter participation.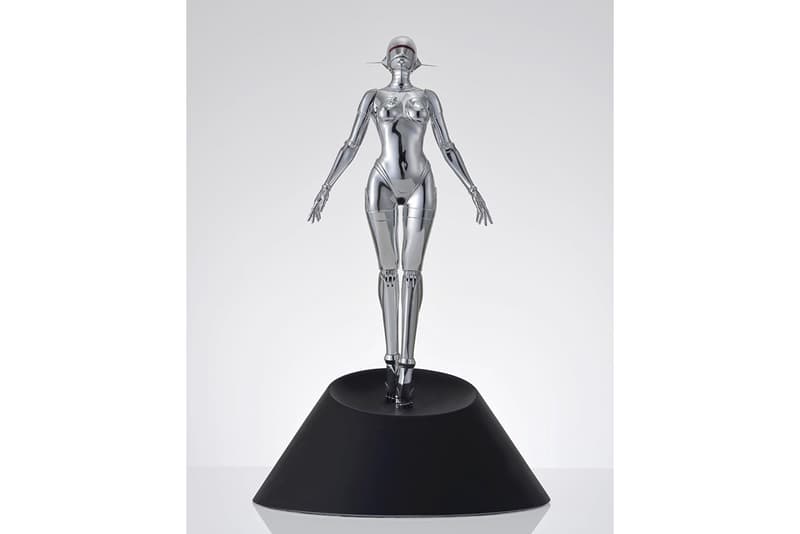 Every week we curate notable art releases by diverse artists, studios, and art platforms across the globe. Listed items typically encompass limited edition artworks, books, collectible figures and more. We hope these pieces will add visual interest to your space and elevate your aesthetic sensibilities.
For this week's installment: Hajime Sorayama and NANZUKA Underground have teamed up for a new edition collectible called Sexy Robot Floating, the WOAW Store is now selling sets of Daniel Arsham's Hollow Mickey made in collaboration with APPortfolio, K11 Musea is launching a new exhibition centered around Disney characters in which each item can be purchased online, a group of 15 artists are encouraging voter registration with a new bandana project called Artists Band Together, and Michael Reeder has unveiled a new lithograph titled Eternal Paradise with Print Them All.
View the full list below.
Hajime Sorayama Sexy Robot Floating Collectible
Release Date: Head to https://lottery.nug.jp/hs to enter lottery
Release Price: ¥165,000 JPY (approx. $1,565 USD)
Hajime Sorayama has released a new edition sculpture via NANZUKA Underground called Sexy Robot Floating. Each work has been authenticated by ZHEN., introducing NANZUKA's new partnership with the digital artwork authentication platform. Measuring 22 by 14 inches, the silver sculpture is constructed from silver platen, ABS resin and LED light. The robot stands on her toes atop a circular black base, giving off the impression that she's about to take off from the stand. Available in an edition of 1,000, Sexy Robot Floating is available by lottery only. Winners will be contacted directly on or before September 4.
Daniel Arsham and APPortfolio Hollow Mickey Bundle Pack
Release Date: Pre-order now on WOAW Store's website
Release Price: $3,974 USD
The WOAW Store is now launching preorders of Daniel Arsham's limited Disney collectible featuring a special gray version of Hollow Mickey. Arsham initially released the figures back in July with APPortfolio. The work utilizes the same Disney Thru the Mirror-inspired motif and represents the other half of the white version. The 1936 short animated film Thru the Mirror saw Mickey Mouse pass through a mirror with a sticky-like texture. On the other side was a world where inanimate objects were all alive. This collectible 12.6-inch resin art figure is set to release in a limited batch of 500.
K11 Musea "POP INFINITY" Collectible Art Collection
Release Date: Pre-order now on K11 Design Store's website
Release Price: $450 to $398,000 HKD (approx. $60 to $51,350 USD)
APPortfolio has unveiled a new art exhibition with Hong Kong's K11 Musea titled "POP INFINITY." Comprised of both a virtual reality component and an assortment of artwork from artists all over the globe, the exhibition focuses on works inspired by Disney's iconic characters by artists like Hikari Shimoda, David Flores, Katherine Bernhardt and BUBBLEGUM. The beloved childhood characters of Disney have been reinterpreted through the lens of each artist, such as Flores' 47-inch-tall figurine of Pinocchio called REAL BOY. The character has been reborn in gold bronze and silver colors and is limited to 50 pieces. Each piece from the exhibition can be purchased.
Artists Band Together Charity Bandanas
Release Date: Available on eBay
Release Price: $35 USD
A group of 15 artists have joined forces on an exclusive series of bandanas as part of a new initiative called Artists Band Together. The initiative was created to empower voices and encourage people to get out and vote, making sure that everyone is heard at the election in November. Artists who have created limited edition designs include Jenny Holzer, Barbara Kruger, Hank Willis Thomas, Shepard Fairey and others. Each bandana evokes a sense of solidarity, hope and participation, with all proceeds from sales going to the nonprofit organizations Mijente, Rise and Woke Vote to support nonpartisan voter registration and turnout programs in the U.S.
Michael Reeder and Print Them All Eternal Paradise Lithograph
Release Date: Available August 20 at 9 a.m. PDT on Print Them All's website
Release Price: £553 GBP (approx. $725 USD)
Los Angeles-based artist and muralist Michael Reeder is recreating his 2016 work Living In The Gleam Of An Unsheathed Sword as a new lithograph titled Eternal Paradise with Print Them All. The piece was originally created during a three-month residency Reeder participated in at The RedBull House of Art in Detroit. It "marks the beginning of an ongoing focus on the concepts of shapeshifting, and humankind's endless battle against our inevitable death," Reeder said. Measuring 38.19 by 29.92 inches, the print arrives numbered and signed by the artist.