Three States Approve Hot Dog Eating Contest Betting
Days ahead of Nathan's Famous Hot Dog Eating Contest.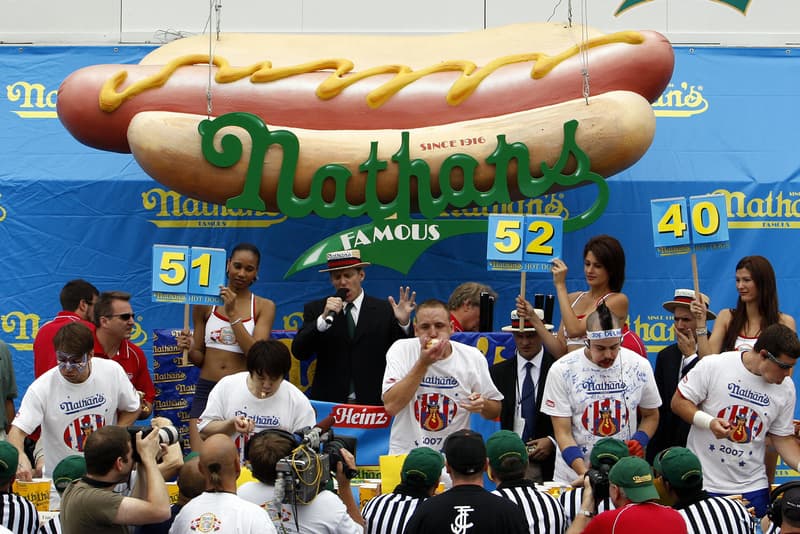 Days ahead of Nathan's Famous Hot Dog Eating Contest on July 4, three states have now approved betting on hot dog eating contests.
According to reports, bettors in New Jersey, Colorado and New Hampshire can now legally wager on the annual event hosted by Major League Eating. "ESPN had already affirmed us as a sport in the early 2000s," said Rich Shea, president of MLE. "But, with legal betting, we are really now as legitimate as the NFL and the NBA."
Shea also talked about how the event will be different, "Our eaters are usually in midseason form. They're gonna be rusty. Plus you have the fact that social distancing and fewer contestants will give eaters more room, you have air conditioning instead of the 100-degree heat and you have no crowd."
Due to the ongoing Coronavirus (COVID-19) pandemic, the event will not be taking place at the traditional Nathan's Coney Island location and will be happening at an undisclosed location with social distancing measures in place. This year's event will also see the 15-20 men and women contestant numbers drop to five women and six men.
The travel restrictions will also mean that YouTube personality, third-ranked eater and the only person to beat 12-time winner Joey Chestnut, Matt Stonie will not be making it to the competition. Although Stonie and Chestnut both live in California, Major League Eating flew Chestnut into New York before the travel restrictions were imposed.
Reports go on to note that any sportsbook will be offering gambling for the hot dog eating contest, but DraftKings has partnered with Major League Eating to be an official partner, holding a $25,000 USD free to play contest in non-betting states.
Currently, Joey Chestnut, who has won 12 out of the last 13 contests, stands at a prohibitive -800 favorite and Miki Sudo, who has won the last six women's competitions, is a -500 favorite.
In case you missed it, CamSoda recently offered $205 million USD to replace Under Armour as the official partner of UCLA Athletics.