Shai Gilgeous-Alexander: "You Can't Spell Swag Without S-G-A"
The rising NBA star talks about the season restart, his Converse shoe deal and self-designed monogram.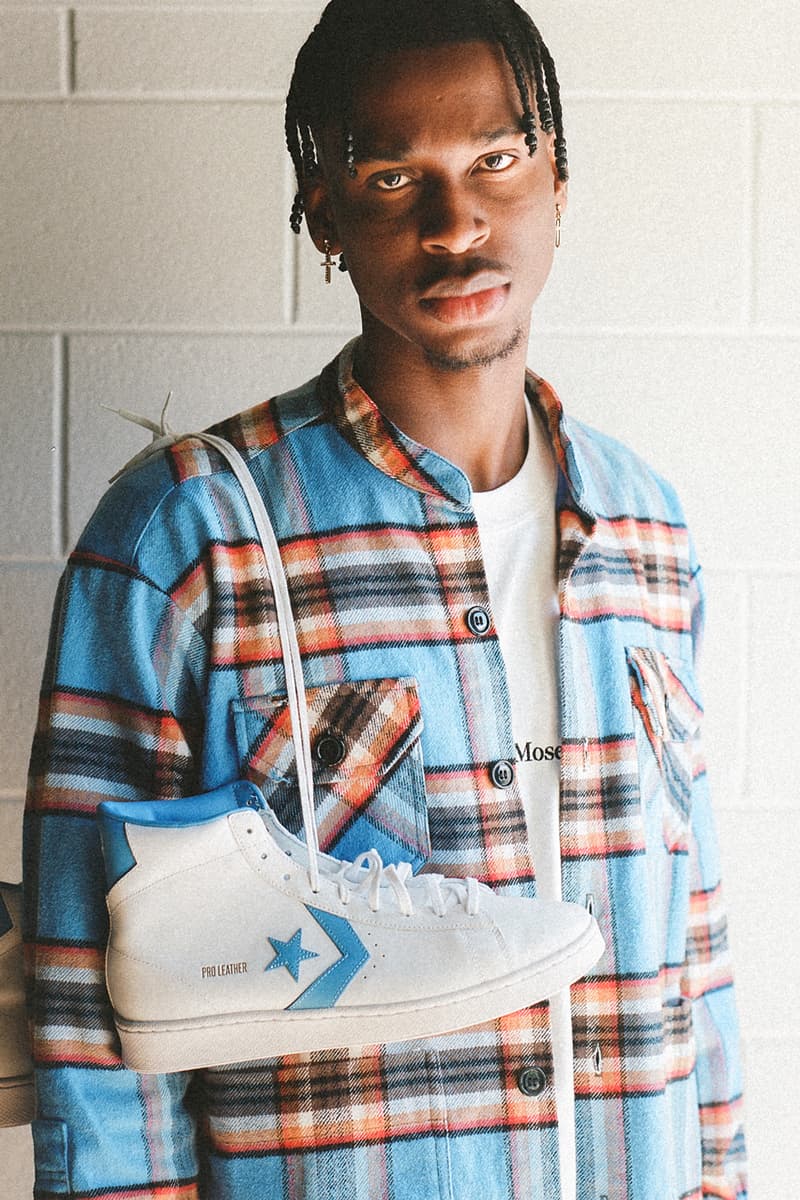 Shai Gilgeous-Alexander: "You Can't Spell Swag Without S-G-A"
The rising NBA star talks about the season restart, his Converse shoe deal and self-designed monogram.
Shai Gilgeous-Alexander, the newly-turned 22-year-old guard for the Oklahoma City Thunder, was having quite a bit of a coming out party, right up until the COVID-19 coronavirus crisis halted the 2019-20 season back in March. In his second year in the NBA, the Toronto native is averaging 19 points, six rebounds and three assists per game, and has become a key component to the Thunder's surprising run to a 40-24 record, placing them fifth in Western Conference and exceeding all expectations.
And it hasn't been solely basketball where Shai's been making a name for himself. Since he entered the league in 2018, SGA has garnered some much-deserved attention for his off-court style, rivaling his teammate Chris Paul, who was among some of the first players to usher in a new era of NBA style over the last decade.
Now, with the restart of the pandemic-hit season underway, Shai is back to build on the hype. Not only did he add some much-needed playoff muscle to his frame, but he also returns with a new shoe deal and logo.
We had a brief moment to speak with SGA just as he landed in Orlando and settled into the NBA "bubble." We talked about getting back on the court, signing with Converse Hoops, how he got into fashion as a young kid, and more.
HYPEBEAST: How do you feel to be back hooping?
Shai Gilgeous-Alexander: It feels good. Obviously it's something I love to do, it's a passion of mine, so it feels good just to get back and get ready to start rolling.
After three months off, how prepared do you feel? The internet was recently talking about the muscle you put on…
I just tried to use the time that we were given to get better in whatever way I could. I tried to maximize the little bit of time we had off, and now I'm ready to go.
How's the Orlando Bubble thus far?
I literally just got here, maybe 12 hours ago, so I don't know too much, but it's been okay. It's not usual life, obviously, because I'm not allowed to leave the room yet, but it's been cool.
It's been a busy couple of weeks, and not just because of the relaunch of the season: you've been developing your own personal brand. Starting with the project that's the most personal, tell us about your new SHAI logo.
I sat down with the creative team over at Wasserman, and we wanted to create a logo that not only looks cool and people would be able to tell that it stands for me, but something that makes them feel like they're connecting with me. If you watch the video, you'll see that every letter is significant, those four parts have been a part of my journey and created the man I am today.
But why a logo?
It's always something you dream about as a kid, it's something you draft up, but really, we thought that with this opportunity and everything that's going on, we wanted to show the world what we've been working on and what we have coming up. We always knew that eventually we'd get here, it was just a matter of finding the right time.
So how do you envision using this logo: clothing, shoes, etc.?
Obviously, you'll see the logo on shoes in the new future. And like you said, clothing; I've personally drawn up some things and have a few ideas where the logo is on some clothing and stuff like that. Fashion is a big part of who I am, so I plan for that to happen.
The other big news that you recently announced is your move from Nike to Converse. Tell us why you decided to sign with the brand?
Just the opportunity to express myself and show the world who I am, on and off the court. Basketball is the biggest part of who I am, but I feel off the court is just as important, like being a role model for kids to look up to, not only in America but back home in Canada. I want to be a voice and image for those kids, and Converse allows that.
You've been wearing Kobes most of your career, did you know former Nike Kobe designer Eric Avar co-created Converse's All Star Pro BB?
Yeah I knew that, and that was another plus about going to Converse. I've been playing in Kobes and have been use to Kobes for a long time, and your feet is where everything starts in terms of a basketball player, so you have to be comfortable in your play. So yeah, that was just another reason for me to make the decision.
Ron Johnson of Converse Hoops recently said "Converse celebrates the individuality and progress of the athlete." Tell us why this is important to you.
The biggest mottos throughout my life, that have been instilled by my parents, have been be who you are, be a leader and not a follower, and be confident in your own skin. I think Converse values individuality and those three things connect directly to it. They're the reasons why I am the man I am today.
Converse will allow me to express my personality in whatever way it may be, shoes, shoots, whatever it is. The world will know the type of person I am.
The Chuck has long been a staple in HYPEBEAST culture, so tell us, what does an SGA Chuck look like?
The SGA Chuck Taylor would definitely be a high, it would have a deconstructed look, but with a bunch of different materials all over the shoe, but at the same time blended together so it wouldn't be too crazy looking. I might do an oversize sole or something like that. Something that's calm but stands out and you can wear in many different ways.
This past season, you've garnered a lot of attention for your style of dress. So tell us, how did you get into fashion?
My whole life, my bother and I have loved to shop, whether we were six going into Old Navy, it didn't matter where we were, we just loved to shop. And a lot of times we'd go to the mall and not get anything, but being around clothes and showing our creativity in what we wore was always big to us. And I can say both of my parents know every fashion brand, and they both think that they can dress, not to say they can or cant, but fashion is a big part of my entire family's lives. It allows us to stand out and express ourselves, and I think that's what they've installed in me since I was young.
It sounds like your parents pushed the idea that first impressions are very important.
Yeah, exactly, both of my parents would never let us leave the house looking crazy. If our T-shirts were wrinkled, we weren't allowed to leave the house. If our jeans were sagged, we definitely weren't allowed the house. We always had to look presentable and represent who we are in the right way.
As for your NBA cohorts, where do you think your style stacks up to the rest of the league?
I can't speak for others, but my style solely depends on my mood, and how I'm feeling right before I leave the house. Whether it's a message I want to get across, or I'm feeling lazy and want to wear sweats, I don't think about it too much, it just happens. I know what looks good and I know what doesn't, so I just rock with it.
Do you still plan to get off some "bubble fits" over the next few weeks or months?
I'm not sure how it'll look yet, going to and from games, what the rules and stipulations are, but I definitely brought clothes for chillin', and because it's hot out right now, I have a bunch of shorts and T-shirts. But I plan to have fits in the bubble, but I have no control over the way it goes. But I'll get them off before the game, or I'll get them off on my off-day, either way I'll get them off.