NASA and ESA Share Closest Images Ever Taken of the Sun
Revealing a "campfire" phenomenon that keeps the Sun's surface extremely hot.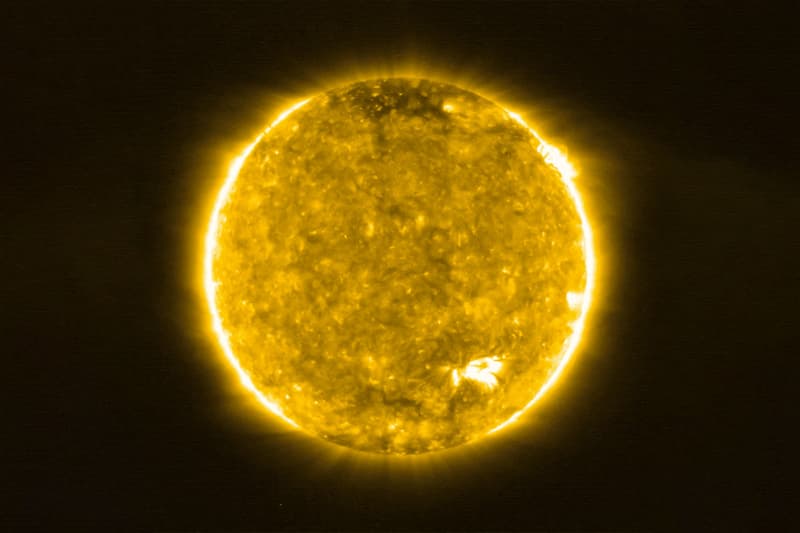 A new Solar Orbiter mission run collaboratively by NASA and the European Space Agency recently undertook its first pass of the Sun, capturing detailed images as it went by. At 47,845,581 miles away, the images are the closest ones ever taken in history, and as expected reveal new details previously unseen. One phenomenon recorded are tiny solar flares on the Sun's surface, which scientists described as "campfires," a much smaller version of the usual full-scale solar flares we witness from Earth.
"No images have been taken of the Sun at such a close distance before and the level of detail they provide is impressive," said the co-principal investigator on the ESA Solar Orbiter Mission Extreme Ultraviolet Imager Investigation at University College London's Mullard Space Science Laboratory, David Long. "They show miniature flares across the surface of the Sun, which look like campfires that are millions of times smaller than the solar flares that we see from Earth," he continued. "Dotted across the surface, these small flares might play an important role in a mysterious phenomenon called coronal heating, whereby the Sun's outer layer, or corona, is more than 200 – 500 times hotter than the layers below."
"The campfires we are talking about here are the little nephews of solar flares, at least a million, perhaps a billion times smaller," added David Berghmans, astrophysicist at the Royal Observatory of Belgium and principal investigator of the Extreme Ultraviolet Imager. "When looking at the new high resolution EUI images, they are literally everywhere we look."
In other tech-related news, Instagram has announced its Reels feature, a direct competitor to TikTok.