Jeep Rivals Ford Bronco Release With V8 Wrangler Rubicon 392 Concept
Arguably the first real off-roading V8 from Jeep since 1981.
1 of 2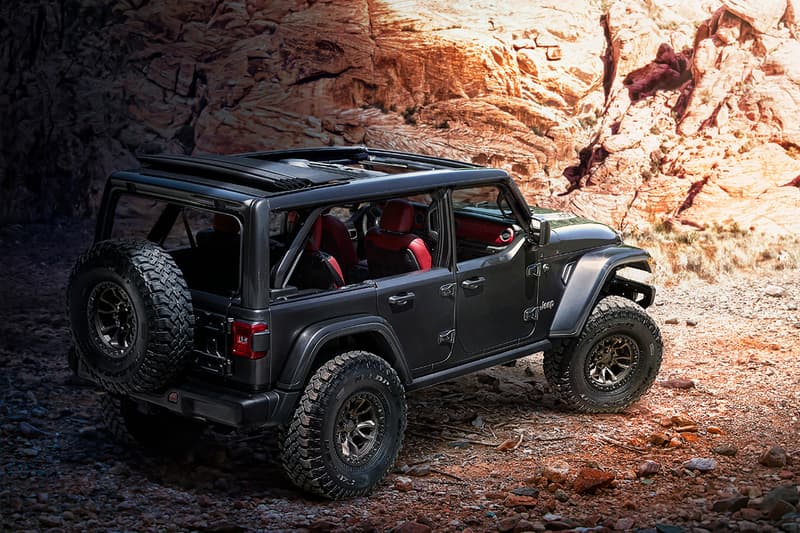 2 of 2
As Ford officially unveils its all-new Bronco, Jeep has made sure not to be left out of the conversation by showcasing the V8 Wrangler Rubicon 392 Concept.
To many purists, this is the first V8-powered "real" Jeep since 1981, as it takes form in an all-terrain-tackling 4×4 Wrangler — just like the original 1981 Jeep CJ, with its five-liter V8 that delivered 125 BHP. This new model is rugged and utilitarian, putting its off-roading capabilities at the forefront.
As the name states, Jeep has equipped the concept Wranger with a V8 engine. The "392" in its name denotes its capacity, which translates to 6.4-liters. This is enough to give the SUV 450 BHP and 450 lb-ft. of torque, as well as a 0-60 MPH time of less than five seconds.
Jeep itself claims this concept has an "unmatched 4×4 capability," which it puts down to its list of extreme components including a full-time two-speed transfer case, electric front-and-rear-axle lockers, 37-inch mud-terrain tires, and a Jeep Performance Parts two-inch factory lift kit to help you scale rough ground.
The model even features half-doors, tow hooks, a retractable roof, a full-sized spare wheel on the rear, steel bumpers with a Warn winch, and a steel belly pan — all so it not only nods to its heritage, but can ensure it'll tackle any kind of terrain it faces.
There's no official word on whether Jeep will make the concept a reality; for now, the manufacturer is just gauging clients' interest. Take a look at the Jeep V8 Wrangler Rubicon 392 Concept in the gallery above.
Elsewhere in the automotive world, a custom-built Nissan GT-R off-roader is currently up for sale.