Instagram Launches Pinned Comments Feature Globally
Hoping to fight online toxicity and harassment.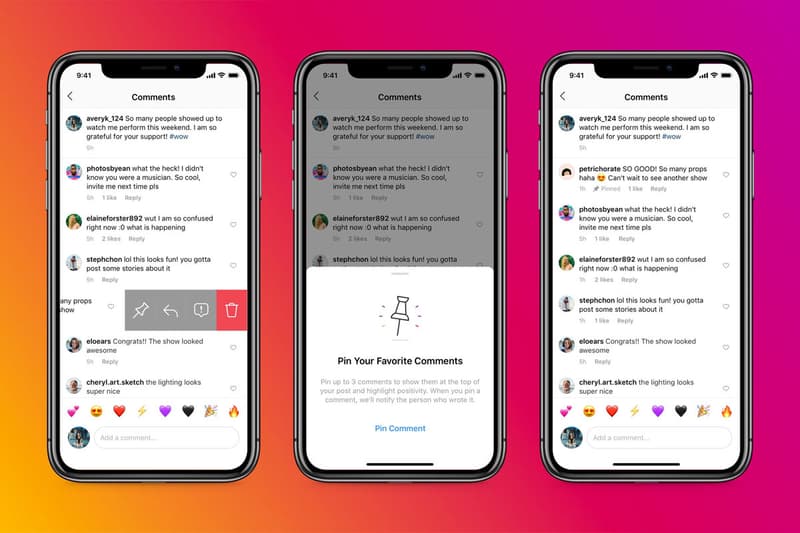 Earlier in May, Instagram debuted a range of new features in an effort to battle cyberbullying and online harassment, among which was the ability to pin various comments to the top of the comment thread. Now, with its testing stage complete, the social media platform is opening up the pinned comments feature for a global release.
"Today we're rolling out pinned comments everywhere," says Instagram's VP of Product Vishal Shah. "That means you can a pin a few comments to the top of your feed post. By highlighting positive comments, you can better manage the tone of the conversation." If you wish to access the feature, you'll first have to make sure you have the most updated version of Instagram on your device. Once downloaded, you can make use of the new capability by clicking into a post, scrolling down to the comments section, swiping left on the comments you prefer, and simply tap on the thumbtack icon. You'll be able to pin a maximum of three comments per post, but those pinned comments can also be easily swapped in and out by swiping left again and hitting the thumbtack icon again. The user whose comment has been pinned will also get a notification when you pin it.
Pinned comments is just one of a few features Instagram debuted over the last few months to help combat cyberbullying. The social media platform also previously looked into allowing users to delete comments in bulk as well as allowing you to choose who can tag or mention you in their own posts.
In other tech-related news, Facebook reached 86 percent renewable energy consumption in 2019.