Art for Your Home: James Jean Print, Banksy Photography Book & More
Including a new limited-to-100 art deck by Virgil Abloh and DGK.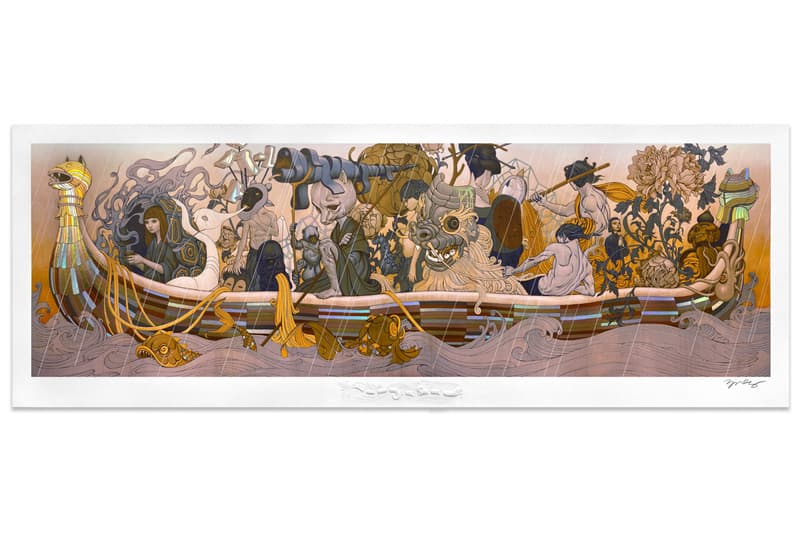 Every week we curate notable art releases by diverse artists, studios, and art platforms across the globe. Listed items typically encompass limited edition artworks, books, collectible figures and more. We hope these pieces will add visual interest to your space and elevate your aesthetic sensibilities.
For this week's installment: James Jean unveils a new limited edition print called The Golden Passage, Banksy releases a 248-page book covering his entire street art career, Virgil Abloh and DGK team up for an artful skate deck featuring a camouflage design, Library Street Collective features Josh Sperling's sculptural work titled Double Bubble M on its new charitable platform, and Magnum Photos is hosting a charity print sale to raise funds for the National Association for the Advancement of Colored People.
View the full list below.
James Jean The Golden Passage Print
Release Date: Available July 30 at 9 a.m. PDT on James Jean's website
Release Price: TBD
James Jean has offered a look at his new limited edition print titled The Golden Passage. He hand-applied each of the 13 different metallic colors with a proprietary chine-collé technique developed especially for this piece. The design of the boat in Passage is based on the reed boats of Lake Titicaca, made by the Uros indigenous people, while the characters in the boat represent an overflow of cultural archetypes that are cast adrift in geo-politicized waters. Measuring 20 by 57 inches, the piece arrives signed by the artist in a limited edition of 50.
Banksy Hardcover Photography Book
Release Date: Available now on select retail websites including Amazon
Release Price: $35.95 USD
A new hardcover book called Banksy: You Are An Acceptable Level of Threat and if You Were Not You Would Know About has released online. The 248-page tome features a collection of photography highlighting iconic works throughout Banksy's street art career, from his early graffiti in Bristol in the late 1990s to his Seasons Greetings piece which was unveiled in 2018 on Christmas day. Extensive descriptions to help readers understand the context behind the elusive British artist's works and interventions are also included in the book.
Virgil Abloh x DGK Limited Art Deck
Release Date: Available August 1 on DGK's website
Release Price: $79.99 USD
Stevie Williams and his brand DGK have enlisted Virgil Abloh for a limited edition art deck. The design features a clean wooden top with simple black co-branding and a full print on the bottom. The stroke-like camouflage design was drawn by Abloh himself and features black DGK branding in a cursive font. Every deck is laser etched with "ABLOH" and the number of the production set on the paint-stroked side. All of the proceeds from the limited-to-100 deck will be donated to Saved by Skateboarding, an organization set up by DGK to provide skateboards to underprivileged youth.
Josh Sperling Double Bubble M Sculptural Work
Release Date: Bidding is open from now until July 31 at 9 p.m. EDT on Library Street Collective's website
Release Price: TBD
Earlier this month, Library Street Collective launched a new charitable platform called Alliance that allows artists to donate 100 percent of the sale of their works to a non-profit organization of their choice. Josh Sperling's Double Bubble M is featured in the second installment of Alliance. The bright pink sculptural work is made up of over a dozen parts, creating a playful and abstract composition. All of the proceeds from the sale of Double Bubble M will be split equally between 15 different organizations fighting for racial justice.
Magnum Photos Charity Print Sale
Release Date: Available now on Magnum Photos' website
Release Price: $100 USD
Photography organization Magnum Photos is launching a print sale called Solidarity to raise funds for the National Association for the Advancement of Colored People (NAACP). Teaming up with Vogue, the project includes over 100 images by international visual artists. Ranging from Bruce Davidson's image of protestors marching from Selma to Montgomery in 1965 to a snapshot of immigrants sleeping on a fire escape in New York City to avoid the summer heat by Chien-Chi Chang in 1998, the collection brings together powerful photographs that evoke unity amid unrest. Half of the proceeds from the sale will benefit the NAACP.