An Autographed Off-White™ x AJ4 "Sail" Sold for $187K USD At Auction (UPDATE)
With all proceeds are going to the Black Lives Matter movement, Inquest and The Black Curriculum.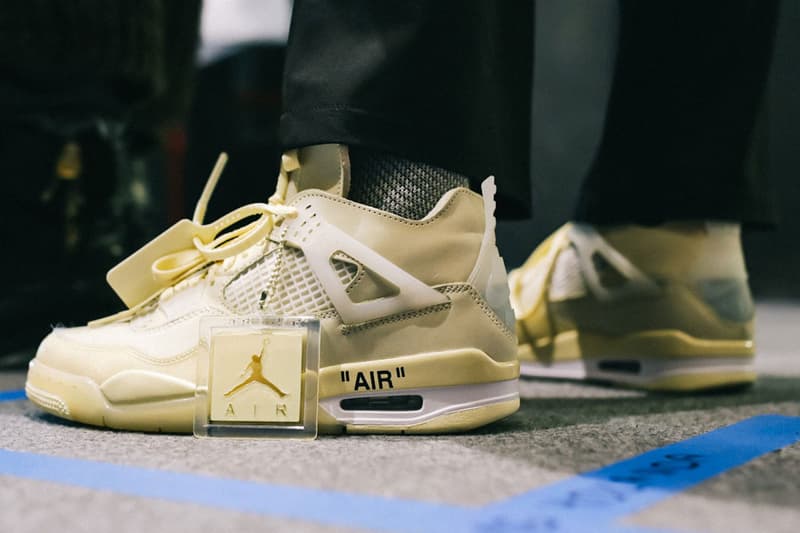 UPDATE (July 6, 2020): Although the auction ended on June 25, we still wanted to update our readers on the astronomical price at which these Abloh-signed sneakers were sold. The bidding was private, so we may never know who won out, but we do know that this lucky winner was kind enough to bid £150,000 GBP (approximately $187,137.18 USD), all of which will be given to the organizations mentioned below.
For more on the the growing Black Lives Matter movement in street culture, be sure to hit the tag below.
ORIGINAL STORY (June 22, 2020): Virgil Abloh has teamed up with music collective Deviation and its Black Lives Matter fundraiser to auction of a signed pair of his unreleased Off-White™ x Air Jordan 4 "Sail."
"[I] got together with some friends, each of us contributing to the sustained support of the Black Lives Matter cause and I'm auctioning an unreleased signed pair of these (with your name not mine per se)," said Abloh in a post on Instagram. He adds that all proceeds from the sale will be donated to The Black Curriculum, an organization that addresses the lack of Black British history in the UK curriculum, as well as Inquest, which provides support to families experiencing a "state-related death."
Deviation launched its Inside/Out Fundraiser for the BLM movement this past Thursday, and has already raised thousands. Surely, Abloh's addition should take them over the top.
This news comes a few weeks after Abloh received some backlash for what many thought was a small and meaningless donation as well as distracting remarks about retailers and looters. The award-winning designer has since clarified those actions and comments, and is working to better contribute to the fight against racial injustices.
The Off-White™ x Air Jordan 4 "Sail" auction is currently live on eBay, and will run until 6 p.m. BST on Thursday, June 25. The winner will be able to chose their size as well as what and where Abloh signs. As of the time this article was published, the leading bid is just shy of $13,000 USD.