Tattoo Artists Don't Think Tattoo Culture Is Going Anywhere
Seasoned tattooists Jun Cha, Mark Cross and Kiku Punk discuss how COVID-19 is changing the industry.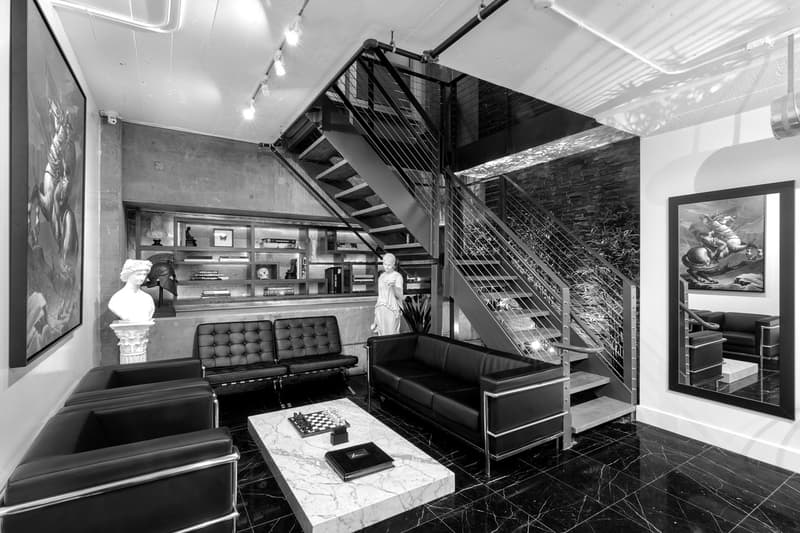 COVID-19 has severely impacted lives and businesses across the globe. In the United States, there were over two million confirmed cases of the virus as of July 1, along with over 100,000 deaths. For those in the tattoo industry and personal care services, the risk of reopening amid the ongoing health crisis is high. According to the Centers For Disease Control, the novel coronavirus is transmitted through respiratory droplets from an infected individual, which makes close human interactions like tattooing especially hazardous. Although many states have begun lifting their lockdown measures, tattoo artists are still questioning whether or not it's safe to get back to work.
The tattoo industry brings roughly $2 billion USD into the U.S. economy annually. Moreover, 30 percent of the American population have tattoos with millennials making up 50 percent of Americans with tattoos. It's clear that Americans love getting tatted, but those who are itching to get new body art will have to wait until shops are officially counted in reopening plans depending on where they live. 
Some states, like Oregon and Virginia, have included tattoo shops in their phase one reopening plans, others are taking a more cautious approach. In New York, tattoo and piercing facilities have been given the green light to open for the state's phase three reopening this July alongside personal care services such as "appearance enhancement practitioners," therapy services and spas, among others. Although independent contractors — which many tattoo artists are — may qualify for unemployment benefits, many practitioners still worry about what their businesses will look like after the pandemic. 
The health crisis has not only left artists thinking ahead to new safety precautions, but also ways in which they can help out their communities. "Since my involvement in the coronavirus initiative Protect Angels for the homeless at Skid Row, I've partnered with the largest tattoo supply company in the industry, TATSoul, to increase PPE supply chain efforts to aid first responders, police, shelters and hospitals," said LA-based private tattoo artist Jun Cha. "Since our industry is already equipped with PPE we were able to leverage our relationships to streamline production from both overseas and domestic resources to these high risk areas."
HYPEBEAST spoke with Cha, Mark Cross of Rose Tattoo Parlour and Kiku Punk of Invisible NYC to discuss how they've been coping during COVID-19, what sort of preparations they have in place for their business reopenings, and how they're maintaining income amid the ongoing health crisis.
How have you been coping with the COVID-19 lockdown?
Jun Cha: I've never been more inspired, focused and healthy in my life. I've always led a disciplined schedule working on several projects before the lockdown, so in terms of my work in painting, sculpture and design I've been extremely productive. The biggest change is adapting my schedule to devote extra time to protect my family, checking in on friends and contributing to the coronavirus initiative in the homeless population in Skid Row, Downtown L.A.
Mark Cross: We closed Rose Tattoo Parlour and Muddguts in March, and are doing our best to stay socially responsible. I occasionally will Lysol the bench in front of the shop and say hello to my neighbors as they pass. I am working in remote ways to continue to aid the organization and distribution of arts and entertainment for those in isolated containment through various virtual platforms, and adapting the structure of arts facilities to hopefully better assist its immediate constituents.
Kiku Punk: I've taken this time to work on side projects that I finally have time for. It also has given me more time to spend with my wife and two dogs. I've wanted to work on getting my merch set up, so this has given me the opportunity to really focus on that. I've always just been painting every day which has been really fun since I'm always so busy with tattooing. 
"Having a clear purpose beyond myself has kept me focused and thankfully before the pandemic I've prepared financially to endure worse case scenarios" – Jun Cha
How has the health crisis impacted your workflow? How are you maintaining your livelihood at the moment?
Cha: Since March, I've been involved helping the frontlines secure PPE to Skid Row, so a chunk of my day has been consumed with organizing supply chains and unifying the team. Having a clear purpose beyond myself has kept me focused and thankfully before the pandemic I've prepared financially to endure worse case scenarios. I've adapted the business to focus on online sales, product development and optimizing the studio to mitigate risks in preparation to get back to tattooing.
Cross: I am taking this time where I am not physically in the tattoo shop to adjust the business models for both Rose Tattoo and Muddguts. Since gathering en masse for tattoos, art and music shows appears to be an ominous and distant future, it is important to devise new systems which can both pay artists and successfully stimulate thought. I see this as an opportunity to restructure the oppressive stronghold capitalism has over the art world, and re-imagine some tired old modus operandi. 
Punk:  I'm lucky because I have my home studio where I do all my painting and anything to do with art. I've been painting and recently launched my online store that includes all my prints, originals, apparel, etc. 
What are your thoughts on the state of the tattoo industry now? How will it change once this crisis is over?
Cha: The crisis won't be over until vaccination and by then humanity will be fundamentally changed and we will never go back to the way it was — whether people like it or not. From the macro to micro at every level of society it comes down to leadership: how effectively we as both individuals and as a society adapt and overcome adversity is what's going to determine the future. For tattooing this is a critical time to not get complacent and kill the victim mentality. It's time to raise a higher standard of excellence in all areas of our craft to serve a greater purpose in preserving the sacred art of tattooing as one unified community.
Cross: Humans have always existed amongst the flux, evolving and adapting to the situations around us as they present themselves to us perpetually. While the previous structure of the tattoo industry is now in question, we are afforded an opportunity for redevelopment. These unfortunate circumstances present us with an unusual pause, a chance to think about the nature of the tattoo, tattooing and all arts industries alike. We can rebuild, not only our shop structure but shop culture and incorporate diversity, inclusivity, and empathy within its artistic practices. 
Punk: I think, unfortunately, things are definitely going to change. Friends and clients won't be able to just come by and hang out, which is always so fun. Precautions are going to be taken a lot more seriously. Masks are going to be the new norm. Luckily, I don't do walk-ins, so I won't have to worry about it being too crowded in the shop. Safety is always going to be the number one priority. 
"People were getting tattooed long before shop culture was conceived, and will continue to do so once it dissipates" – Mark Cross
Do you think that most people are less likely to get tattoos because of hygiene fears? If not, why?
Cha: For established artists and shops there will never be a shortage of clients as long as we are operating with intelligence and discipline to maintain a high standard of excellence. Being concerned about client intake is short term thinking — what really matters is seeing the bigger picture and preparing a foundation for the long term. Globally for the tattoo industry the top priority is optimizing our practices to ensure the health and safety of our clients with the utmost precaution, while paying close attention to the science and proactively adapting to constant change. The artists and shops who don't operate at this level and proceed carelessly will not survive.
Cross: For me, tattooing is about building relationships, and now I will have to focus on feeding this innate desire in different, more distant ways. When it's safe to do so, people will always want to decorate their bodies, and when the time comes, I will be here with my needle waiting to draw pictures on your skin. Tattooing holds a nihilistic ambivalence about the relevance of your own body and its existence, beautifully decorating our bodies as they begin to decay. People were getting tattooed long before shop culture was conceived, and will continue to do so once it dissipates. Tattoos will surface outside tattoo shops, as I am sure people are giving themselves some beautiful quarantine tattoos right now.
Punk: Well, I think I'm lucky because I get emails all the time from clients asking when they will be able to come in. We work very hard to always maintain a very sanitary environment and I believe our clients are comfortable knowing that we are doing that for them and us as well. 
In what ways are you preparing to go back to your own practice once the lockdown is lifted?
Cha: I've formed a team of experts from my clients who consist of lawyers, physicians and scientists who are both on the frontlines and act as general counsel to secure legal protection to mitigate all risks and reinforce my foundation from a business standpoint in preparation for this wave and the next to come. Since my studio is a private one-on-one practice it allows me to control my environment, so as an operation we've implemented new health protocols supplying PPE to my staff, while temporarily restricting international clients to domestic as well as performing onsite rapid diagnostic and antibody testing.
Cross: I've been applying the same principles of avoiding the cross-contamination of blood borne pathogens to that of airborne pathogens. We are beginning to design a retrofitting model which would eliminate the risk of exposure during a tattoo, essentially using half-walls and plexiglass to isolate each workstation as well as implementing our own specific variety of personal protective gear (for tattooer and client). It's exciting for me and I look forward to sharing with our clients the extent to which we have given thought and taken great care in their own safety and comfort.  
For anybody interested on how exactly that will look, I'll be sharing updates on my Instagram as things come to fruition. Muddguts will be eliminating its physical space (temporarily) and continue community building activities remotely, amidst the ether. The record label, virtual gallery project, and magazine are all facets of this collective endeavor, moving ever forward.  
Punk:  I'm going to make sure every precaution has been taken. Every supply that is needed is available to make sure the shop is clean and safe. 
"Staying productive for me during this crisis has been the most important, so I definitely recommend doing that" – Kiku Punk
Any advice or tips for fellow tattoo artists during this crisis?
Cha: Success is earned not given and you're entitled to nothing. Do not allow external circumstances to dictate your inner mindset regardless of how hard times get — and they will get harder. You have to make a conscious decision to see this crisis as an opportunity, take full ownership of your life and push yourself to become the best you can be. Every single day work harder, iterate, innovate, train to be better than you were yesterday and empower those around you to do the same. Stay focused, stay disciplined and get after it.
Cross: Take it easy or don't take it at all.
Punk: Staying productive for me during this crisis has been the most important, so I definitely recommend doing that. Also, keeping in touch with family and friends. Knowing we are all in this together also helps me.