Mowalola Is the High-Octane Designer Set to Spearhead Kanye's GAP
Everything you need to know about the breakthrough label.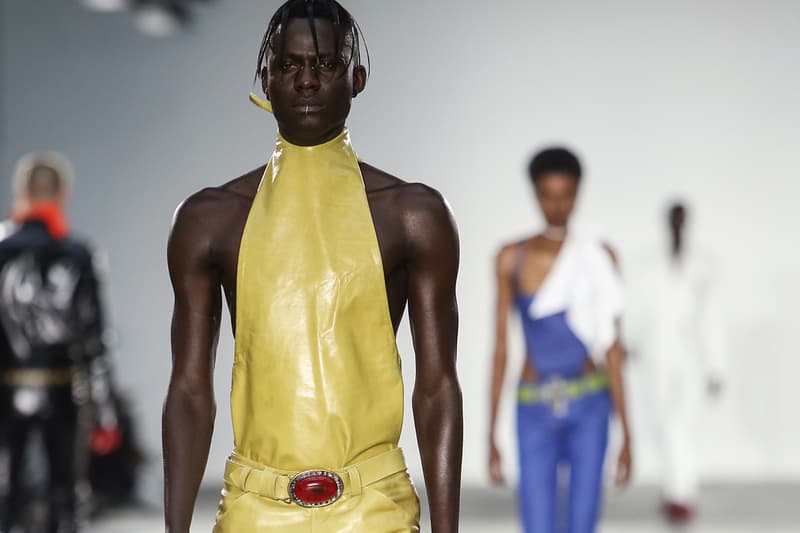 When the news broke on Instagram that Mowalola Ogunlesi would be appointed the creative director for Kanye West's GAP partnership, it seemed like a curious combination. Her brand is built on a hyper-sexual, high-wattage aesthetic that seems a million miles from the tees and chinos that GAP was built on. Yet ever since the launch of her label, her work has also been concerned with deconstructing, reworking, and upending conservative masculinity. And what could be more conservative than a GAP polo shirt? 
Her first show, in 2017, acted as her graduation from Central Saint Martins (where she had studied), and established many of the design codes she's continued to experiment with since. As she told Dezeen at the time of that show, her work is a "celebration of the black African male – his culture, sexuality and desires." Ogunlesi was born in Nigeria, and her collections have consistently acted as an homage to the style and culture of Lagos. 
After graduating from her BA, the heightened media attention around her work encouraged her to drop out of pursuing an MA, instead focusing on launching her label. With the support of Fashion East – a London-based incubator scheme for emerging designers – her second show took place for Fall 2019, telling Vogue at the time that it was intended as "clothes you want to get f*cked in." The collection was heavy on leather and championed a skin-tight silhouette, including painted reproductions of Lea Colombo's nude portraits. 

Her no-holds barred commitment to such a sex-positive, good-time-only aesthetic has set her apart from the wave of London designers she came up alongside, many of whose collections can seem stuck in a cycle of sportswear references. Retailers quickly came calling: her collections are currently stocked with SSENSE and LN-CC, among others. For LN-CC's Head of Buying, Reece Crisp, the brand occupies a unique space in the store's portfolio. "We bought into the brand as it offered us something that we didn't currently have in our range: raw sex appeal," he says. "The palette, the shapes, and the use of leather, really sets it apart. It felt like a natural fit to partner."
Its made-to-be-noticed aesthetic has also attracted a series of high-profile fans. Last spring, Drake wore a custom black leather jacket adorned with an image of Halle Berry in the James Bond film Die Another Day, illustrated by the artist Julian Consuegra. Skepta has also worn her designs, as has Naomi Campbell, who wore a white gown with a bloody bullet hole on its front to her Fashion for Relief show in London. Campbell later commented on the gown, saying that it was intended as an "artistic statement," and commending Ogunlesi on her "courage" for designing it.
In her willingness to provoke, Ogunlesi represents a new wave of London-based designers, who seem less concerned with perfectly-merchandised collections that tick off retailer checkboxes, and more interested in using fashion brands to articulate their own social messages. Like her peers Charles Jeffrey LOVERBOY, Stefan Cooke, and Art School, Mowalola's work is supposed to elicit a reaction from the viewer. It's something she explored in greater depth in a London exhibition earlier this year, titled Silent Madness. The show was a celebration of Lagos nightlife, and an affirmation of her creative identity. 
As for her Yeezy x Gap collections, nothing is yet known beyond Kanye's cryptic note on the storefront of the Chicago GAP: "I put my heart into/the color palette and every/detail I love Tron the original/Do you like stuff." What seems likely, though, is that her involvement will introduce a more progressive element into the brand's design: so far, the strongest clue lies in a custom wardrobe she created for the West-Kardashian family, shared on Kim Kardashian's Instagram in late June. It's leather, it's skin-baring, and it looks, unquestionably, like it could only be the work of Mowalola.