Washing Clothing by Hand Is Easier Than You Think
DIY cleaning solutions may already be at your fingertips.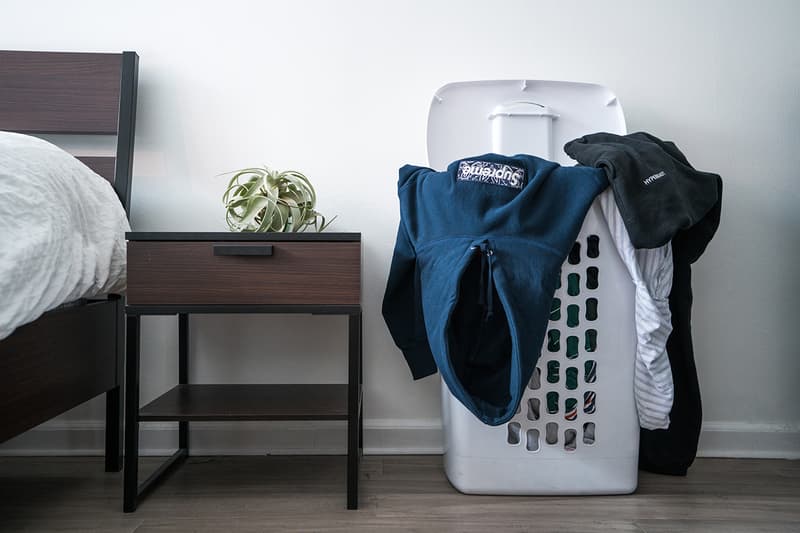 Clothing is pleasure — recall that feeling you get when strolling outside in your favorite garments — but it's also a chore, especially when it comes to lugging dirty duds to the laundromat or folding clean clothes. That sense of burden can be undercut with some intangible gain, however; learning to hand wash clothes at home not only delivers plenty of monetary benefits, it's also more sustainable than the alternative and fosters a stronger bond between the wearer and the worn.
Laundering within your living space brings you closer to your clothing, emphasizing a sense of appreciation for what you own. It also ensures that those clothes will stick around by "increas[ing] the longevity of textiles by preserving fibers and detailing," according to Gwen Whiting and Lindsey Boyd, co-founders of The Laundress. Washing removes bacteria and other offending particles that eat away at clothes — note that organic fabrics like cotton, wool and linen may stretch or shrink in the wash after an initial wash, but proper treatment will retain the shape and subsequent washes will have little to no effect.
Normal washing and dry cleaning can "compromise the integrity of fabrics and even lock in unwanted odors," underscoring the importance of treating clothing with love. It's not about babying clothes, of course, rather giving adequate attention to the well-being of garments you care for.
Saving money is well and good, but there are also other benefits to consider. For instance, cutting down on those spins in the washing machine and dryer also saves electricity: according to Consumer Reports, washing and drying clothing uses "around 10 percent of a home's total electricity." The actual figure will vary by household but no matter what, handwashing dramatically reduces this electrical toll.
Laundering within your living space brings you closer to your clothing.
Of course, some are lucky enough to possess their very own washer and dryer units — for those without, there's no better time to practice washing by hand. First, there's the mental hurdle. "To keep on top of it, incorporate laundry into your daily routine," advises Melissa Maker, founder of CleanMySpace and Arm & Hammer affiliate. "Whether it's running a load first thing in the morning or just before lunch… once you have your system, stick to it."
Before the wash can begin, decide what needs to be cleaned. Smell alone doesn't signify dirtiness; simply by being worn, clothing picks up bacteria from the outside world and your body, some of which becomes particularly harmful to textiles as it builds up. Therefore, it's ideal to clean with some frequency, finding the balance between over- and under-washing.
Whiting and Boyd suggest washing denim jeans every three wears or so, while base layers like T-shirts and hoodies should be washed every three or four wears. If this sounds like too much cleaning — which can be problematic — it might be, as everyone's standards are different, especially for jeans. Consider the consequences of underwashing, however, which can be a contributing factor in crotch blowouts.
Other mitigating factors include the length of time that each garment is worn. For instance, if you only wear clothes to get the mail during quarantine, those garments won't need to be washed as often as if they were being worn around the office all day. These infrequent wear patterns can be bolstered by antibacterial fabric sprays — like Tide's Fabric Spray or The Laundress' Fabric Fresh — that mitigate the need to do a full wash and dry cycle.
If you aren't buying clothing for the long haul, why buy it at all?
Before you battle uncleanliness, pick your armament. Whiting and Boyd propose one of The Laundress' targeted cleaners — Signature Detergent for everyday laundry, Sport Detergent for active wear — while Maker endorses Arm & Hammer's Clean & Simple Laundry Detergent, citing its simple, harm-free ingredients and multi-purpose functionality.
Once you have a cleaning solution at hand, sort the goods into different groups: delicates, whites and colors. Pre-treat stains prior to the wash with organic products if possible. Check the pantry — most light stains can be dispatched by saturating them with distilled white vinegar or baking soda, then rubbing the solution into the clothing. The latter is "very inexpensive and safer to use at home," Maker explains. "When used with a sponge or scrub brush, [baking soda] can scour powerfully without damaging surfaces."
Hardier stains will require tougher products. Whiting and Boyd recommend specific products tailored for different needs. The Laundress' Wash & Stain Bar, for instance, will combat oil-based stains like salad dressing and grease, while its Stain Solution will knock out wine, coffee, grass and similar marks. Other high-powered stain removers include Shout!'s many products and Oxyclean's signature spray.
After the stain-battling substance of your choice is applied, work it into the stain and let it sit for a period of time — this varies by product and may range from one minute to 20 — before washing out the substance. Then, the garment may be washed with the rest of the load.
Next, fill a container with water. Sinks, buckets and bathtubs are all fine, depending on the size of the laundry load. Whiting and Boyd suggest cool — not cold — water for delicate and knit clothing and warm water for everyday garments. Follow the instructions on the packaging to measure out the ideal amount of detergent, then fully submerge the sorted clothing and agitate the mixture to distribute the soap.
Once the clothes have soaked for 30 minutes, drain the soapy water and replace with cool water. Rinse your clothes with cool water until the water runs clear and free of suds. Now, gently remove excess water. "Be careful not to wring the fabrics," warn Whiting and Boyd. "This can damage the item's fibers. Instead, gently press the water out by squeezing between your hands or a flat surface like the edge of a sink."
With the hard part out of the way, it's time to dry. Delicate garments, like knit sweaters and silk shirts, should be laid flat, especially if you can place them upon a drying rack. Hang-drying these garments may cause them to stretch or distort. Whiting and Boyd also recommend rolling them up in a clean towel like a burrito, this will remove excess water.
For most garments, like tees, trousers and underwear, hanging and air drying will deliver unmatched results. Simply place them on a hanger in an area that gets ample air — outside is usually preferable, if the weather allows for it. A fan gently blowing air through the clothing will also aid the drying process.
Pants should be hung by the waist from hangers with clips or clothespins, rather than slung over the bar. This allows maximum air flow and prevents creasing in the leg. This also goes for leggings, socks and underwear, but don't be too concerned with laying them out flat as they'll flatten with wear.
Another small point to consider when hanging clothing: upgrade to curved hangers, particularly those made of wood, to benefit your garments in the long term. Wood hangers hold their shape better over time than plastic models and they breath better than metal hangers, allowing clothing to dry naturally. Furthermore, wooden hangers can be employed for a variety of clothing items and prevent stretched collars, armholes and shoulders.
Though there are already plenty of steps involved in cleaning clothing at home without a washing machine or dryer, you'll need to take a few extra precautions in order to not damage your wares. For instance, because the clothes aren't being soaked and spun by a washing machine, those processes must be thoroughly done by hand to ensure proper soap coverage — a lack of agitation may prevent the soap from properly saturating the garments. Similarly, effort must be taken to treat stains pre-wash and garments must be dried thoughtfully to avoid warping.
Still, done right, washing clothes by hand really isn't much more work than taking garments to a laundromat, and it provides a sense of satisfaction from a job well done. That's what it's all about, fostering a long term appreciation with your material goods. After all, if you aren't buying clothing for the long haul, why buy it at all?