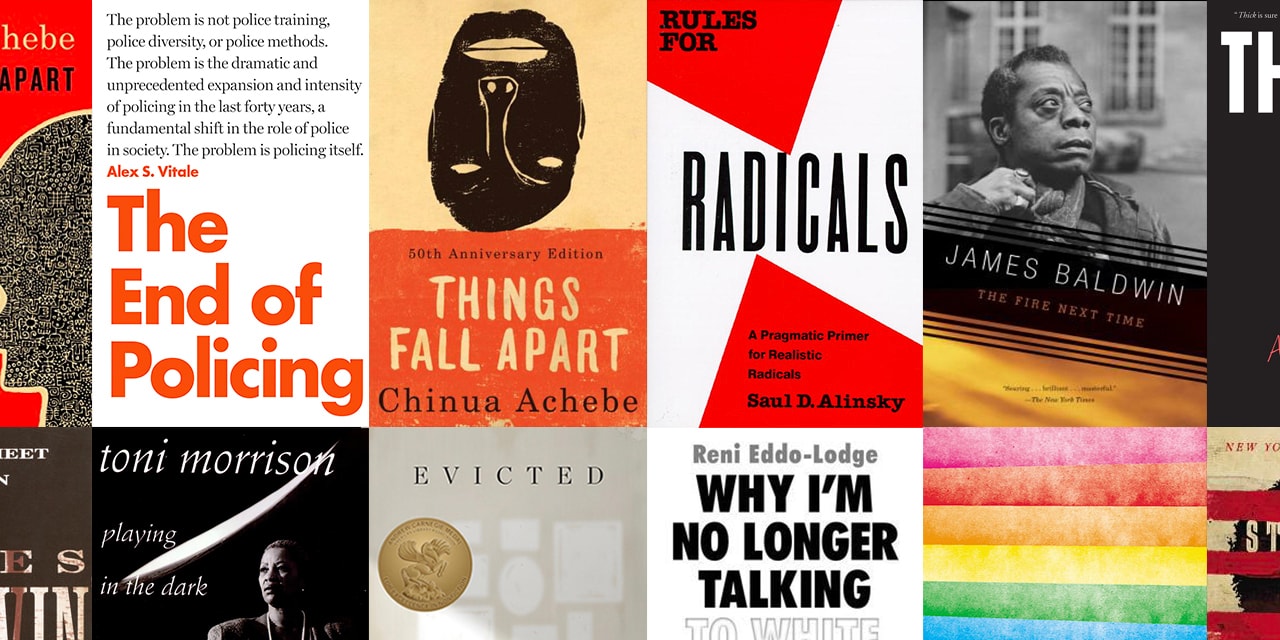 Editors' Picks: Books
It's never been a more important time to educate ourselves on the matters of racial inequality, LGBTQ+ rights and activism. The recent brutal deaths of George Floyd, Breonna Taylor and others have galvanized a new era of Black Lives Matter protests against police brutality and systemic racism. June also happens to be Pride month, a time of celebration for the LGBTQ+ community. The month not only celebrates diversity, freedom of identity and self-expression, but also commemorates the Stonewall riots — a historic moment that changed America's LGBTQ+ rights movement forever.
For this month's Editors' Picks, we've chosen books related to matters of social justice such as systemic racism, homophobia and more. These works not only shed light on how to achieve a more equitable world, but can also hopefully become trusted sources for meaningful conversations about allyship, activism and history.
On Being Different by Merle Miller
Sitting as we are in the middle of Pride month, it's a good opportunity to reflect on what's changed, and what hasn't, for LGBTQ+ people. Merle Miller's On Being Different: What It Means to be a Homosexual was written as an essay for the New York Times in 1971 – two years after the Stonewall riots – and was originally created as a response to a wildly homophobic article published by Harper's Magazine. It articulates many of the problems that gay people, and other marginalized communities, still process today: in particular, how easy it is to internalize feelings of shame when your identity is continually criticized, debated and attacked by others. It offers no easy answers, but it's a significant piece of gay commentary, and an important read for straight people wanting to better understand the queer community. — Rob Nowill
Where to buy: Penguin Random House for $14 USD
The End of Policing by Alex S. Vitale
One of the primary factors motivating the Black Lives Matter protests across the globe was a clear symbol of injustice: police brutality. In End of Policing, professor of sociology at Brooklyn College Alex S. Vitale takes to task the entire concept of modern policing. Among other subjects, Vitale delves into research that questions policing's place in contemporary society and explores alternatives, like restorative justice and harm reduction, that undercut crime while ensuring communal safety. Though the insightful read is sold out on Verso's site, its publisher is offering the book as a free e-book in light of the protests. — Jake Silbert
Where to buy: Verso Books for $27 USD
Playing in the Dark: Whiteness and the Literary Imagination by Toni Morrison
Playing in the Dark, adapted from one of Toni Morrison's lecture series, treats white American literature as an outgrowth of a racist society. Looking at the writings of Edgar Allen Poe, Ernest Hemingway and others, she examines how literature, perhaps by extension all creative practices, overtly and covertly evoke Blackness to shape white identity. One of her most powerful arguments (and particularly resonant today), criticizes attempts to separate art from race, arguing the themes we most associate with white American literature—masculinity, individualism, destiny—stemmed from "the potent and ego-reinforcing presence of an Africanist population." The book delivers a powerful message: no creative industry is apolitical and many are often complicit. — Clara Malley
Where to buy: Black Pearl Books for $15 USD
Why I'm No Longer Talking to White People About Race by Reni Eddo-Lodge
Reni Eddo-Lodge's Why I'm No Longer Talking To White People About Race pulls no punches in provoking an honest and long overdue conversation about privilege and structural racism. Based on her viral blog in 2014, the seminal title is the award-winning journalist's refusal to engage with the vast majority of white people who dismiss the legitimacy of systemic oppression, simply because they have the privilege to do so. With a focus on the U.K., Eddo-Lodge criticizes the British racial bias that runs as an undercurrent in the country today and highlights the ramifications of significant moments in history such as slavery and the lynch mobs that spread after World War I. However, the book's takeaways are universal. Eddo-Lodge's insights serve as stark reminders that these profound yet often overlooked events are not limited by region or time. They are bitter pills to swallow but strongly urge a shift in dialogue away from indignation, willful ignorance, and disingenuous conversations that hardly lead to change. In order for us to fully understand how to dismantle the system and what it means to be actively anti-racist, she concludes with advice — some of which involves listening and educating ourselves, taking on the mantle to reshape narratives, and for starters, reading this book. — Isabella Chon
Where to buy: EyeSeeMe for $18 USD
Rules For Radicals: A Pragmatic Primer for Realistic Radicals by Saul D. Alinsky
A lauded thinker and an even more prolific organizer, Saul D. Alinsky published in Rules For Radicals his magnum opus and a stirring instruction manual on how to change oppressive, repressive systems from within. Although Rules was published in the early '70s, it's still an archetypal piece of literature for organizers, proponents of social justice and anyone who wants to know how to raise their voice more effectively. The book's influence is wide-reaching: Barack Obama referred to himself as a "community organizer" — a trademark Alinsky term — in 2008, and Rules for Radicals was also recommended in the reading list included in the liner notes of Rage Against the Machine's 1996 classic Evil Empire. No matter if you want systemic change or you just want to think, it's a read you'll find yourself coming back to time and time again. — Ross Dwyer
Where to buy: Strand for $16 USD
The Fire Next Time by James Baldwin
In The Fire Next Time, the late novelist, playwright and activist James Baldwin shares two essays he penned in the '60s during the time of racial segregation in America. The first piece, entitled "My Dungeon Shook — Letter to my Nephew on the One Hundredth Anniversary of the Emancipation," sees Baldwin not only addressing his 14-year-old nephew but also the other young Black men of his generation. He angrily tells them of the systemic repression of Black men, but also explains that compassion is the best possible method of breaking free from the chains. Meanwhile, the second piece, "Down at the Cross — Letter from a Region of My Mind," explores his departure from religion. Baldwin narrates his beginnings as a young preacher and his decision to leave it behind, stating that Christianity in the Black community made him lose the full experience of humanity. He continues to recount a dinner with Elijah Muhammed, the leader of the Nation of Islam and Malcom X's mentor, when he discovers the inner workings of the religious and political group and the ideologies he agrees and disagrees with. The Fire Next Time is an insightful read of Baldwin's personal experience — ideal for those who aren't themselves part of the Black community. — Sophie Caraan
Where to buy: Elizabeth's Bookshop and Writing Centre for $13 USD
Things Fall Apart by Chinua Achebe
Many of the roots of racism can be attributed to colonialism in the 18th century, and the rise of the slave trade in Africa. In Things Fall Apart, Achebe humanizes the Nigerians who faced colonialism in the late 1800s. It follows the protagonist Okonkwo, as he struggles with morality, fatherhood and ambition. The arrival of British missionaries leads to changes in government, religion and education in his community by threat of violence. Written in 1958, the book is a stark contrast to the European view of Africans as primitive during the colonial era. Achebe instead shows the people of Nigeria as having a complex society with its own government, family rituals, religious beliefs and art prior to the onset of colonization. The book is a sobering reflection of what's happening in our current time and how the damaging social effects of slavery still echo today through systemic oppression of people of color. — Felson Sajonas
Where to buy: MahoganyBooks for $13 USD
Thick: And Other Essays by Tressie McMillan Cottom
Tressie McMillan Cottom expects her readers to be at their best when they read her work — that is, at their full attention, as her essays offer shades of complexity and nuance to topics of race, gender and class rarely seen elsewhere. The sociology professor deftly mixes personal essays with an academic bent, allowing her to weave in her own experience on matters such as the white capitalist beauty paradigm and the perils of Black motherhood with a grounding in cultural and historical context. — Emily Jensen
Where to buy: IndieBound for $22 USD
Evicted: Poverty and Profit in the American City by Matthew Desmond
Winner of 2017's Pulitzer Prize for General Nonfiction, Evicted: Poverty and Profit in the American City by Princeton sociologist and MacArthur Fellow Matthew Desmond explores extreme poverty, affordable housing and economic exploitation in America. The 432-page book follows eight Milwaukee families over 18 months as they struggle in the face of racism, classism, greed and political neglect to keep a roof over their heads. And if, or rather when they fail to do so, we then see the toll and burden an eviction can have. With rent in the poorest of neighborhoods reaching upwards of 70 or 80 percent of their income, one mistake or break in luck can put families out on the street, spiraling even deeper into poverty, poverty that can be generational. It's the deepest of dives into how housing insecurity disproportionately impacts low-income communities, and, most importantly, how many people profit off of these families and lack of governance. Nevertheless, Demond doesn't just leave you hopeless in the end. He dissects many of these troubling circumstances down to the policies that are responsible, to then offer some sort of reconciliation for immediate change and future generations. — Robert Marshall Jr.
Where to buy: Black Pearl Books for $18 USD