More 'Tiger King' Content Is on the Way, Without Joe Exotic
The producers are looking towards another famous big cat performer.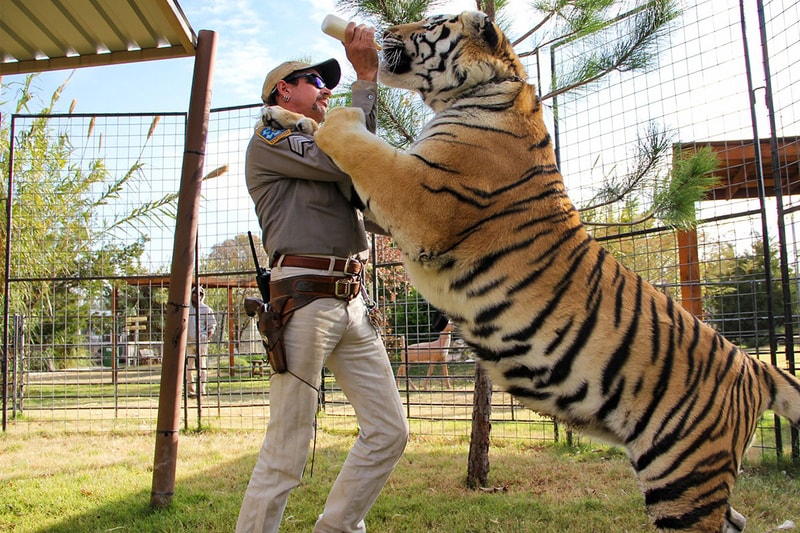 Though Joe Exotic and the Tiger King name carry a lot of weight nowadays, the hit Netflix series may soon distance itself from its controversial "star." As reported by The Hollywood Reporter, the film's production team is possibly looking to document magicians Siegfried & Roy for the next Tiger King series.
Dr. James Liu, wildlife veterinarian and purported member of the Tiger King production team, reached out to The Hollywood Reporter seeking contact with Chris Lawrence. Lawrence rose to fame when THR profiled him, detailing his career as a former tiger handler for Siegfried & Roy and his 15-year struggle with PTSD following Roy Horn's infamous on-stage tiger mauling. Horn passed away on May 8 due to coronavirus complications.
Though the Siegfried & Roy series hasn't started filming — or even been confirmed for production — Liu revealed to THR that there is a follow-up Tiger King episode in the works. Its aim is to clarify the filmmakers' intent to shed light on the plight of caged wildlife, rather than focusing on Exotic, Carole Baskin and the other people given screen time in the original documentary. Since the documentary's explosive response, Baskin has publicly complained about her portrayal in the series, explaining that she believed the filmmakers were creating a film focused on the animals, not their caretakers.
"I went into this to explore a different side of the animal world in terms of wild animals in captivity," co-director Eric Goode told Vanity Fair. "Netflix is very adept at making binge-worthy television and with these larger-than-life subjects that was pretty easy to do. However, my goal is and has always been the same, which is to raise awareness and help save the species."
For now, Exotic can take solace in the rumor that Nicolas Cage may be cast as Exotic in a forthcoming scripted series.