Kurt Cobain's 'MTV Unplugged' Guitar to Auction With Estimated Starting Bid of $1M USD
The 1959 Martin D-18E also comes with Cobain's original hardcase.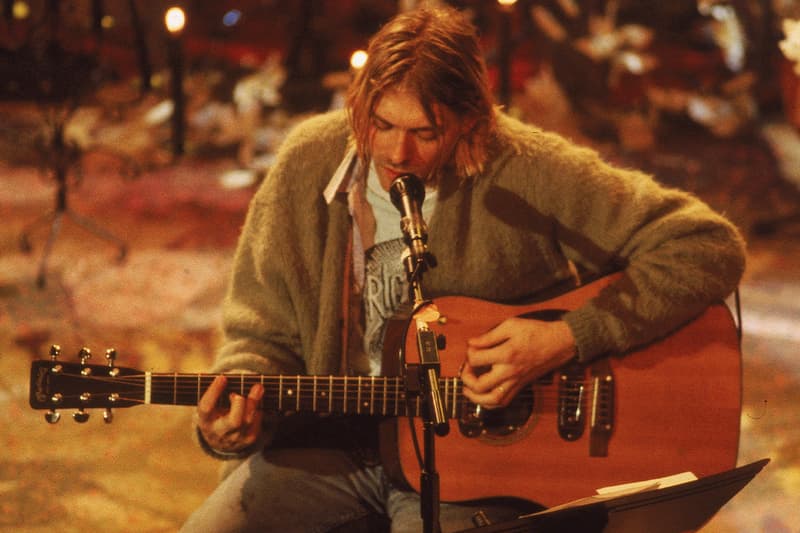 Kurt Cobain's acoustic guitar from Nirvana's 1993 MTV Unplugged in New York set is heading to auction.
According to reports, the frontman's 1959 Martin D-18E is looking at a whopping starting bid of $1 million USD as it joins the Music Icons sale at Julien's Auctions. The instrument will be accompanied by Cobain's original hardcase decorated with a leaflet of Poison Idea's Feel the Darkness album, a half-used pack of guitar strings, several guitar picks and a suede "stash" bag.
"This important guitar has earned its rightful place in rock & roll history as the instrument played by one of rock's most influential musicians and icons in one of the greatest and most memorable live performances of all time," Julien's Auctions CEO Darren Julien said in a statement.
Other items included in the Music Icons auction are the setlist from that MTV Unplugged set, a destroyed Fender Stratocaster electric guitar used by Cobain during Nirvana's In Utero tour and the shirt he wore in the "Heart-Shaped Box" music video.
In October 2019, the cardigan Cobain wore in the MTV Unplugged performance sold for $334,000 USD. The acrylic, mohair and Lycra-crafted cardigan remain unwashed with one absent button, two exterior pockets, a burn hole and discolorations.
Julien's Auctions Music Icons sale is scheduled to take place in-house and online on June 19 and June 20.
Elsewhere in music, Jill Scott and Erykah Badu celebrated sisterhood in their VERZUZ episode.