Kurt Cobain's 'MTV Unplugged' Cardigan Sells for $334,000 USD at Auction
The olive green sweater remains unwashed 25 years after the Nirvana frontman's death.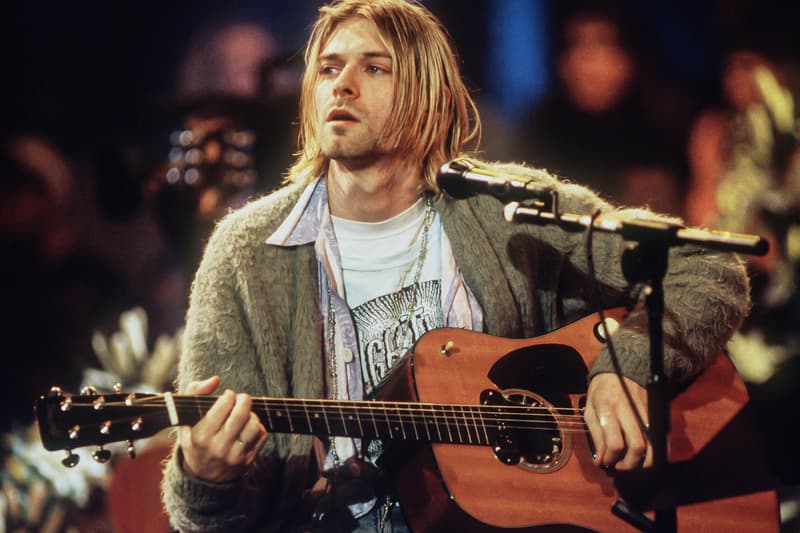 UPDATE (October 27, 2019): It looks like someone is the new owner of Kurt Cobain's cardigan which the artist wore for an iconic performance on MTV Unplugged. According to BBC NEWS, the famed Nirvana artist's sweater was sold for $334,000 USD at Julien's Auction in New York. Alongside the cigarette-burnt,  stained and unwashed garment, a Cobain In Utero Tour Fender Mustang guitar fetched for $340,000 USD.
---
ORIGINAL STORY (October 9, 2019):
The cardigan worn by
Kurt Cobain
during
Nirvana's
MTV Unplugged
performance and one of his custom
Fender
guitars are hitting
Julien's Live's Icons and Idols auction
this October 2019.
The legendary frontman's olive green cardigan is being auctioned off for the second time around, following its first purchase of $137,500 USD in November 2015. Crafted with a blend of acrylic, mohair and Lycra, the still-unwashed sweater arrives with a five-button (one absent) closure, two exterior pockets, a burn hole and discoloration near the left pocket and discoloration on the right pocket. The clothing also comes with a handwritten letter of provenance from Jackie Farry, the nanny of Frances Bean Cobain and close friend of Courtney Love, who gave Farry the sweater after the musician's death. According to the Julien's listing, the piece's pre-auction minimum bid of $200,000 USD has already been matched and is expected to reach bids up to $300,000 USD.
Aside from the cardigan, Cobain's left-handed Fender Mustang will also be up for a two-day auction. Built in 1993, the custom guitar is constructed with a turquoise body and red mottled pickguard, and was used by the frontman during the band's In Utero tour. In an accompanying letter from Love, she notes that this instrument was one of her late husband's favorites. The guitar was previously displayed at the Rock and Roll Hall of Fame and falls at an estimated value between $300,000 USD and $500,000 USD.
"Rock & roll memorabilia has become an investment," Julien's said. "It's not just a collector's market — it's an investor's market. The person that bought the sweater in 2015 bought it as an investment. Now, because we've been getting record prices for Kurt Cobain, people are starting to sell it. We anticipate that it will sell for more than double. I call it the new fine art market. People are investing more and more in pop culture, especially rock & roll. It's a way to diversify their portfolios."
Julien's Live Icons and Idols auction takes place at the Hard Rock Cafe New York and online from October 25 to October 26, 2019.
Elsewhere in music, Lil Peep's mother is suing First Access Entertainment over the rapper's death.