KOTA The Friend Wants You to Manifest 'EVERYTHING'
On his new record, the independent Brooklyn MC explores what everything truly means.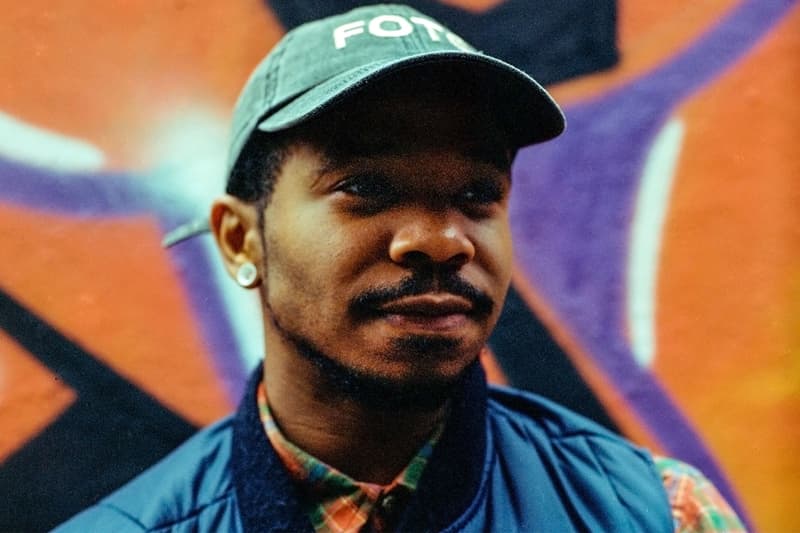 "What does everything mean to me?" KOTA The Friend says to himself, pausing for a moment. "You know it's crazy, Lupita [Nyong'o] actually brought something up with me. She said there are two ways you can answer the question — you can ask what everything means to you, or you can ask what it means to have everything. It's a funny twist."
The question stems from the arrival of KOTA's newest full-length record, EVERYTHING. A culmination of all his projects thus far, the album fuses the best parts of the Brooklyn-bred MC with musical outputs of several guests, contrasting predecessor FOTO's singular rap feature from Saba. He never provided directions for what his collaborators should write about, but his guests ended up answering the million dollar question of "What does everything mean to you?"
The inclusive nature of the album unconsciously created the space for him and his collaborators to provide their personal perspectives, leading the MC to a realization. "Everybody answers the question differently but also similarly."
Some of EVERYTHING's most significant collaborations come from Lupita Nyong'o and LaKeith Stanfield's self-titled interludes, whose influence provides a certain gravitas to the album. "They represent a very positive thing in the black community and the fact that they're moving on with their careers in such a great way," he continues. "I'm just glad they were able to give their piece for my album."
Further diversifying the album's perspective are KOTA's fellow New Yorkers Joey Bada$$ and Bas, who appear on the track "B.Q.E." The trio's cut looks back at the New York City of their youth, which was spent running from narcotics officers and attempting to rise above other hardships. He reveals that while the repeating "B, Q, E" lyric in the chorus is the most evident symbol of their city, the song structure is a subtle homage to the Brooklyn-Queens Expressway. KOTA kicks off the track, his first verse symbolizing his native neighborhood of Clinton Hill, followed by Joey representing Bed-Stuy and finally to Bas' verse standing in for his Queens roots, taking the listener on an auditory journey through the B.Q.E.
KOTA focuses the rest of EVERYTHING on building his future. "It's about manifesting and it's about creating the space where everything that you want can happen," he explains. He paints a picture of how he wants his life to be throughout the album, emphasizing in particular the importance of family and its support system. He believes in spreading a positive message about family and togetherness to combat the unnecessary beef between artists that only divides the listeners.
"I think the independent route has many rewards, but you have to work hard for them."
As KOTA has the entirety of his music career unaccompanied by the power of a major label, he knows how ambitious it is to achieve commercial success as an independent artist. Despite the organic growth of his profession and fanbase over the last three years, the MC still faces major challenges when it comes to releasing new material due to the lack of financial support most artists get from their labels. Simply put, "You have to work for everything you get."
This self-determining mindset, however, is exactly what pushed the rapper into the spotlight, proving that it's more than doable to make it as an independent musician. KOTA knows that none of the logistical hurdles will ever outweigh the freedoms he enjoys as an independent artist, because it allows him to curate a better relationship with his listeners. He actively communicates with them on social media and is therefore more aware of how they react to his music. During the creation of EVERYTHING, KOTA reached out to his fans on Twitter and asked them for features they'd like to hear on his new record, along with giving them quick updates of where he is in the album process. "It's like what they say, nothing good comes easy. I think the independent route has many rewards, but you have to work hard for them."
These rewards evidently made their way on to EVERYTHING. With the album finally released, the rapper is now rescheduling post-COVID-19 dates for another cycle of touring, media appearances and being away from home. This time, however, KOTA is more than willing to shuffle his work structure. The MC can no longer spend all day and night working in the studio, and he refuses to do a two-month tour if he's just returned after one month on the road.
Taking care of a child has put everything into perspective for the rapper, and spending more time than enough time with his son is his top priority. This decision is rooted from his own childhood, as he remembers his father always working in order to help ends meet. He creates a family environment where he's present for his child — manifesting the family life he desires.
"Doing something out of fear is not real."
"Everything to me is, first of all, whatever you make it, and second of all, is waking up, breathing, being authentic. It means everything to me to just genuinely be yourself," KOTA says, going back to that first question. Using religion as an example, he spotlights people who attend church every Sunday out of the fear of God's wrath rather than love.
"Doing something out of fear is not real. That's a lot of the reason why I go about my career the way I do, saying no to big opportunities and turning down record labels deals that would offer me more money than I've ever seen, because it's not real to me. It's not me. Being authentic is everything."