It's Time to Optimize the Food Chain
Thanks to tech-savvy farming startups, the future of food could be in your living room.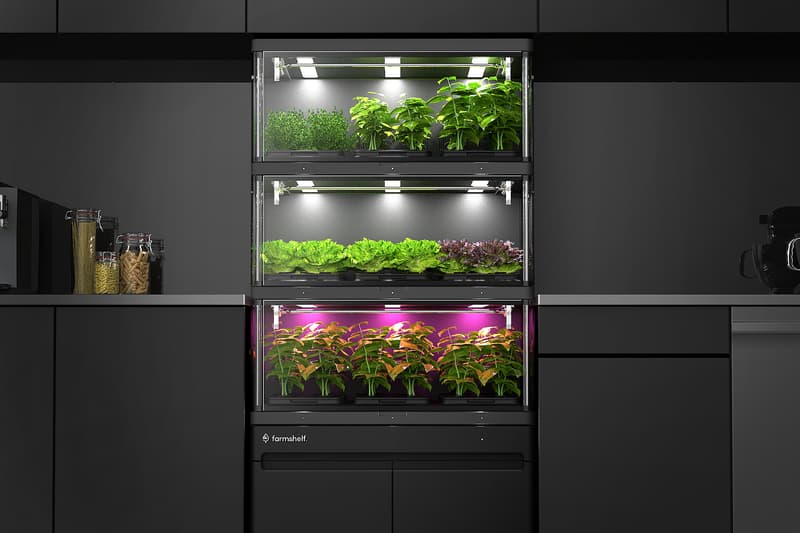 What if you could farm lettuce from the comfort of your couch? Farmshelf's automated farm home unit is, at three-feet wide, 20-inches deep and five-feet-nine-inches tall, about the size of a refrigerator and can do exactly that. Users plug it in, connect to wi-fi, insert plant pods and fill the water tank occasionally. From there on out, you're in business. Using cameras and various sensors, Farmshelf monitors the plants' growth, dosing nutrients and controlling lighting, among other variables. These appliances have already rolled out in restaurants and can be preordered for next year by home consumers at $4,950 USD.
Using AI, hydroponics and bio-reactors, scientists and businesses across the world — like Farmshelf — have been finding new ways to grow tastier, healthier food. Models for these sorts of tech-farming come in all forms. Take the Algae Dome masterminded by IKEA's Denmark-based research and design lab SPACE10. The approximately 13-foot high bio-reactor produces microalgae which can, among other uses, be used in biofuel research and as a potential replacement for soy protein in animal feed.
"Yes, some new ways of approaching food can look a little like science fiction," said Simon Perez, chef and food designer at SPACE10. "But we found that as long as the food itself tastes good, people are open and willing to try something new."
Countless start-ups and research labs have also turned their attention toward "controlled environment agriculture" in an effort to address the inadequacies in the global food chain. These companies are finding ways to farm smarter, faster and more locally — and inspire young people to do it.
In the words of Tobias Peggs, CEO of Brooklyn-based urban indoor farming company Square Roots: "The demographic time bomb is about to go off." The average age of U.S. farmers is almost 60. In Japan, it's closer to 70. "There's a real need to get young people into the farming industry, but young people would probably prefer to be in the city, working in tech-enabled businesses," Peggs said.
As with startups in fashion, these new companies are trying to combat wasteful practices across the current system. Traditional modes of farming rely heavily on large quantities of water and pesticides, not to mention the single-use plastics and emissions from transportation resulting from the fact that many foods are grown only in specific regions.
"Some new ways of approaching food can look a little like science fiction."
Peggs pointed to the fact that 98 percent of lettuces produced in the U.S. come from California and Arizona. "Why would you grow it in an area where there's already a water shortage, then ship it across the country, during which time a lot of it is wasted, and rots on the way? The cost of the transport, not to mention the environmental impact is crazy. But you don't need to do that."
In nondescript shipping containers housed on a Brooklyn lot, Square Roots creates finely tuned "programmable climate zones" which replicate the environments where the best produce in the world thrives, down to temperature profile, humidity and CO2 levels. Their basil is grown hydroponically in a climate-matched environment for the Genoa region of northwest Italy in zones that could hypothetically be located anywhere — an approach which could bring high-quality, low-cost, local food to communities around the world.
"They're more reliable," said Peggs. "You pretty much have guaranteed yield. If there's a hail storm, and you're an indoor farmer, nothing happens. There's little risk of pests outbreaks. The whole thing is computer controlled. Much more reliable, much more resilient."
But fostering curiosity around new approaches to local food is as important as building the tech to support it. In the spirit of building a younger, tech-savvy farming workforce, Square Roots also hosts a 12-month Next-Gen Farmer Training Program at both its Brooklyn and Grand Rapids outposts. The trainees are given a comprehensive crash course in technology, plant science and entrepreneurship frameworks.
SPACE10 aims to generate interest in participating in local farming practices as well. In addition to the The Algae Dome, they've also developed Lokal, a hydroponic salad bar, Bee Home, a free-to-download design for a structure to house critically endangered bees and encourage them to pollinate, and The Growroom, another open-source blueprint for a community garden which has been adopted in cities like Moscow, San Francisco and Seoul.
"[Our] projects always aim to include our community in their explorations, and food is an exceptionally compelling topic to explore together," Perez said.
"I can look at our lighting systems, our climate and AI and figure out how to make my system twice as efficient ."
Andrew Shearer, CEO of Farmshelf, had a similar take. "We want to empower a whole new generation of people to grow their food where they are," he said. "We're able to offer a variety of crops that often aren't available at your local farmers market or grocery store, getting to share a new level of biodiversity and flavor with people around the world."
Hypothetically any agricultural crop could be grown using these sorts of methods, but smaller and lighter plants like herbs, lettuce and greens are easier to grow indoors. "The plant is taking energy from a light source and converting that energy to biomass—growing the plant. Something like herbs and leafy greens, there's not much biomass there so it doesn't take too much energy to grow," said Peggs. "So you can get that product to market at a very competitive price.
Right now for instance, Square Roots' basil, chives, and mint crops are able to compete with those from traditional farmers, but the costs of growing larger produce like eggplants or broccoli are much higher.
"There's much more biomass so it needs much more energy, and maybe today that's not economically viable. The good news though is if I'm an outdoor farmer, I can't look at the sun and make the sun twice as efficient and bring my costs down. But as an indoor farmer I can look at our lighting systems, our climate and AI and figure out how to make my system twice as efficient and bring my cost down," Peggs said. "Every day, these types of vegetables become more feasible."
These kinds of alternatives present valuable solutions in the midst of the ongoing COVID-19 outbreak, which has exposed vulnerabilities in traditional farming and brought food supply to top-of-mind for the first time in many people's lifetimes.
"COVID-19 has really shone a spotlight on other areas where the food system is not great," said Peggs. "On one hand, we've got supermarket shelves that are empty and on the other hand you have food that's left in fields to rot because you can't get the labor into the fields and practice social distancing to get food out. It's really terrible."
"There's a real need to get young people into the farming industry."
But how to progress beyond the limitations of "controlled environment agriculture" and whether these technologies could entirely replace traditional farming methods is still an open question. For Shear, it's a question of optimization, determining what products make sense to grow, and how. "Controlled environment agriculture, specifically indoor agriculture? I don't see a world in which everything is grown that way," he said. "Growing certain things makes sense, like highly nutritious, highly perishable items. But what doesn't make sense is things that are grown well in fields and transport really well like grain and potatoes and carrots and certain other things like that."
But, like most tech companies, controlled environment agriculture moves fast and seems prepared to rise to the challenge. Farmshelf will have commercially viable tomatoes rolling out next year, as well as a plan for strawberries in the near future while Square Roots has its sights set on the entire produce aisle.
"A year out, five years out, the way I think about it is, walking into a supermarket and lining up every fruit and vegetable from the lightest to the heaviest," Peggs said. "We figure out how to grow each one of those until we get to the end of the line. That's our product roadmap for the next 50 years if you like."
"We can look to food waste management, alternative farming methods, innovative food technologies and even returning to traditional and sustainable forms of food production," said Perez. "I hope that SPACE10's work in urban farming has in some small way sparked curiosity and inspired people to take action. We need to, now more than ever."