Why Fashion Can No Longer Ignore Sustainability
How climate change forced the industry's hand.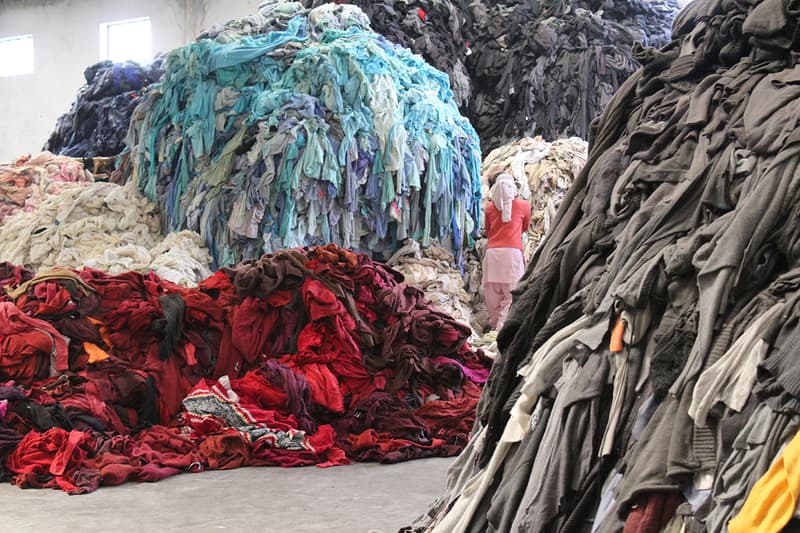 No one can afford to ignore sustainability, especially fashion. While the oft-repeated quote about the industry being the world's second biggest polluter has been debunked, that doesn't mean fashion has suddenly become a benefactor to the planet. Certainly the industry has been ambivalent to sustainable production until recently, but there's now an increasing number of brands, both large and small, willing to change this narrative.
According to many brands, this shift is a long time coming. "We have been looking into the possibility of going in a sustainable direction for some years, getting the brand values closer to how we live our private lives," says Jacob Kampp Berliner of Soulland. This merging of personal values with professional choices is a recurring theme when we speak to designers about sustainability.
But it's not just independent designers who are taking steps towards sustainability. Even the likes of H&M have embraced sustainability as a core tenet of the brand, a surprising move for a fast fashion giant which works on a global scale. So what was the reason behind this shift and is it happening fast enough to fight the effects of climate change?
Are Consumer's Attitudes Changing?
It wasn't long ago that sustainability was viewed as, if not a trivial aspect of a brand, certainly not something worth promoting. Consumers reacted negatively to "guilt marketing," which put the onus on the buyer to make better decisions without offering them viable alternatives. A report by Smith Business Insight in 2014 showed that there was a large chasm between consumers who said they would buy sustainable products (99%) and those who actually did (15-20%).
But that gap seems to be shrinking. "I think we're at an exciting pivotal time where the shift in mindsets is beginning to happen," says Chris Raeburn. He's noticed customers not only showing more interest, but also becoming more knowledgeable and inquisitive about sustainability. maharishi's Hardy Blechman has also noticed a shift, "As consumers become more aware and the planet becomes more poisoned, these legislative changes become easier to envisage."
And while consumers are driving change, for brands such as Soulland it's crucial to remain a step ahead. "I'm not sure about the end consumer, but there's something happening with the big retailers and e-commerce now, they are into it," says Berliner. "It's a way to stick out from the masses, but also as a way of doing it a bit better."
The Road to Full Sustainability Is a Bumpy Path
The road to full sustainability is still a long one, paved with many roadblocks for designers, from finding the right suppliers and sustainable fabric equivalents, to keeping pricing consistent. However, the first block is simply figuring out how to enter the world of sustainability, an issue Jacob Kampp Berliner said he dealt with.
"The issues started with trying to find out where to begin," he said. And once they worked through finding the factories able to create what they wanted, another sticking point was price. "We didn't want to raise our retail prices so, by changing our production and fabrics, we accepted that we would be less profitable. We see it as an investment in gaining more knowledge and from there ending up with an even higher quality on our products." Streetwear brands such as NOAH are also embracing the change, although the move is slower in streetwear than in other fashion sectors, with some shoppers bristling at NOAH's higher prices.
Another roadblock is the sheer amount of fabric designers need to order from sustainable suppliers. "The problem for us, even at our scale, is minimum order quantities for fully recycled materials," says Raeburn. It's an issue Priya Ahluwalia echoed when we visited her studio, noting that it was a near impossibility for her to find sustainable supplier who'd allow her to order less than a thousand meters at a time — an amount far outside of a young designer's budget.
"I look forward to the day when it's not an option to choose whether or not to consider sustainability."
These issues aren't new. maharishi began looking for sustainable fabrics in 1994, when stylish, sustainable fabrics were far harder to find. "It was very hard to find hemp cloth and impossible to find any sophisticated wovens or knits with good hand feel and functionality," says Blechman. Instead, the brand turned to upcycling from industrial and military surplus clothing.
But that's not to say that the situation hasn't improved in the years since. "As maharishi grew, I became able to work with established mills in Italy and elsewhere, encouraging them to source hemp fiber and working with them to design cloths that were desirable for their qualities, beyond the sole fact of environmental benefit," Blechman says. "The industry has moved on enormously and besides hemp being way more commonplace, it's now fairly common that mills will offer organic options in cottons, recycled cloths and vegetable dyes."
Is Climate Change Forcing This Shift?
While sustainability may be seen as trendy to some, the reality is that now it's simply harder to ignore the effects of climate change. In October 2018 the Intergovernmental Panel on Climate Change (IPCC) issued a final warning to politicians about the dire state of the planet, stating that there were 12 years left to reverse the effects of climate change. For Sarah Ditty, policy director at Fashion Revolution, it's this sense of urgency more than anything that's forcing the sustainable push. "It's about survival," she says. "If fashion brands don't start working to mitigate their negative environmental impacts, fundamentally change they way they use natural resources and build climate resiliency into their business models, then they will not succeed in the near future."
And climate change's increasingly evident effects mean that there's been a noticeable shift in transparency from brands. "Take Chanel for example," says Ditty. "Two years ago Chanel never talked about sustainability and had been incredibly discreet about its business for nearly a hundred years. Just a few months ago Chanel published its first ever 'Report to Society' with 76 pages of detailed information."
"We didn't want to raise our retail prices so we accepted that we would be less profitable."
It's a thought echoed by Shope Delano, Marketing and Communications Manager at Common Objective, who calls the changes in the last decade "remarkable." For Delano, it's the fact that the conversation has gone mainstream that has led to changes in the market that weren't possible in the '90s or early 2000's.
Sustainable fashion is also part of a wider move towards an increased social consciousness, with Ditty connecting it to "community-led, digitally savvy movements like #metoo, Black Lives Matter, Every Town, Women's March, Standing Rock and Fridays for Future." Climate change is also understandably a more crucial topic for the younger generations who will actually have to live with its effects. This worry has already been galvanized into strikes, as last month 10,000 school students in the UK walked out of lessons to protest the lack of climate action.
Can Large Brands be Truly Sustainable?
Increased awareness around climate change has pushed some of the biggest brands in the world to embrace sustainability, most notably fast fashion giant H&M. But some are skeptical a brand of that size can truly impart meaningful change. But can a brand of that size truly make meaningful change? "Yes and no," says Ditty. As she sees it, it's possible for brands to embrace sustainability on a mass scale, but we also need to recognize that they are part of the reason why we're in this state to begin with.
"The world's major brands have played a large part in getting us into the mess that is climate change and certainly they are responsible for many of the human rights abuses that persist in global supply chains," Ditty said. Delano is more optimistic about large brands embracing sustainability, saying "it's where fashion is naturally heading — the future of successful fashion business is sustainable fashion business."
But both acknowledge that for this change to happen, mega brands have to go beyond simply tweaking their production methods. "No one is suggesting it's a linear path, and large brands aren't going to go from zero-to-sustainable overnight," says Delano. "But it's important for large scale brands to achieve full transparency."
"If fashion brands don't fundamentally change then they will not succeed in the near future."
Smaller labels also face challenges in how to become fully sustainable. For Soulland, embracing new ways of working is the way ahead. "Being more sustainable is not the final solution, innovation is the solution," Berliner says. Meanwhile, Raeburn notes that his position as creative director of Timberland allows him to "push every facet of the brand forward," and making sustainability one of the aspects of the brand.
For Blechman and maharishi, legal restrictions will incite the biggest change. "No brand will be able to avoid future stricter laws on environmental impact and I look forward to the day when it's not an option to choose whether or not to consider sustainability."
What's Next?
Legality is a recurring topic for both brands and activists, as both agree that the best way to enforce sustainability is through new laws. For Delano, that means a drastic change in how we approach fashion production. "There need to be minimum requirements — transparency within your supply chain, a limit on your environmental impact, a mandate for publishing a modern slavery act — for a business to operate within the fashion industry."
Ditty agrees, saying that in five years there needs to be "real legislative changes that hold major brands to account for their human rights and environmental impacts, including mandatory human rights due diligence, extended producer responsibility and mandatory disclosure of their practices and impacts."
"Designers of clothing and all products are becoming more aware of product life cycle"
The impact of clothing is, according to Blechman, increasingly behind brand's production decisions. "Designers of clothing and all products are becoming more aware of product life cycle," he says, adding that we need "a new design attitude to the combination of materials, and the ability to separate the non biodegradable elements from the product."
The future of sustainability involves major sea changes from what until very recently was an apathetic industry. But with increased awareness, consumers and campaigners alike applying pressure to brands, as well as legislative changes, there's a groundswell of action taking place that collectively puts a pressure on brands that hasn't been seen before. It won't be an easy process, but it's one the industry can no longer ignore.