Art for Your Home: KAWS Monogram Teapot, Keith Haring BE@RBRICK & More
Including new 'Pot Head' stoneware by Studio Arhoj.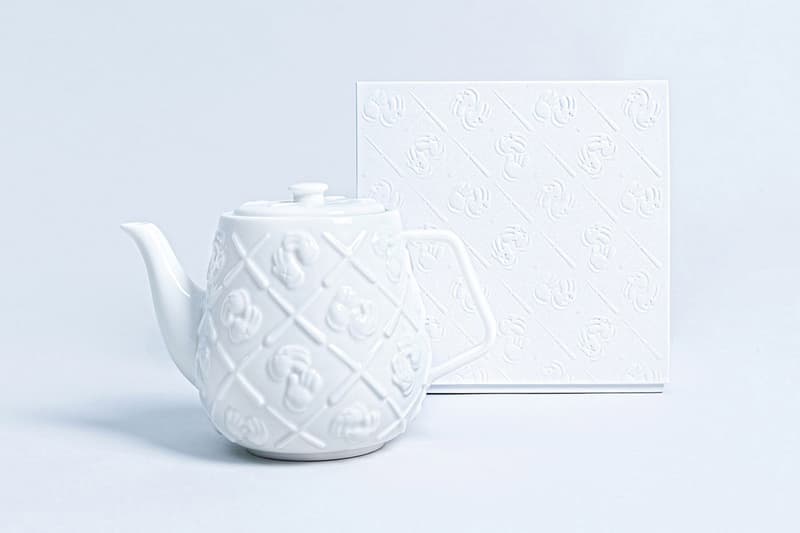 Every week we curate notable art releases by diverse artists, studios, and art platforms across the globe. Listed items typically encompass limited edition artworks, books, collectible figures and more. We hope these pieces will add visual interest to your space and elevate your aesthetic sensibilities.
For this week's installment: KAWS teams up with AllRightsReserved for a limited edition monogram teapot, Medicom Toy immortalizes the works of Keith Haring and Jean-Michel Basquiat in the form of two new BE@RBRICKs, a new music-themed fundraiser is selling prints to support New York City-based charity God's Love We Deliver during COVID-19, Wes Lang releases a new print titled For The Good Times with Almine Rech, and Studio Arhoj unveils a new series of hand thrown Pot Head stoneware.
View the full list below.
KAWS and AllRightsReserved "XX" Monogram Teapot
Release Date: Available May 27 at 10 p.m. EDT on Ding Dong Takuhaibin website
Release Price: $380 USD
KAWS has joined forces with long time collaborator AllRightsReserved for a patterned all-white teapot made from heat-friendly ceramic. Brian Donnelly's signature KAWS "XX" motif covers the sides and lid of the the 800ml homeware item, while the "XX" gloved hands fill the spaces in between. The minimalist yet elegant teapot arrives in an edition of 1000.
Medicom Toy Keith Haring and Jean-Michel Basquiat BE@RBRICKs
Release Date: Available on CJ Mart's website
Release Price: $122 USD
Medicom Toy recently unveiled two new BE@RBRICKs fully covered with the works of Keith Haring and Jean-Michel Basquiat. The glossy white Keith Haring figure is embellished with the artist's heart motif, detailed with vintage cartoon-inspired eyes and a tongue sticking out of its toothy grin. In contrast to the BE@RBRICK's two-toned pattern, the Basquiat figure is characterized by the artist's sporadically drawn imagery in a bold multi-color design. "JEAN-MICHEL BASQUIAT" is placed at the back as a finishing detail on the painterly model.
God's Love We Deliver Charity Photo Prints
Release Date: Available on aCurator's website
Release Price: $150 USD
Curator Julie Grahame and photographer Janette Beckman are supporting New Yorkers living with severe and chronic illnesses during the COVID-19 pandemic with a photography fundraiser for New York City-based charity God's Love We Deliver. Grahame and Beckman's network of almost 50 photographers are presenting photographs of some of today's biggest music stars like Kendrick Lamar and Cardi B, as well as timeless icons such as Kurt Cobain and David Bowie. Each 8-by-10 inch image is available in an edition of 10.
Wes Lang For The Good Times Print Edition
Release Date: Available now on Almine Rech Editions' website
Release Price: €850 EUR (approx. $926 USD)
Contemporary American artist Wes Lang, known as the creative mastermind behind Kanye West's YEEZUS graphics in 2018, has dropped a new print with French dealer Almine Rech. Titled For The Good Times, the 58-by-44 centimeter print depicts a skull character clad in a Native American headdress, showcasing Lang's unruly drawing style and incorporation of sensationalist or controversial imagery from American history. The print arrives signed and numbered in an edition of 75 with 20 artist proofs.
Studio Arhoj Limited Edition Pot Head Stoneware
Release Date: Available now on Studio Arhoj's website
Release Price: €170 EUR (approx. $185 USD)
Danish interior design and ceramics studio Studio Arhoj returns with a playful hand thrown line of Pot Head stoneware. The glazed pots come with faces referencing comical figures and animals hand-painted over speckled exteriors. Standing 24 centimeters tall, the colorful "Pot Heads" are water tight and serve as decorative pieces for desks, shelves or plant-filled windowsills.