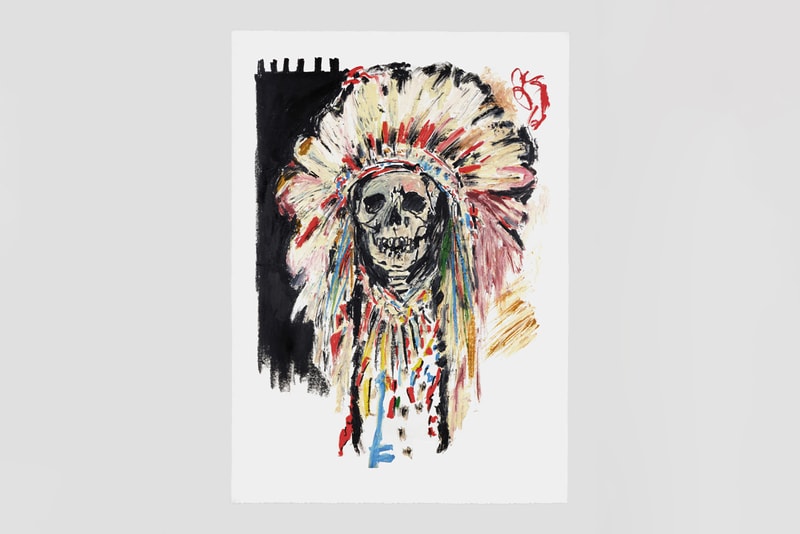 Wes Lang Releases 'For the Good Times' Print Edition With Almine Rech
While announcing an upcoming exhibition in Fall 2020.
---
Renowned French dealer Almine Rech recently announced a print collaboration with contemporary American artist, Wes Lang. You may know Lang as the creative mastermind behind Kanye West's YEEZUS graphics back in 2018, His work consists of unruly drawings, sculptures and paintings that often incorporate controversial imagery from American history including Native Americans, the confederate flag and more.
"Over the last several decades, artist Wes Lang has been honing his craft involving, amongst other things, a tireless, obsessive mining of a post-pop American landscape. A great many of the artist's influences are a function of a distinct autobiographical experience with certain exceptions," said Arty Nelson to the gallery.
Lang's new print titled For The Good Times portrays a skull character clad in a Native American headdress. Sized 58 by 44 centimeters, each print arrives signed and numbered in an edition of 75 with 20 artist proofs. Purchase one now on Almine Rech Editions' website for €850 EUR (approx. $926 USD).
 The artist is currently gearing up to launch an upcoming exhibition with the gallery in Fall 2020.
Elsewhere in art, Galerie Perrotin launched a new exhibition with celebrated French artist Jean Philippe Delhomme called "Los Angeles Language."