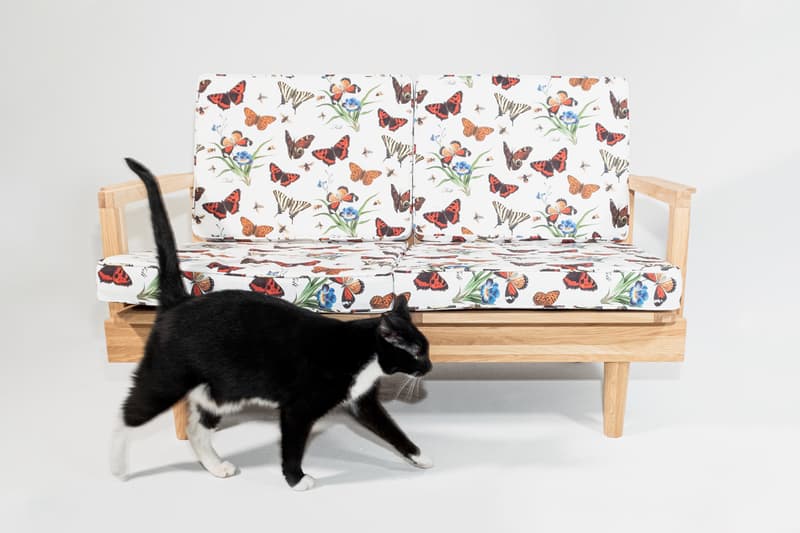 Art for Your Home: Medicom Fabrick Furniture, Mickey Mouse Sculptures & More
Including a new Configurable Art sculpture by Felipe Pantone.
---
Every week we curate notable art releases by diverse artists, studios, and art platforms across the globe. Listed items typically encompass limited edition artworks, books, collectible figures and more. We hope these pieces will add visual interest to your space and elevate your aesthetic sensibilities.
For this week's installment: Medicom Toy's Fabrick line enlists FELT and the Japanese craftsmen from Karimoku to design premium home furnishings, French sculpture studio Leblon Delienne releases chrome-clad Mickey Mouse figures, Felipe Pantone unveils a new Configurable Art sculpture called MANIPULABLE 3, maharishi teams up with graffiti artist TEACH for Year of the Rat artworks, and Ethiopian artists release limited edition prints for COVID-19 aid.
View the full list below.
Karimoku x Medicom Fabrick Furniture
Release Date: Available at FELT's website
Release Price: Prices range between $38 USD and $1,500 USD
Medicom's home goods line Fabrick joined forces with Karimoku and FELT on an exclusive furniture collaboration. The partnered selection features three various types of seating as well as lifestyle items spanning bags, wallets, and a pair of house slippers. The furnishings were crafted using premium wood from Nagoya, Japan. All items are decorated with matching butterfly and floral motifs.
Leblon Delienne Mickey Mouse Figures
Release Date: Available on Selfridges' website
Release Price: Prices range between $2,015 USD and $4,445 USD
French sculpture studio Leblon Delienne recently unveiled its latest edition of pop culture collectibles. The latest selection features Walt Disney's Mickey Mouse character translated into two luxurious iterations: a 60cm figure in gold-tone metal as well as a 48cm resin figure with gold-tone chrome ears. Both pieces were crafted in France, with the latter variant designed by British interior designer Kelly Hoppen.
Felipe Pantone x Configurable Art MANIPULABLE 3 Sculptures
Release Date: May 26 on Configurable Art's website
Release Price: €2,066 EUR (approx. $2,260 USD)
Felipe Pantone returns with new Subtractive Variability artworks produced under his Configurable Art line. Dubbed MANIPULABLE 3, the sculptures are comprised of vivid, rectangular components that can be stacked or staggered in various positions. Depending on how you "manipulate" them, the resulting finishes are a spectrum of distorted color grids that will fill any room when covered in light. MANIPULABLE 3 is limited to just 50 copies.
TEACH x Maharishi Year of the Rat Artworks
Release Date: Available on maharishi's website
Release Price: Prices range between £5 GBP to £750 GBP (approx. $6 USD to $917 USD)
maharishi has enlisted the British graffiti writer TEACH once again for a series of paintings, prints and T-shirts in celebration of the Year of the Rat. The collection also draws inspiration from the photojournalist character played by Dennis Hopper in the 1979 film Apocalypse Now. TEACH's signature "YE" throw-up is transformed into an "Apocalypse Rat" using a technique that brings corrosive acid into contact with metal panels to create a rust texture. Small laser-cut TEACH tag works are also available in a series of 20 alongside three signed enamel paintings on paper and an edition of 20 screenprints.
Prints for Ethiopia
Release Date: Available on Print for Ethiopia's website
Release Price: $60 USD each
Ethiopian photographers and artists are coming together in support of COVID-19 relief efforts with a charitable print campaign called Prints for Ethiopia. All proceeds from the  sale will go towards Temsalet Kitchen, a social enterprise that feeds homeless kids and families in Addis Ababa during the pandemic. From city scenes and rural landscapes, as well as intimate portraits and figurative artworks, the 8-by-11 inch prints evoke the culture of Ethiopia through each artist's style and perspective.